WASHINGTON -- Senate Minority Leader Mitch McConnell (R-Ky.) doesn't deny that he's rich. But what stuck in his craw Monday night was his Democratic opponent's insinuation that he had earned his wealth using his position as senator. An outraged McConnell clarified for debate viewers how he became a millionaire: He and his wife inherited the money.
The pointed exchange between McConnell and Kentucky Secretary of State Alison Lundergan Grimes (D) came when moderator Bill Goodman, host of the program "Kentucky Tonight," asked the two candidates whether they believe the current minimum wage ($7.25 an hour) is a living wage.
McConnell replied that the "minimum wage is largely an entry-level wage." He argued that raising it to $10.10 an hour -- as many Democrats would like -- would lead to "destroying jobs for young people." (In fact, according to the Economic Policy Institute, 88 percent of workers who would benefit from a higher minimum wage are older than 20.)
Grimes, however, said the country needed to "increase the minimum wage so that it is a living wage. $7.25 an hour does not allow a family of four to actually rise above poverty level."
She then blasted McConnell for not caring about the interests of low-income residents of the state: "He's gotten rich while consistently voting to keep Kentucky poor, and we can't have a senator like that any longer."
McConnell then jumped in to defend his honor:
McCONNELL: I can't let that stand. She's been given four Pinocchios for that as well.

GRIMES: So you're not a multimillionaire?

McCONNELL: To claim that I got rich at public expense -- she knows that that's a result of an inheritance that my wife got when her mother passed away. And she's consistently gone around, Bill, all over the state, and suggested that I've somehow enriched myself at public expense.

Let me tell you, her family has made more money off the government in the last 10 years than I've been paid in a salary in all my time in the Senate. That is an outrageous suggestion. She knows it's wrong. She's been given four Pinocchios repeatedly for continuing to say that.
While most politicians try to play down their wealth by stressing that they're just like the average, working-class voter -- whether it's by driving around in an old truck, chowing down on fast food or lamenting that they were "dead broke" after leaving the White House -- McConnell seems to have taken a different tack Monday night. He didn't try to shy away from his wealth, but said he wanted to set the record straight on its origins.
According to Roll Call, McConnell ranks 32nd on a list of the richest members of Congress, worth $11.97 million.
While Grimes was right that McConnell has voted against minimum wage increases, she has been dinged -- as McConnell pointed out -- by The Washington Post and its "Pinocchios" system for her insinuation that he used his public position to make millions. More from Roll Call on McConnell's wealth:
The Kentucky Republican's reportable assets nearly tripled in 2008 thanks to a $5 million gift that he and his wife, former Labor Secretary Elaine L. Chao, received from her father, James, soon after the death of her mother. (After emigrating in the 1960s, the senator's father-in-law founded a successful international trading business, now called the Foremost Group, specializing in importing Chinese-made goods to the United States.) The money has been invested ever since in a tax-exempt money market fund that remains the McConnells' most significant asset by far.
HuffPost Pollster, which averages the publicly available polling in race, shows McConnell leading Grimes by 4 points.
*************************
What's happening in your district? The Huffington Post wants to know about all the campaign ads, mailers, robocalls, candidate appearances and other interesting campaign news happening by you. Email any tips, videos, audio files or photos to openreporting@huffingtonpost.com.
Want more updates from Amanda? Sign up for her newsletter, Piping Hot Truth.
Before You Go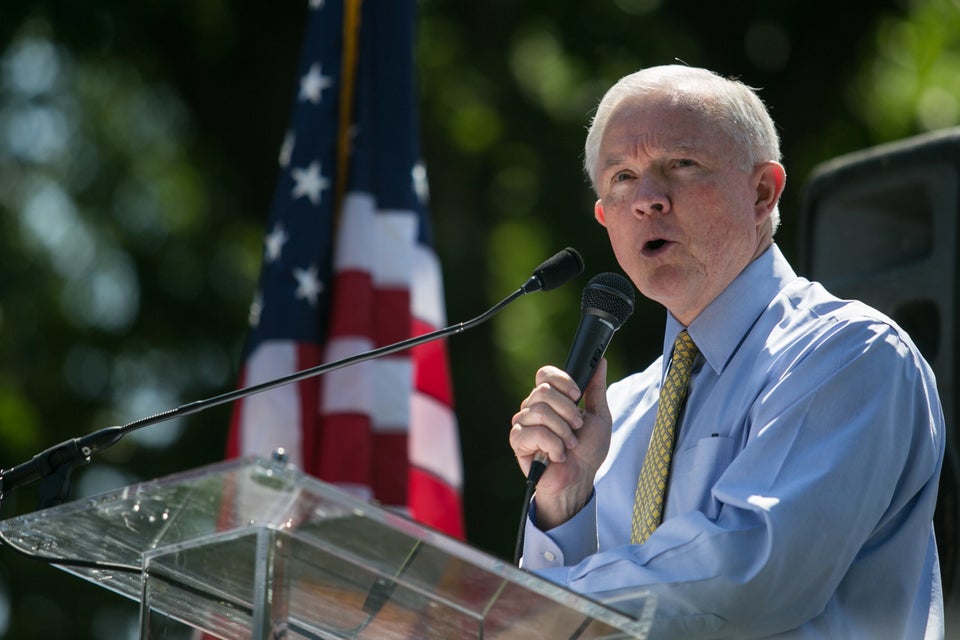 Senate Seats Up For Grabs In 2014
Popular in the Community