WASHINGTON -- Senate Minority Leader Mitch McConnell (R-Ky.) said Tuesday that the nation's debt limit won't be raised unless Republicans can extract concessions from Democrats and President Barack Obama.
The borrowing limit, which was suspended until Feb. 7, 2014, as part of the deal to end the government shutdown in the fall, stands at about $17.2 trillion. The Treasury Department estimates that without a hike, it can keep paying the nation's bills only until sometime in March.
The budget agreement that passed the House overwhelmingly last week and is set for passage in the Senate -- likely on Wednesday -- would also require a boost in the debt ceiling in order to carry out the spending that it mandates. But McConnell said Republicans would not allow that.
"I doubt if the House or, for that matter, the Senate is willing to give the president a clean debt ceiling increase," McConnell told reporters on Capitol Hill. "Every time the president asks us to raise the debt ceiling is a good time to try to achieve something important for the country."
He added that holding the borrowing cap hostage is the only way the GOP can get Obama to negotiate.
"I think the debt ceiling legislation is a time that brings us all together and gets the president's attention, which with this president, particularly when it comes to reducing spending, has been a bit of a challenge," McConnell said.
He did not lay out what demands the GOP would make. "We'll have to see what the House insists on adding to it as a condition of passage," McConnell said.
House Budget Committee Chairman Paul Ryan (R-Wis.) made similar remarks on Sunday, saying, "We don't want nothing out of this debt limit."
For his part, Senate Majority Leader Harry Reid (D-Nev.) said he didn't see Republicans being up for another damaging showdown over something that's essential to keeping the government and economy moving after they were so battered over the October shutdown.
"I can't imagine the Republicans want another fight on debt ceiling," Reid told reporters. "We've passed two debt ceilings in the very recent past, and we should do another one."
Still, Republican lawmakers are taking criticism from right-wing groups over the current budget deal, and those same groups oppose hiking the debt limit. House Speaker John Boehner (R-Ohio) suggested last week that such organizations would no longer have much influence in Congress, but they have sway with GOP lawmakers facing primaries next year, such as McConnell.
Michael McAuliff covers Congress and politics for The Huffington Post. Talk to him on Facebook.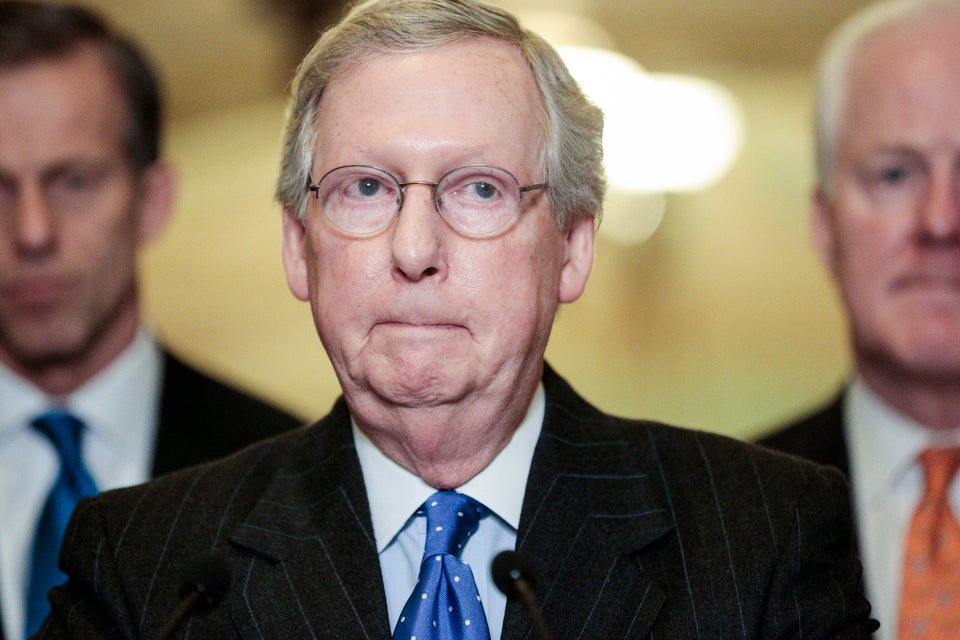 Say Cheese! Mitch McConnell Smiles
Popular in the Community