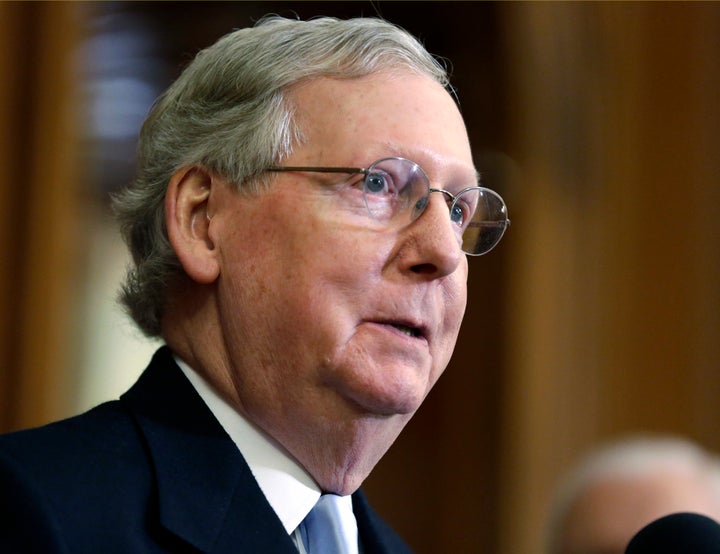 WASHINGTON -- Senate Majority Leader Mitch McConnell (R-Ky.) is continuing his no-holds-barred blockade of Merrick Garland, President Barack Obama's nominee to the Supreme Court, despite the risk that he may get a less palatable choice from presumptive GOP presidential nominee Donald Trump, a spokesman for McConnell confirmed Wednesday. 
The conservative wing of the party, angry with Trump's record and principles, is up in arms at GOP officials for coming around to the brash businessman. Some elected officials and party members on Tuesday made clear they would rather disown the GOP -- one even burned his registration card -- than vote for the real estate tycoon.
Some conservatives are even urging the GOP to cut its losses and confirm Garland, a mostly middle-of-the-road U.S. court of appeals judge widely respected by members of both parties, rather than deal with a more liberal nominee if Democratic presidential front-runner Hillary Clinton trounces Trump in the fall.
"Republicans must know that there is absolutely no chance that we will win the White House in 2016 now," Leon H. Wolf wrote on the conservative website RedState. "They must also know that we are likely to lose the Senate as well. So the choices, essentially, are to confirm Garland and have another bite at the apple in a decade, or watch as President Clinton nominates someone who is radically more leftist and 10-15 years younger, and we are in no position to stop it."
Indeed, early presidential forecasts strongly favor Democrats. HuffPost Pollster's polling average shows Trump losing to Clinton, 47 percent to 40 percent, in November. Trump would also be the least popular major party nominee in modern history.
But the calculus hasn't changed for McConnell, who has kept his conference in line. 
"While I'm glad to see Democrats concede that there won't be a Democrat in the White House next year, Republicans continue to believe that the American people should have a voice in this decision and the next president should make the nomination," said Don Stewart, a spokesman for McConnell.
"Despite the White House coordinating with liberal groups and millions of dollars in special-interest ads, no Republican has moved from their principled position," he added.
Indeed, a spokeswoman for New Hampshire Sen. Kelly Ayotte, a vulnerable moderate Republican up for re-election in November, on Wednesday confirmed the senator "plans to support" Trump in the general election. 
The risk for Republicans, of course, is that Clinton could use the same rationale of "giving the people a voice" once in office to select a liberal nominee to replace the late conservative Justice Antonin Scalia -- and complete a tectonic shift of power on the court.
REAL LIFE. REAL NEWS. REAL VOICES.
Help us tell more of the stories that matter from voices that too often remain unheard.
BEFORE YOU GO
PHOTO GALLERY
Funeral Of Supreme Court Justice Antonin Scalia