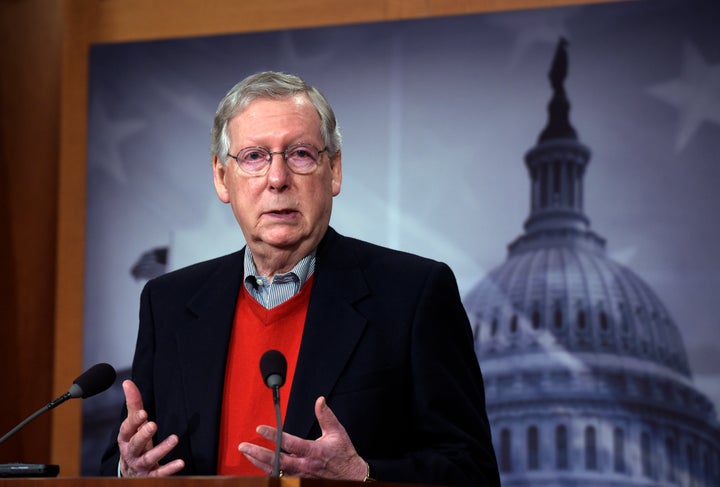 WASHINGTON ― Senate Majority Leader Mitch McConnell (R-Ky.) repeatedly refused to answer questions on Sunday about whether he thinks Donald Trump's attacks on a federal judge's Mexican heritage are racist.
During an appearance on NBC's "Meet the Press," McConnell ignored the question three times when asked specifically if Trump's comments about a U.S. district judge in California could be characterized as racist.
"I couldn't disagree more with what he had to say," McConnell responded.
Trump has been taking heat since claiming Thursday that Gonzalo Curiel, a federal judge presiding over lawsuits against Trump University, has an "absolute conflict" because of the judge's Mexican heritage. He repeatedly referred to Curiel as "Mexican" and said he couldn't be an impartial judge because of Trump's proposal to build a wall along the Mexican border. Curiel is American and was born in Indiana.
Democrats and some Republicans have condemned Trump's comments, but GOP leaders really, really don't want to talk about it.
"I don't agree with what he had to say. This is a man who was born in Indiana. All of us came here from somewhere else," McConnell said. "That's an important part of what makes America work."
When host Chuck Todd read aloud a quote from conservative blogger Erick Erickson accusing "the party of Lincoln" of defending a racist candidate, McConnell said the bottom line is that Republicans want to win the presidential race.
"I think the party of Lincoln wants to win the White House," he said. "The right-of-center world needs to respect the fact that the primary voters have spoken."
McConnell similarly avoided the racism question on Friday, when asked about it during an interview on MSNBC.
"Donald Trump is certainly a different kind of candidate," he said.
Top Democrats seized on the GOP leader's unwillingness to condemn his party's presidential frontrunner.
"Senator McConnell's evasions are exactly the kind of moral cowardice that led to Donald Trump's rise," said Kirsten Orthman, a spokesman for Senate Minority Leader Harry Reid (D-Nev.).
Sen. Bob Corker (R-Tenn.), whose name has been floated as a vice presidential pick for Trump, was also asked the question on ABC's "This Week." He was more blunt about wanting to move on.
"I don't condone the comments and we can press on to another topic," Corker said.
This piece has been updated with comment from Reid's office.
Popular in the Community