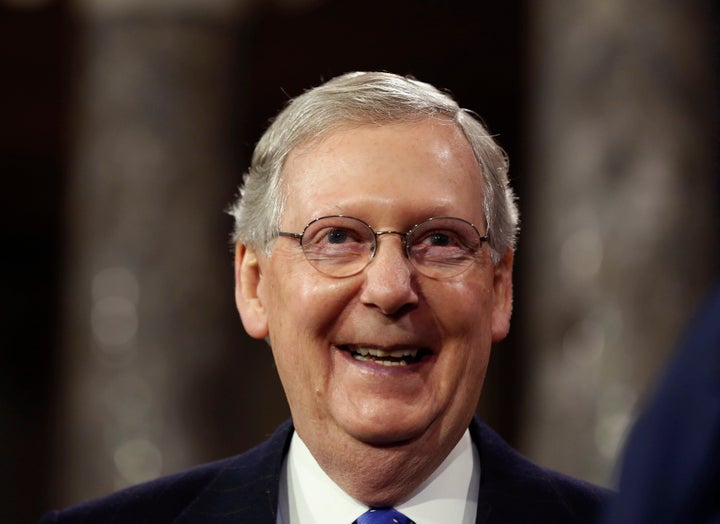 WASHINGTON ― With one month to go until the elections, Senate Majority Leader Mitch McConnell (R-Ky.) has no thoughts on his party's presidential nominee, Donald Trump, whom he endorsed months ago.
What an odd time for a top GOP leader to say nothing about the election. There was a presidential debate the night before he spoke. A couple days before that, the Washington Post unearthed a bombshell video of Trump making lewd comments about women. The Republican Party has been doing damage control ever since, with nearly two dozen GOP politicians pulling their endorsements for Trump as his poll numbers sink.
But then again, this is McConnell, who's hoping nobody notices he's disappeared in the midst of a presidential campaign, a la Homer Simpson style:
"I'm not going to be commenting on the presidential candidate today," the GOP leader told Capitol Hill reporters in mid-June, during his weekly press availability. He said the same thing a week later: "I don't particularly want to sit here today and critique the presidential campaigns."
When he spoke at the Republican National Convention in July, he spent far more time criticizing Democratic presidential nominee Hillary Clinton than giving attention to his own nominee. And in August, when a Trump supporter in Kentucky gave McConnell a hard time for not being more forthright in his support of Trump, he said not to take his silence as an un-endorsement.
Whenever Trump "says something I have to speak up on, I will," McConnell said. "But that doesn't mean I don't support him."
Capitol Hill reporters couldn't even get McConnell to talk last month about Trump's effect on down-ballot races, during his last press conference before the elections. "Not something I'm going to discuss today," he said.
McConnell's decision to ignore his party's bombastic nominee is somewhat understandable, politically, even if it's cynical. Every misstep by Trump ― and there have been many ― is another blow to the GOP's chances of keeping the Senate. At a time when his House counterpart, Speaker Paul Ryan (R-Wis.), is floundering on where he stands with Trump ― his latest position is he won't defend or campaign with him, but he's still supporting him ― McConnell is just zipping his lip.
But as much as he avoids the subject, the bottom line is that he is still endorsing Trump for president. That sends a signal to GOP senators running for reelection that they have cover from leadership to stick with Trump, too. That, in turn, affects the way they justify to voters why they are supporting a bigoted presidential nominee who routinely offends women, Muslims, Mexicans, veterans, African-Americans, Asians and others.
In other words, McConnell's silence enables a Trump presidency just as much as someone actively advocating for him.
This appears to be his strategy through November. At a Tuesday event in Kentucky, he advised that people leave immediately if the reason they came was to ask him about the presidential race.
To be sure, the GOP leader has spoken out against Trump for some of the inappropriate things he's said. He torched Trump last week over the video.
"These comments are repugnant, and unacceptable in any circumstance," McConnell said in a statement. "As the father of three daughters, I strongly believe that Trump needs to apologize directly to women and girls everywhere, and take full responsibility for the utter lack of respect for women shown in his comments on that tape."
But did you notice where the statement stops short?
He's still endorsing Trump for president.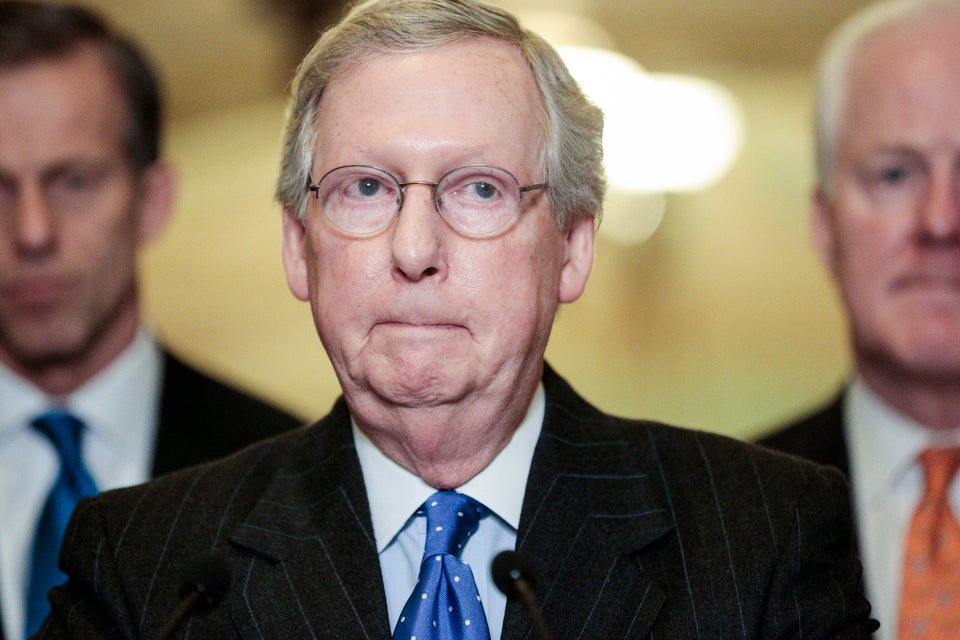 Say Cheese! Mitch McConnell Smiles