WASHINGTON -- Senate Majority Leader Mitch McConnell (R-Ky.) appears to be touting the accomplishments of the new GOP-controlled Congress even before its members have gotten the chance to hammer out any legislation.
In a speech on the Senate floor Wednesday morning, the newly elected majority leader suggested that the growing signs of an economic recovery -- 5 percent GDP growth, 320,000 additional jobs in November, all-time highs in the markets on Wall Street and plunging gas prices, to name a few -- just might have something to do with the election of a Republican Congress.
"After so many years of sluggish growth, we're finally seeing some economic data that can provide a glimmer of hope," said McConnell. "The uptick appears to coincide with the biggest political change of the Obama administration's long tenure in Washington: the expectation of a new Republican Congress."
This, he added, "is precisely the time to advance a positive pro-growth agenda" that includes tax cuts, the construction of the Keystone XL pipeline and the repeal of the Affordable Care Act.
Republicans have generally been hesitant to acknowledge any good news in the economy, saying only that President Barack Obama's policies have stunted the recovery. But as the 2016 campaign for the White House begins in earnest, McConnell's observation that the economy is improving as the GOP assumes control of Congress will likely be repeated by at least a few of his Republican colleagues -- even though, as The Washington Post notes, many of those positive economic trends date back to well before the November midterms.
In December, prominent anti-tax crusader Grover Norquist encouraged Republicans to take more credit for the economic recovery, arguing that conservatives have missed several opportunities to link the improving economy with the continuation of the Bush tax cuts and with spending cuts ushered in by sequestration.
McConnell's office did not immediately respond to a request for comment about whether he was directly attributing the good economic news to the Republican takeover of Congress. But Democrats criticized McConnell for suggesting so in a statement shortly following his remarks.
"That Mitch McConnell is one funny guy," said Mo Elleithee, communications director for the Democratic National Committee. "He likes to remind people all the time that he's not a scientist. Now we know he's not a mathematician or an economist either."
"All Republicans have given us is a government shutdown that cost the economy $24 billion," Elleithee went on. "I get why he wants to take credit for the economic recovery. But maybe he should first do something to help contribute to it."
Obama is expected to tout the good economic news as part of a pre-State of the Union tour this week, when he will lay out some of his message and policies in separate visits to Tennessee, Arizona and Michigan ahead of his Jan. 20 address to Congress.
Before You Go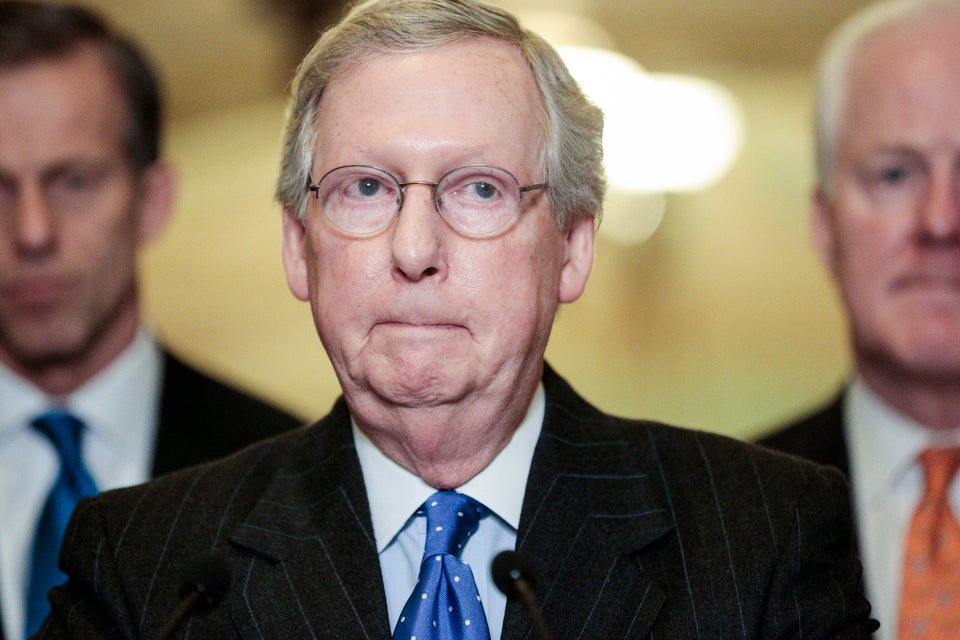 Say Cheese! Mitch McConnell Smiles
Popular in the Community