(Adds response from McConnell's Democratic opponent, letter to Obama)
WASHINGTON, June 3 (Reuters) - Senate Minority Leader Mitch McConnell on Tuesday introduced a bill that would try to block newly proposed government regulations that seek to curb carbon emissions from U.S. power plants.
McConnell, a Republican who represents Kentucky - a major coal-producing state which is also reliant on coal for electricity generation - faces a tight re-election battle in November's elections and has been campaigning on a promise to protect the state's ailing coal sector.
He launched the legislation on the Senate floor, saying it would block the Environmental Protection Agency's rules unless proof was provided that the regulations will not threaten electric reliability, raise electricity prices or cost jobs.
The EPA rules would put the United States on a course to reduce overall U.S. power plant emissions 30 percent below 2005 levels by 2030, but each state will have its own target.
The proposal will undergo at least four months of public comments. States, which can comply with individually set goals using a range of actions, must submit their plans to the EPA by June 2016.
McConnell said the U.S. Labor Secretary would need to certify that the EPA rules will not lead to job losses, the Congressional Budget Office would need to prove they would not harm economic growth, and the Department of Energy's statistics arm would need to show they will not raise electricity prices.
Otherwise, his bill would prevent the EPA from proceeding.
The EPA has assigned Kentucky one of the least stringent goals of reducing the carbon intensity of its power plant fleet, giving the state a chance to shift away from its coal-dominant energy mix over several years.
McConnell in January attempted to invoke a rarely used law to stop the Obama administration from issuing separate rules that would limit the amount of carbon that new power plants can pump into the atmosphere.
Last week, the Government Accountability Office rejected McConnell's request to use the Congressional Review Act, because that rule is not yet finalized.
Separately, McConnell and more than two dozen other Republican senators wrote to President Barack Obama on Tuesday, asking that the EPA rule be withdrawn.
McConnell's Democratic challenger in the Kentucky Senate race, Alison Lundergan Grimes, said in a statement the responses were "inadequate" to address the state's concerns over the future of coal.
Grimes, who polls show is locked in a tight race with the five-term Senate, released a platform on Tuesday outlining ways to "protect Kentucky energy jobs."
"We must work to not only rein in the EPA's overburdensome regulations, but also invest in clean coal technology, support coal and energy research and keep foreign markets open for coal," said her campaign manager, Jonathan Hurst.
On Monday, two House lawmakers from the coal-producing state of West Virginia said they also plan bipartisan legislation to stop the EPA's power plant rules. (Reporting by Valerie Volcovici; editing by Ros Krasny and G Crosse)

Before You Go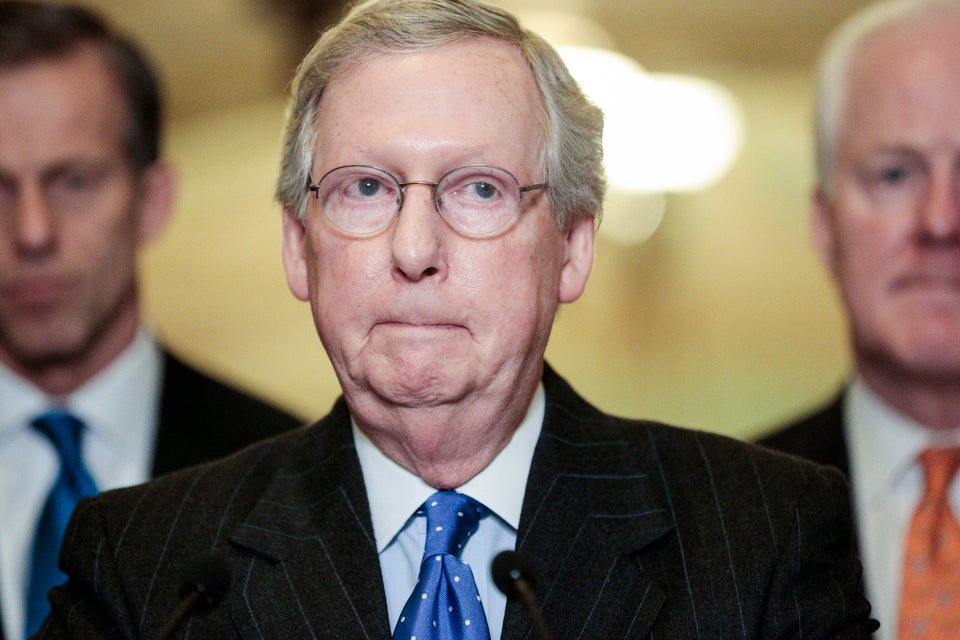 Say Cheese! Mitch McConnell Smiles
Popular in the Community