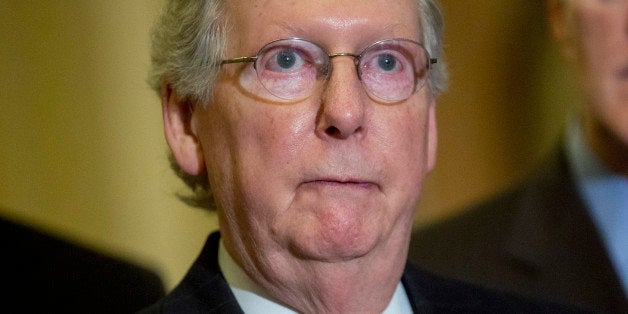 WASHINGTON, March 6 (Reuters) - Officials in Senate Majority Leader Mitch McConnell's home state of Kentucky rejected the senator's plea to states this week to ignore federal deadlines to comply with proposed carbon limits for power plants, warning it could cause more economic harm in the long run.
McConnell, leader of the Senate Republican majority, urged governors and state officials Tuesday to "think twice" before submitting state plans to the Environmental Protection Agency (EPA) to comply with its Clean Power Plan, a federal rule that requires each state to slash the carbon emission rate of its power plants.
The op-ed in the Lexington Herald-Leader was the latest statement the coal state senator has made in his fight to topple the EPA's proposal, which he said is on "legally shaky ground."
He warned that submitting plans to the EPA locks states into federal enforcement and exposes them to lawsuits. Kentucky is one of 12 states that has already sued the EPA over its Clean Power Plan, which has yet to be finalized.
But Kentucky state officials said Thursday that halting work to craft a tailored plan to comply with the EPA proposal is a risky proposition, and could result in Kentucky facing more rigid restrictions on its power plants if legal challenges fail.
States have until June 2016 to submit a compliance plan that outlines how it will meet its targets. Failure to submit a plan would result in states having to adopt a federal default plan that would offer less flexibility in meeting the targets.
"Failing to follow through with creation of that plan means Kentucky would most likely have to abide by a Federal Implementation Plan that would cause harm to Kentucky's economic future and burden the next administration with challenges not of its making," said Dick Brown, a spokesman for Kentucky's Energy and Environment Cabinet.
Democratic Governor Steve Beshear's energy and environment cabinet has been working with utilities to map out a strategy to meet the EPA rules while trying to keep electric rates low. His cabinet hopes to pass that on to Beshear's successor after his term ends in December.
One industry lawyer said risking a federal plan would cost coal states more because it would offer them fewer cost-effective options to comply, and legal challenges may fail.
"Just saying no isn't the best approach if a state is really concerned about the plan's costs," said Brian Potts, a lawyer with Foley & Lardner. (Reporting By Valerie Volcovici)
Calling all HuffPost superfans!
Sign up for membership to become a founding member and help shape HuffPost's next chapter
BEFORE YOU GO
PHOTO GALLERY
Say Cheese! Mitch McConnell Smiles