WASHINGTON -- Senate Minority Leader Mitch McConnell (R-Ky.) may have done the popular thing and voted for the farm bill he has opposed in the past, but in doing so he may have saddled himself with two political problems.
First, tea party supporters of his GOP challenger, Matt Bevin, oppose the bill vehemently, calling it a way to expand government.
Second, Democratic challenger Alison Lundergan Grimes -- the Kentucky secretary of state who is running neck and neck with McConnell -- gets to portray him as a hypocrite who tried to pander to the right, only to flip-flop.
"Mitch McConnell promised months ago that he would deliver a farm bill, and instead allowed the crucial legislation to expire on his watch," Grimes said in a statement shortly before McConnell voted for the bill Tuesday.
McConnell voted against the bill in 2012 and 2013 as the previous farm bill expired. House Republicans didn't manage to pass a different version of the bill until last summer.
As recently as December, McConnell derided the Senate measure as a "food stamp" bill, because the Senate's version only cut $4 billion from the nutrition program, compared with some $40 billion the House hoped to chop.
McConnell can point to a slightly larger cut in the merged version of the bills that he voted for, with a reduction in nutrition assistance of about $8 billion. He also has been touting a provision in the bill to legalize production of some industrial hemp products, which would be made in Kentucky. (Although he declined to try and pass that provision himself when the bill was originally drawn up in committee.)
McConnell's change of heart didn't impress Grimes, for one. "Rather than championing passage, McConnell has been a leading obstacle to Congress passing a new Farm Bill that gives Kentucky farmers the certainty and assistance they deserve," Grimes said. "It is reprehensible that we have a senior senator who plays politics with Kentuckians' livelihood."
A campaign spokesman for McConnell did not immediately answer a request for comment.
Before You Go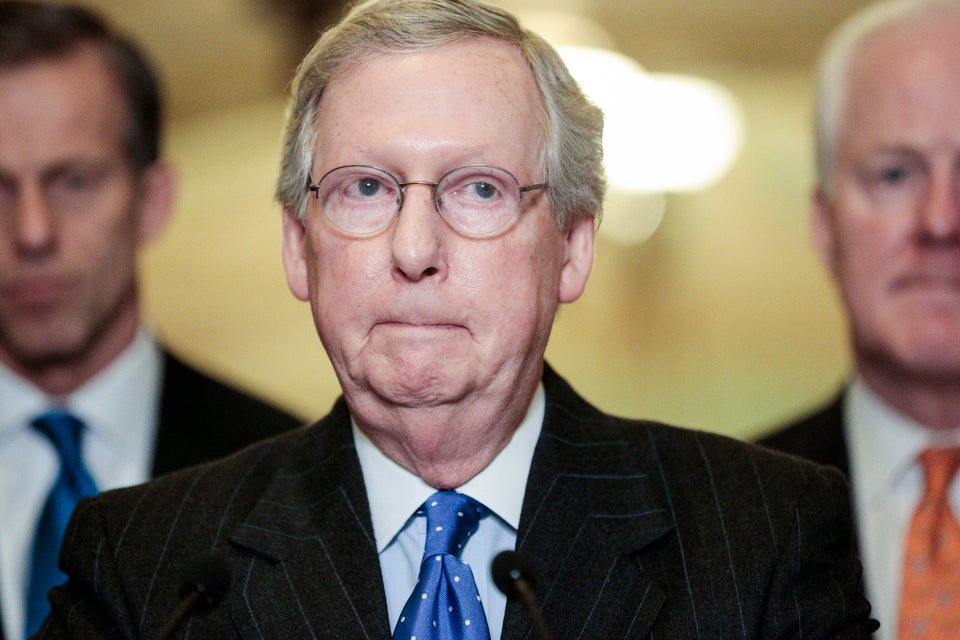 Say Cheese! Mitch McConnell Smiles
Popular in the Community