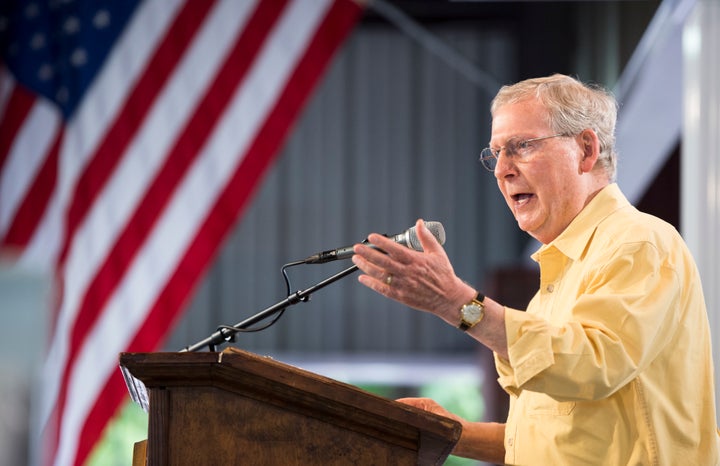 Senate Majority Leader Mitch McConnell (R-Ky.) is not optimistic that he will be in charge of the Senate come November ― and Donald Trump, he implied, is not helping matters.
McConnell told a civic group in Kentucky on Thursday that the chances of the GOP retaining control of the Senate were "very dicey," the Associated Press reported.
The party's Senate majority was always going to be tenuous this year, according to McConnell, with 24 Republican-held seats up for grabs, compared to just 10 Democratic-held seats.
Losing the Senate would severely limit Republicans' power "to impact judicial appointments," McConnell cautioned. It was a clear warning that the Senate must remain a priority regardless of the outcome of the presidential race.
McConnell did not explicitly blame the GOP presidential nominee for harming the party's Senate candidates, but he did criticize Trump's campaign tactics and said he hopes he "settles down and follows the script."
It's clear neither Trump nor Hillary Clinton is "widely appealing to the American people," he added.
The latest Trump-related controversy came this week, when the candidate insisted President Barack Obama was a "founder" of ISIS. On Friday, Trump claimed the statement had been sarcastic.
Earlier in the week, the real estate mogul drew widespread condemnation for saying "Second Amendment people" could stop Clinton from appointing judges, a remark may interpreted as a veiled threat of violence.
McConnell has criticized Trump's most outrageous comments but ― like other top Republicans, including House Speaker Paul Ryan (R-Wis.) ― continues to endorse him.
However, The New York Times reported in February that McConnell had a contingency plan in place should Trump win the nomination ― and become a liability for Republicans down the ballot. In such a scenario, McConnell argued, the GOP could limit its losses by keeping the candidate at arm's length.
"We will drop him like a hot rock," McConnell reportedly told Senate colleagues at the time.
Of course, Republicans losing control of the Senate may be even more dire for the party partly because of a decision McConnell made earlier this year: He refused to consider Obama's Supreme Court nominee, Merrick Garland.
Garland is widely considered a centrist. If Clinton wins the general election and Republicans lose the Senate, the next nominee may be far more liberal.
Popular in the Community