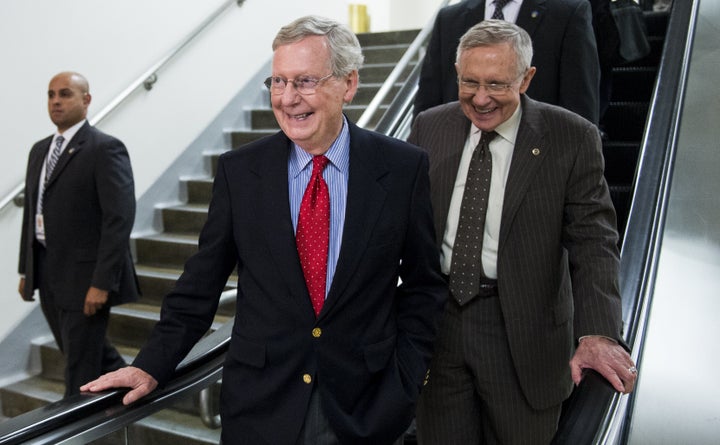 WASHINGTON -- If you try to come between Senate Minority Leader Harry Reid (D-Nev.) and Senate Majority Leader Mitch McConnell (R-Ky.), be prepared to be called out on C-SPAN.
The opposing duo has been in leadership in the upper chamber since 1998, and the two men are known to have vastly different styles of managing their respective caucuses and the Senate floor. But Reid ended his morning remarks on Thursday by adamantly defending his friendship with McConnell, after a report published in Politico said their relationship was on the rocks.
"I want the record to reflect -- people write all these things they want to write -- but Mitch McConnell and I are friends," Reid said on the floor in a roughy two-minute speech refuting the story. "The Reid-McConnell relationship hasn't hit a new low."
It's an interesting turn from comments Reid made on the record to Politico, in which he categorized his friendship with McConnell as distant.
"It's just not the same relationship," he told the publication."Maybe it's my fault. It's not as if we're bitching at each other all the time. Our staffs get along. It's just that we don't get together very much."
Reid and McConnell are known for making disparaging comments about each other's caucuses, but on Thursday they stood stood side by side as Reid insisted their relationship is based on deep admiration.
They disappoint each other from time to time, he admitted, but added that they have gone through some tough times together as well. Reid said McConnell was one of the first people to contact him and offer help when his wife battled cancer, and when he was injured earlier this year.
"There's nothing wrong with our personal relationship, whether it's watching [Washington Nationals] baseball or a lot of other things that we've discussed both personally, and otherwise, for literally years," McConnell said.
Watch the love fest below: