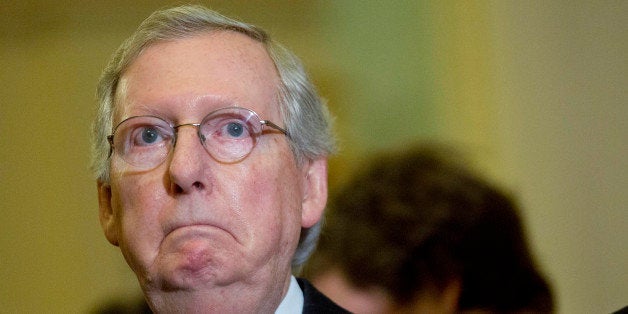 WASHINGTON -- Feeling the heat from a Democratic rebellion, Senate Majority Leader Mitch McConnell (R-Ky.) is reversing course on a plan to move forward next week with a controversial Iran bill.
McConnell spokesman Don Stewart confirmed Thursday that the GOP leader is pulling the bill from next week's schedule. Instead, the Senate will turn to human trafficking legislation.
The bill, introduced by Senate Foreign Relations Committee Chairman Bob Corker (R-Tenn.), would give Congress 60 days to review -- and potentially reject -- any deal that scales back U.S. nuclear sanctions on Iran. The measure has bipartisan support, but Democrats have insisted their support hinges on allowing delicate U.S.-Iran talks to play out first. International negotiations on curbing Iran's nuclear capabilities have entered their final phase as the March 31 deadline for a final deal nears.
McConnell infuriated Democrats on Tuesday by saying he planned to bypass regular order and expedite the bill to the floor next week, versus sticking to a previous agreement to hold off on any votes until March 24 and until after the Senate Foreign Relations Committee debates it. Democratic co-sponsors of the bill retaliated by vowing to block it, which left Republicans without the assurance of a veto-proof margin on it. The White House has already threatened a veto.
"While the original schedule would have allowed for a committee markup and vote on the Iran Nuclear Agreement Review Act of 2015 before final floor consideration, it is clear that Senate Democrats will filibuster their own bill -- a bill they rushed to introduce before the White House cut a deal with Iran," said Stewart. "So, instead, the Senate will turn next to the anti-human-trafficking legislation while Democrats decide whether or not they believe they and Congress as a whole should be able to review and vote on any deal the president cuts with the leaders of Iran."
Corker seemed relieved that McConnell is willing to wait.
"The strongest signal we can send to the U.S. negotiators is having a veto proof majority in support of Congress weighing in on any final nuclear deal with Iran," Corker said in a statement. "This week, our bipartisan legislation gained momentum with four additional Democrats offering their support for the bill. I greatly appreciate the Majority Leader's commitment to getting the Iran Nuclear Agreement Review Act across the finish line by allowing the vote to occur at a time when we will more likely generate a veto proof majority."
Some Republicans had already cautioned McConnell about trying to rush the legislation. Sen. Lindsey Graham (R-S.C.) said Wednesday that keeping Democrats on the bill was crucial.
"I understand Mitch wanting to move forward, but this is not about partisan politics to me. This is about world order," Graham said. "I don't want to create a problem for Democrats. If we have to wait until after the 24th -- they insisted upon that -- I'm willing to wait, as long as I know that there will be bipartisan support for a review of the deal."
Democrats reiterated that the right thing to do is give President Barack Obama breathing room to continue trying to reach a deal with Iran. If diplomacy fails, many argue, the only option left for reining in Iran's nuclear capabilities is war.
"In trying to rush ahead with this vote, Leader McConnell was injecting politics into the U.S.-Israel relationship, just as Speaker Boehner did before him," said Sen. Charles Schumer (D-N.Y.). "The relationship between the United States and Israel is at its strongest when both parties are working in tandem, and those of us that value that relationship are glad that Leader McConnell backed off."
Calling all HuffPost superfans!
Sign up for membership to become a founding member and help shape HuffPost's next chapter
BEFORE YOU GO
PHOTO GALLERY
Scenes From 114th Congress And Capitol Hill