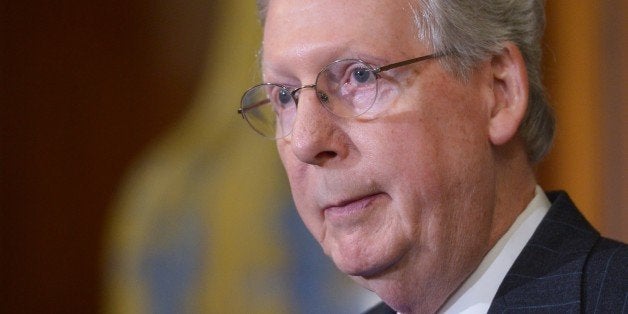 WASHINGTON -- In a defeat for Republican Party hawks, Senate Majority Leader Mitch McConnell (R-Ky.) cut off debate on a Senate bill on the Iran nuclear agreement without consideration of amendments that demand more conditions from the Iranians.
The legislation, which will likely go to the Senate floor on Thursday, gives Congress up to 52 days to approve any forthcoming Obama administration request to lift sanctions on Iran in exchange for curbs on the country's nuclear program.
"It's time to move on," Sen. Johnny Isakson (R-Ga.) said of the debate after a Senate Republican lunch on Tuesday.
By filing for cloture and moving the bill to the floor as is, McConnell helps preserve a delicate agreement negotiated by Senate Foreign Relations Committee Chair Bob Corker (R-Tenn.) and ranking member Ben Cardin (D-Md.), which passed the committee unanimously. However, the move will likely open McConnell to criticism from his own party, as well as to chiding from Democrats.
Some Senate Republicans expressed frustration with the idea that the bill would go to the Senate floor unamended.
"I haven't understood it for four years being here, going on to my fifth year, what is wrong with just starting to vote on amendments?" said Sen. Ron Johnson (R-Wis.) on Tuesday. "That's our job, we should be doing this."
Senate Democrats, meanwhile, noted that McConnell and other Senate Republicans had vigorously campaigned in 2014 against then-Majority Leader Harry Reid's (D-Nev.) managing of the amendment process. Adam Jentleson, a spokesman for Reid, quickly produced a list of 101 times in which his boss was criticized for closing debate and running a quasi-dictatorship in the Senate.
"We sympathize with Senator McConnell's position," said Jentleson. "Just like Senator Reid, Senator McConnell was forced to file cloture because Republican senators took advantage of the Senate's rules to pull procedural stunts aimed at derailing a bipartisan compromise and, in effect, shut down the amendment process."
Jentleson was referring to Sen. Tom Cotton (R-Ark). Late last week, Cotton, a vocal freshman hawk, surprised his party's leadership when he used an obscure parliamentary procedure to force a vote on a package of amendments further limiting the president's ability to facilitate sanctions relief and cementing "anytime, anywhere" inspections of Iran nuclear sites. Also included was an amendment from Sen. Marco Rubio (R-Fla.) that required Iran to recognize Israel as a Jewish state before any deal was finalized. Because of the way Cotton filed his amendment package, the Senate could not vote on any of the 66 pending amendments before addressing his proposed changes.
Republican leadership was forced to quickly move off the Iran bill, lest the Cotton amendment get a vote and potentially derail the entire legislation. Senators who had carefully shepherded the measure weren't pleased.
Corker, for one, pointed to Cotton's move as a turning point in what had been a bipartisan effort to pass an Iran oversight bill that wouldn't ultimately die on the president's desk. "The procedural moves [last] Thursday certainly ended our discussions that were going in a very constructive and positive way relative to amendments," Corker told reporters on Tuesday after the luncheon with his caucus. "You know, sometimes people forget the Senate operates by unanimous consent. While you have the majority and you set the agenda, the other side gets a vote on which amendments are going to be heard."
While some Republicans were upset over Cotton's gambit, others argued that Democrats were to blame for not simply allowing it to come to a vote.
"I think the Democrats were also concerned about exposing what this bill is not. And this is not the proper role for Congress," Johnson said, referring to the Corker-Cardin bill in its current form.
Either way, Cotton's move left McConnell in a bind. The majority leader could have either tried to get unanimous consent on a package of amendments, including Cotton's (something Democrats wouldn't likely agree to), or he could file cloture without allowing any amendments to be considered.
Trying for unanimous consent would have imperiled the bill's passage, since the Cotton and Rubio amendments were regarded by Democrats as poison pills. Though several Democrats would have liked to vote in favor of Rubio's amendment to signal their support for Israel, they would not do so if it meant risking a presidential veto. President Barack Obama, who would sign the bill as is, would assuredly veto it if it included Rubio's amendment, since it would essentially put an impossible precondition on the completion of the Iran deal.
But the alternative path carries risks for McConnell as well. Closing the amendment process exposes him to charges of hypocrisy, since he spent much of the 2014 campaign criticizing Reid for not allowing a more open amendment process when Democrats controlled the Senate.
McConnell spent Monday seeking a middle ground -- some type of agreement on a variety of less-controversial amendments. But the impasse carried over to Tuesday -- with Democrats objecting to reopening talks on amendments after the Cotton gambit -- and continued tough to bridge.
In addition to the diminishing will within the Senate to debate further tweaks to the bill, McConnell also found his hand forced by logistical time constraints. As noted by Reid's office on Tuesday, the Senate is running out of time to act on legislation on highways and surveillance that is set to expire at the end of this month.
This article has been updated to include cloture.
Before You Go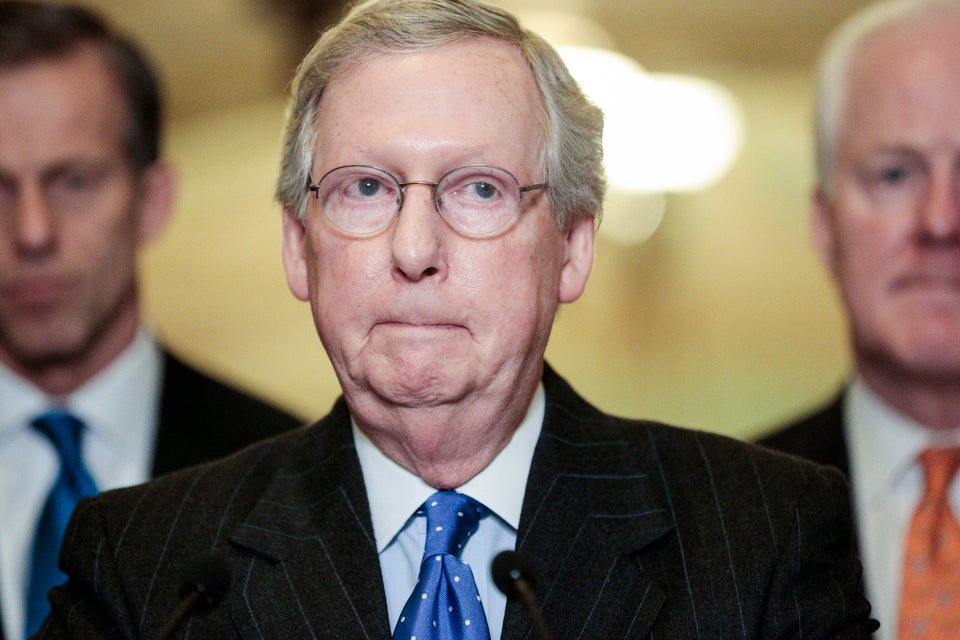 Say Cheese! Mitch McConnell Smiles
Popular in the Community