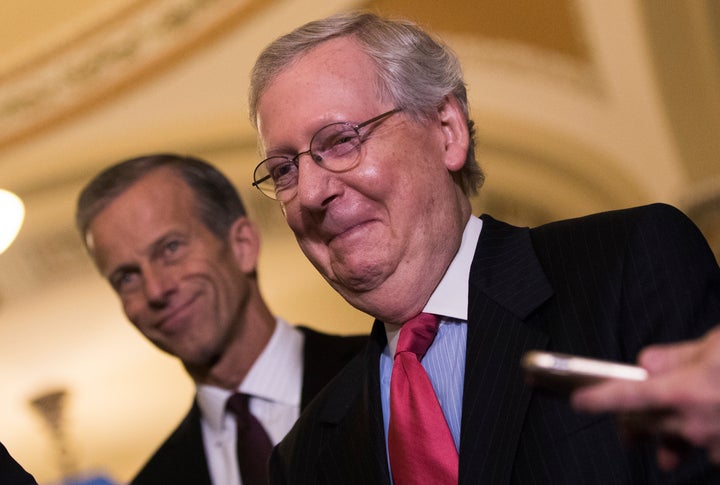 WASHINGTON ― Senate Majority Leader Mitch McConnell (R-Ky.) is finally giving conservative groups what they want: a huge push on judicial confirmations.
McConnell has teed up votes this week on four of President Donald Trump's judicial nominees. That's an incredible amount of activity on judges in one week. For some comparison, former Senate Majority Leader Harry Reid (D-Nev.) typically scheduled a vote on one nominee per week, at most.
"I never remember the Democrats ever doing anything comparable," Carl Tobias, a University of Richmond law professor and an expert on judicial nominations, told HuffPost on Monday.
With little fanfare, this week is shaping up to be one of Republicans' biggest boosts to Trump's agenda since Supreme Court Justice Neil Gorsuch was confirmed in April.
All four nominees are young (in their late 40s and early 50s), conservative and up for a lifetime post on a U.S. circuit court ― one level below the Supreme Court. None got a single Democratic vote when they were reported out of the Senate Judiciary Committee. Two were recommended to Trump directly by the Federalist Society and the Heritage Foundation, both right-wing think tanks.
The Senate cleared a procedural step on Monday night for the first nominee in the batch, Amy Coney Barrett. She is on track to be confirmed Tuesday to the U.S. Court of Appeals for the 7th Circuit.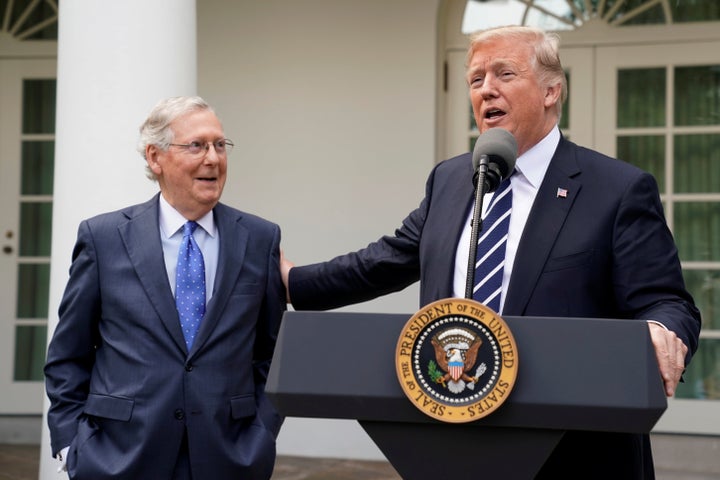 The president has already been filling court seats with anti-LGBTQ and anti-abortion judges. But it wasn't until this week that McConnell put the process into overdrive. There are a couple of reasons why.
Despite controlling Congress and the White House, Republicans don't have any major legislative accomplishments this year. That's embarrassing, and it doesn't give them much to boast about when they go back home. The Senate can at least move forward on judges and call that a win.
The bigger reason, though, is that McConnell is trying to appease conservative groups who are fuming at what they think is a sluggish pace on Trump's judges.
In the past month, the right-leaning Judicial Crisis Network had planned to launch a $250,000 ad buy aimed at pressuring McConnell to pick up the pace on judges (that crisis was averted); the Conservative Action Project issued a memo signed by more than 100 conservative activists demanding that McConnell "IMMEDIATELY schedule committee and floor action every Thursday and Friday" to confirm judges; and Rick Manning, president of Americans for Limited Government, called it a "judicial crisis" and "unconscionable" that the Senate had only confirmed seven judges as of early October.
There are currently 21 circuit court vacancies and 120 district court vacancies, according to the Administrative Office of the U.S. Courts. The Senate has confirmed four district judges and four circuit judges so far this year.
Remaking the federal courts is a top priority for conservatives, and Trump himself told Senate Republicans last week at their weekly lunch that he wants them to get moving with judicial confirmations.
"He really emphasized that," Sen. Pat Roberts (R-Kan.) told HuffPost. "The one thing you can do that is a permanent change, for quite some time in the country, is to change the judiciary."
Democrats can't do much to stop McConnell from pushing judges through. They can impose delays here and there, and in some cases, they can block judicial nominees from their home states by refusing to turn in blue slips to the Judiciary Committee. But short of winning control of the Senate, they'll largely have to settle for kicking and screaming.
Senate Minority Leader Chuck Schumer (D-N.Y.) did a little of that on Monday, when he accused McConnell of "breaking the norms and traditions of the Senate" by pushing through so many nominees at once.
"Senator McConnell, once again, despite his desire to make the Senate work … is bending to the hard right of his party by jamming through these judges," he said. "I intend to oppose these extremist nominees."
Before You Go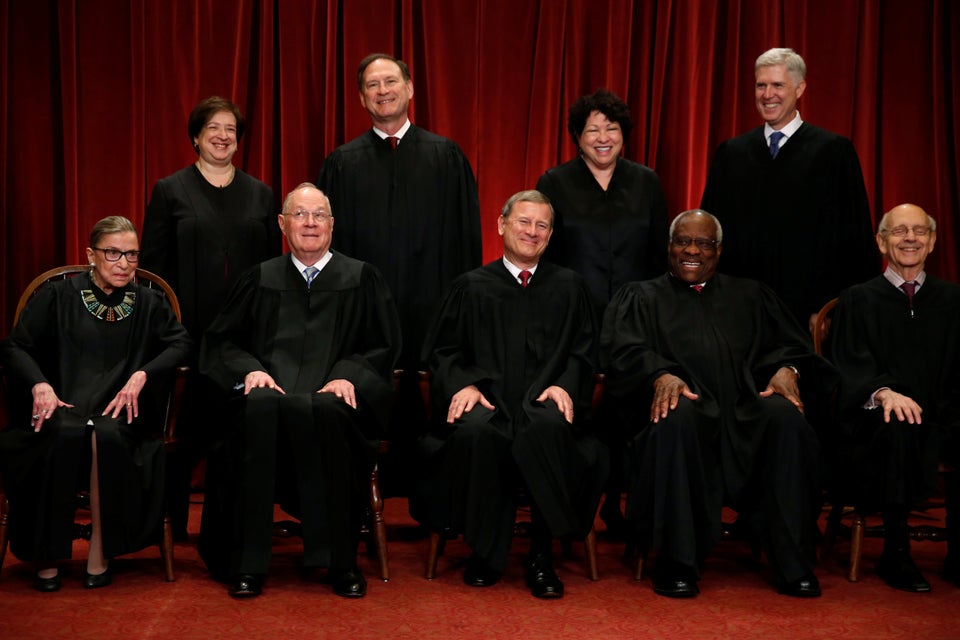 The Supreme Court's 'Family' Photos
Popular in the Community