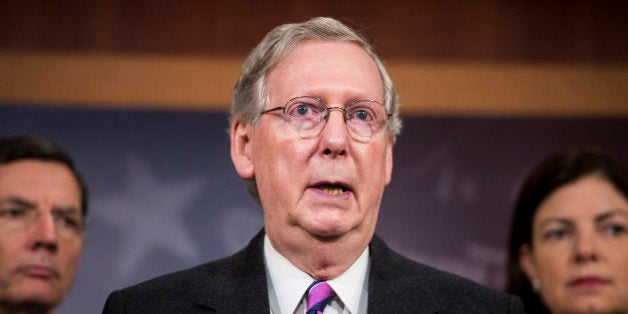 The rancor displayed in Kentucky's Republican primary may have a post-primary consequence: Businessman Matt Bevin, who is challenging Senate Minority Leader Mitch McConnell, won't say whether he'd back the senator if Bevin loses the primary later this month.
According to CNHI's News Service, Bevin told supporters Wednesday that he was miffed McConnell's campaign was attacking him while simultaneously seeking his post-primary support.
"You can't attack everybody and then expect everybody is going to say Kumbaya," Bevin said.
The Republican Party of Kentucky emailed a letter to Bevin and McConnell asking both to commit to endorsing whoever goes on to challenge Kentucky Secretary of State Alison Lundergan Grimes (D), who is expected to win the Democratic primary May 20.
When Bevin was asked about the letter, he said he hadn't seen it, according to the news service.
"I'm not going to comment on what I'll do or not do based on something I haven't seen," Bevin said.
When asked if he would endorse the Republican nominee regardless of the letter's contents, Bevin replied: "When I see this [letter], I'll make a decision."
McConnell's campaign spokeswoman Allison Moore said he plans to support the party's nominee.
"From day one, Senator McConnell has committed to supporting the winner of the primary election," Moore said. "The stakes of this election are too high to give President Obama another vote in the U.S. Senate with Alison Lundergan Grimes."
McConnell's campaign has leveled a number of hits against Bevin, including highlighting the challenger's comments about legalizing cockfighting and his connection to an investor report that praised the Troubled Asset Relief Program bailout in 2008.
Grimes senior advisor Jonathan Hurst said Thursday that her campaign would welcome Bevin's supporters were he to lose the primary.
"We would absolutely welcome Matt Bevin's supporters to our campaign, if the primary doesn't work out for him," Hurst said in a statement. "Republicans, Democrats and Independents in all corners of the Commonwealth are tired of Mitch McConnell's 30-year Washington reign and ready to rally around a fresh face and vision for Kentucky's economic future. They need to look no further than Alison Lundergan Grimes."
REAL LIFE. REAL NEWS. REAL VOICES.
Help us tell more of the stories that matter from voices that too often remain unheard.
BEFORE YOU GO
PHOTO GALLERY
Senate Seats Up For Grabs In 2014