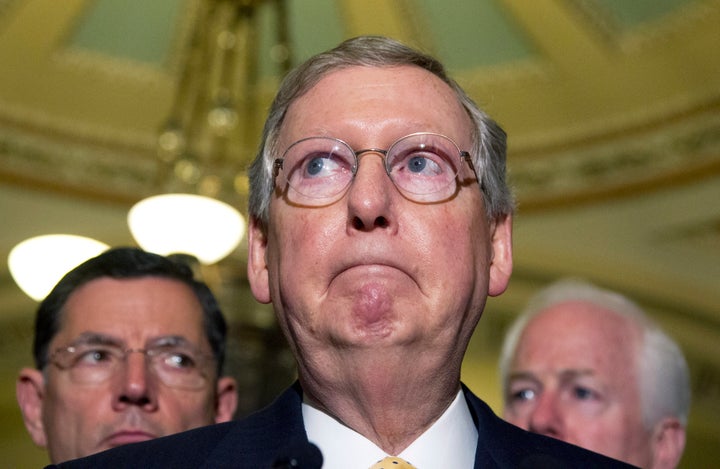 WASHINGTON -- Senate Minority Leader Mitch McConnell (R-Ky.) passed the ball Tuesday to Republican presidential candidate Mitt Romney to present the GOP response to Obama's recent deportation decision. McConnell put pressure on the former governor to say how he would address young undocumented immigrants -- and soon.
"I think most of my members are interested in learning what Governor Romney has to say on this issue," McConnell told reporters, when asked about the Obama announcement. "We're going to withhold judgment, most of us, until that time."
McConnell, as well as Sens. Jon Kyl (R-Ariz.), John McCain (R-Ariz.) and John Cornyn (R-Texas), was evasive about whether Congress could or should take up legislation soon to address young undocumented immigrants who will be given temporary reprieve from deportation, and on whether such a reprieve should be defined as "amnesty."
Romney has also been vague on how he would deal with Obama's announcement, other than to say it was an overreach and he wants legislation from Congress, even before his inauguration. He has repeatedly dodged questions on whether he would end the policy.
The minority leader said he thinks Romney will likely give a fuller response on Thursday at the National Association of Latino Elected Officials conference, even though the candidate has said repeatedly that jobs and the economy -- not issues such as immigration -- should be the message of his campaign.
GOP senators are giving two somewhat contradictory messages on the policy change. One: The president's action made reform next to impossible. The other, often from the same mouth: His announcement made the need for immediate action more important than ever.
"I would be glad to work on the issue, and I think most Republicans would be glad to work on the issue," McCain said.
When asked about Sen. Marco Rubio's recent announcement that he will most likely not introduce legislation at all, McCain said reporters should ask the Florida Republican about his views, but expressed his own belief that Congress needs to address the issue soon.
McCain became testy when asked whether Romney should come out with a specific plan, saying only that Obama should come out with his own. The Dream Act vote in 2010 didn't count as that type of plan because the president had promised broader immigration reform, he said, pointing at two reporters and adding, "I don't care about your opinion."
Kyl told reporters he wouldn't "assess the chances" of whether the Senate GOP would move on some type of immigration bill.
"Rubio said this would make it more difficult, and I think it's probably right," Kyl said, but agreed when a reporter suggested the announcement could also spur change. "We'll just have to see how things develop over the next few days."
Either way, none of the four senators said the president was granting "amnesty," a word commonly thrown around in reference to bills that allow undocumented immigrants to stay in the United States rather than moving to their native country and waiting for a visa. Politically, that's probably smart, as Rubio's plan -- broadly outlined -- would give close to the same thing: taking away the risk of immediate deportation, but providing no legal status.
"That's a word that gets used a lot that I think is pretty ill-defined," Cornyn said of whether Obama's directive was "amnesty." "So I wouldn't use the A-word to describe this."
CORRECTION: An earlier version of this article called Sen. Mitch McConnell the Senate Majority Leader. McConnell is the Minority Leader.
REAL LIFE. REAL NEWS. REAL VOICES.
Help us tell more of the stories that matter from voices that too often remain unheard.
BEFORE YOU GO