WASHINGTON -- Senate Majority Leader Mitch McConnell (R-Ky.) really doesn't like idea that President Barack Obama could use executive power to make more corporations disclose campaign spending.
Asked about that possibility at his news conference on Capitol Hill, McConnell flatly declared it would be illegal, and he used that point to launch a wide-ranging denunciation of Obama and the president's intentions to do as much as he can in the final year of his presidency.
McConnell seemed particularly perturbed by a recent statement from White House Chief of Staff Denis McDonough that Obama would take "audacious" steps in his final 12 months.
"I believe that 's the word he used, right? Audacious?" McConnell said. "My goodness. I mean, does the president not have any respect for the process?"
Congressional Republicans, who have often blocked Democrats' attempts to carry out the White House agenda, have been especially angry at Obama lately for pushing an executive order to curb gun violence, although that's only the latest grievance.
The contemplated campaign finance order stems from the Supreme Court's 2010 ruling allowing unlimited corporate spending on politics. At the time, the court suggested that Congress could enact new laws to require disclosure, even if setting dollar limits was no longer constitutional.
However, Congress has never acted on that suggestion, and blocked a measure called the Disclose Act that would have carried it out. If the White House goes through with an order requiring corporate campaign disclosure, it would only apply to companies with federal contracts, although that would likely cover the majority of large corporations.
But McConnell said he doesn't see such an executive order as a modest step needed because Congress has failed. He said that and other Obama orders reminded him of Woodrow Wilson, whom McConnell said "believed in sort of unlimited executive authority."
"Goodness gracious. By that standard, President Obama is really Wilsonian, as if there are just no boundaries beyond which he cannot push," McConnell said. "Apparently, their strategy is to overreach everywhere for as long as they can."
McConnell also noted that Obama has exactly a year left in office as of Wednesday.
"I, like many Americans, will be counting the days," he said.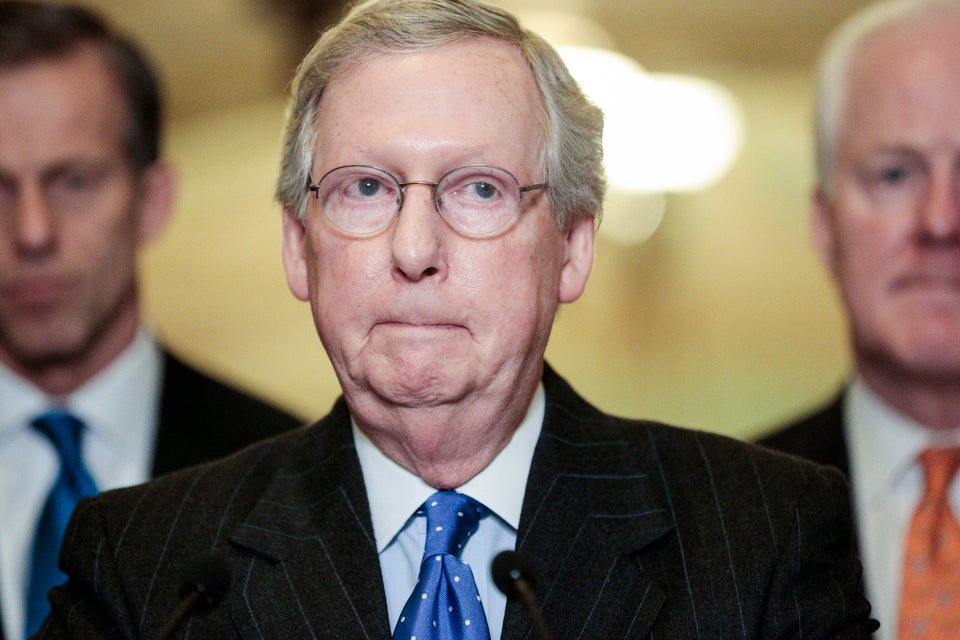 Say Cheese! Mitch McConnell Smiles