WASHINGTON -- Senate Republicans have been slow-walking President Barack Obama's judicial nominees all year. It looks like things are about to get even less productive.
Senate Majority Leader Mitch McConnell (R-Ky.) said Thursday that he doesn't expect to confirm any of Obama's circuit court nominees for the remainder of his time in office, a blow to White House efforts to fill empty federal court seats despite working with a Republican-controlled Senate.
In an interview with conservative radio host Hugh Hewitt, McConnell was asked about judicial confirmations.
"So far, the only judges we've confirmed have been federal district judges that have been signed off on by Republican senators," McConnell said. Asked if he expects that to be the case through 2016, McConnell said, "I think that's highly likely, yeah."
If McConnell is serious, that means at least two GOP-backed circuit court nominees are toast.
Sen. Chuck Grassley (R-Iowa), chairman of the Senate Judiciary Committee, has scheduled a hearing next week for Luis Felipe Restrepo, a nominee for the U.S. Court of Appeals for the 3rd Circuit. Restrepo has the support of both of his home-state senators, including Republican Sen. Pat Toomey (Pa.).
Kara Stoll, meanwhile, a nominee for the U.S. Court of Appeals for the Federal Circuit, was voted out of the Judiciary Committee in April with no opposition, and is currently waiting for her confirmation vote in the full Senate.
Beyond them, there are an additional seven circuit court vacancies around the country that don't yet have nominees. If McConnell's vow is true, none of those seats will get filled, either.
A White House spokesman did not immediately respond to a request for comment.
Judicial confirmations have already been moving at a snail's pace this year. Republicans have only confirmed four district court nominees and no circuit court nominees.
For some context: President George W. Bush had to work with a Democratic Senate in his final two years in office. By this point in Bush's seventh year, the Senate had confirmed 15 of his district court nominees and three circuit court nominees.
Before You Go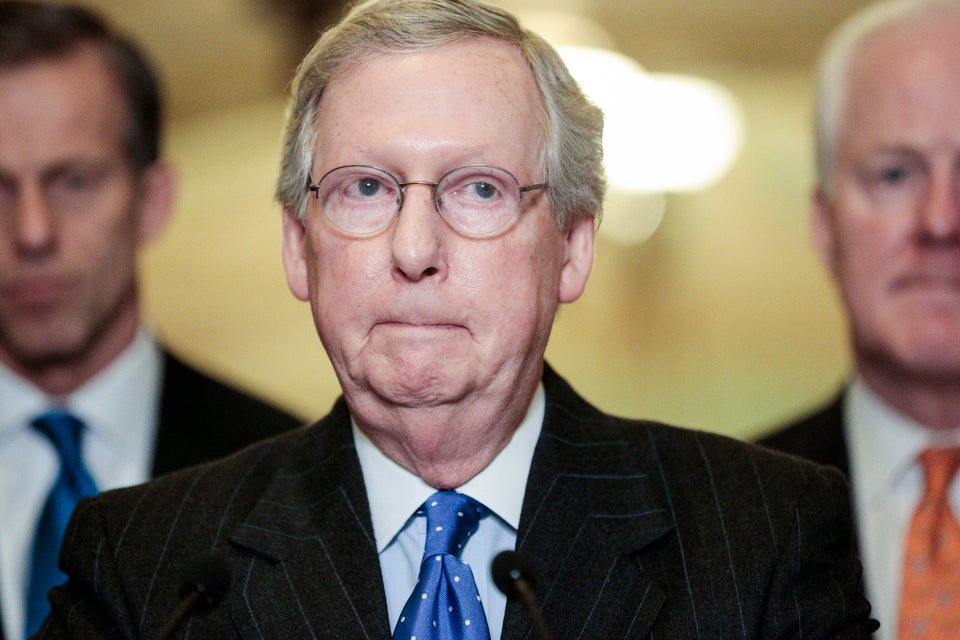 Say Cheese! Mitch McConnell Smiles
Popular in the Community