WASHINGTON -- Senate Republicans have come up with lots of reasons for not wanting to advance President Barack Obama's nominees to the powerful U.S. Court of Appeals for the D.C. Circuit, whether it be false accusations of "court-packing" or claims that the court doesn't need its three vacancies filled because it's not busy enough.
On Tuesday, Senate Minority Leader Mitch McConnell (R-Ky.) argued there was another problem with moving Obama's nominees: a "culture of intimidation" being fueled by Democrats.
"There's a culture of intimidation throughout the executive branch of the federal government," McConnell told reporters in response to a question about nominations and listed a number of agencies. "There's also a culture of intimidation here in the Senate."
McConnell accused Senate Majority Leader Harry Reid (D-Nev.) of planning to break a promise he made in January about not messing with Senate filibuster rules. Reid has been hinting for weeks that he may be ready for a filibuster fight this summer if Republicans don't ease off their blocking of Obama's nominees. Plenty of Democrats support changing the rules so that nominees would require only a simple majority to be confirmed, versus the current 60-vote threshold.
It's still not clear whether Reid will actually follow through with changing the rules, but McConnell hammered him for signaling that he may do so.
"I asked him again this morning whether he intends to keep his word to the Senate and the American people," McConnell said. "We don't intend to be intimidated by him with a constant threat to break the rules in order to change the rules. If that's what's going to happen, we want to know it now, not some other time. Now."
But McConnell isn't painting the full picture. Reid and McConnell both agreed in January that no changes would be made to Senate filibuster rules as long as Republicans agreed, in Reid's words at the time, "to schedule votes on nominees in a timely manner, except in extraordinary circumstances." In the five months since then, Democrats say the Republicans are the ones who haven't upheld their end of the bargain.
Reid made that case on the Senate floor late last month, giving statistics on the kinds of delays that have stalled Obama's nominees: Executive and judicial nominees ready for Senate confirmation have been pending an average of 200 days, first-term judicial nominees unanimously reported out of committee have waited nine times longer to be confirmed than those under President George W. Bush, first-term district court nominees have waited five times longer than those previously, and first-term circuit court nominees have waited more than seven times longer.
"Before the Republican leader accuses me of going back on my word, he should take a long look in the mirror. And he should spend some time in honest reflection of Republican contributions to the gridlock threatening this storied institution before he claims that, quote, 'there is no real problem here,'" Reid said at the time.
The majority leader dismissed McConnell's charges again on Tuesday.
"The ball is in their court," he said. "It's up to them. It's not up to me."
All eyes will be on Senate Republicans in the coming weeks to see if they allow votes on a handful of nominees. The president submitted his three D.C. Circuit nominees on Tuesday, and Reid has suggested that three other nominees awaiting votes -- Tom Perez to head the Labor Department, Gina McCarthy for the Environmental Protection Agency and Richard Cordray for the Consumer Financial Protection Bureau -- will be his litmus test for deciding whether to pull the trigger on filibuster reform.
McConnell demurred on Tuesday when asked if he would allow an up-or-down vote on D.C. Circuit nominees Patricia Ann Millett, Cornelia Pillard and Robert Leon Wilkins. The court is often described as the country's top federal appeals court, second only to the U.S. Supreme Court.
"We're going to deal with those nominees as we have others," McConnell said. "The president's been treated very fairly on both his judicial branch nominees and his executive branch nominees, and we continue to treat them fairly."
Clarification: A previous version of this story attributed a January quote about timely voting on nominees to McConnell, based on Reid's attribution of the quote to McConnell in Senate floor remarks. Reid was the one who actually made the statement, according to the Congressional Record.
Before You Go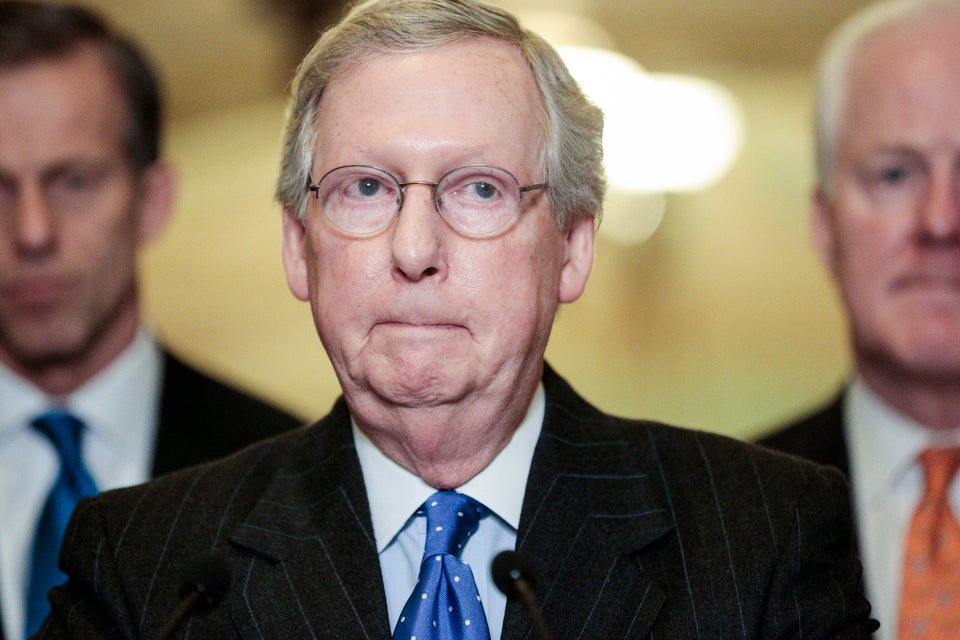 Say Cheese! Mitch McConnell Smiles
Popular in the Community