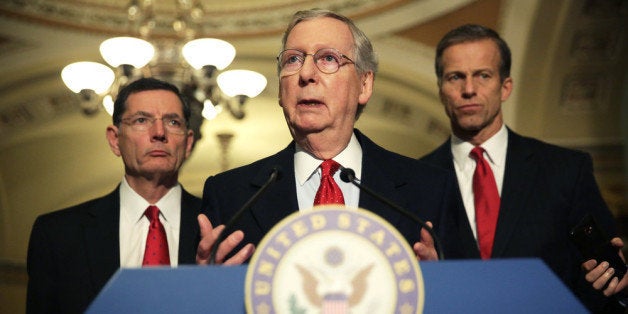 WASHINGTON -- Senate Minority Leader Mitch McConnell (R-Ky.) laid into President Barack Obama's grasp of foreign policy Wednesday, although he stopped just short of blaming Obama for the crisis in Ukraine.
In recent days, a growing number of Republicans have directly pointed fingers at Obama over Russian President Vladimir Putin's aggression in Ukraine. GOP Sens. John McCain (Ariz.) and Lindsey Graham (S.C.), as well as Rep. Mike Rogers (Mich.), have all said that the president's attempt to reset U.S.-Soviet relations showed he was both naive and too trusting of Putin.
McConnell was asked during his weekly press conference if he agreed with his Republican colleagues' assessment, to which he responded with a lengthy critique of Obama's overall handling of foreign policy.
"I would put it this way: Can you think of any place in the world where we're better off now than we were when he came to office?" McConnell said, before tracing Obama's global approach to his 2009 address in Cairo, Egypt, which he interpreted as "questioning American exceptionalism and the uniqueness of our own country."
"And he's acted in such a way, almost amounting to passivity in many instances," he continued. "We're not suggesting here that the use of force is appropriate on very many occasions ... but there's a widespread kind of lack of respect of U.S. opinion."
"It's no wonder that Putin looks at the United States and sort of concludes that no matter what he does, he doesn't pay a price for it," McConnell added.
The Kentucky Republican was pressed again to state whether or not he believed Obama is to blame for Putin's move to heighten Russia's military activity in the Crimean region. Once again, McConnell implied as much without explicitly holding the president responsible.
"I think a passive approach to foreign policy, which basically means not asserting American interests, is a mistake," he said. "Some leaders are going to exercise power [and] will push limits as far as they can if they think that there's no pushback."
McConnell added that he was "hard pressed to think of foreign policy successes" under the Obama administration, but nonetheless emphasized the need for Congress to work with the White House on providing economic assistance to the Ukrainian people.
"We need to work with the administration to try to undergird, if you will, reinforce the new administration in Ukraine in every way that we can," he said.
Moments after McConnell spoke, Senate Majority Leader Harry Reid (D-Nev.) came to Obama's defense and pointed to former President George W. Bush's infamous declaration that he had looked into Putin's eyes and seen his soul.
"I've not heard Obama say that. In fact, I've heard Obama speak out very clearly about that what Putin has done is wrong," Reid said.
He added that it was unclear what the "right wing" Republicans attacking Obama were seeking from the president.
"Did they think that he should do an Iraq move maybe?" Reid said. "I don't understand what they're saying. I think that the cautious direction of the president has been very good in Ukraine."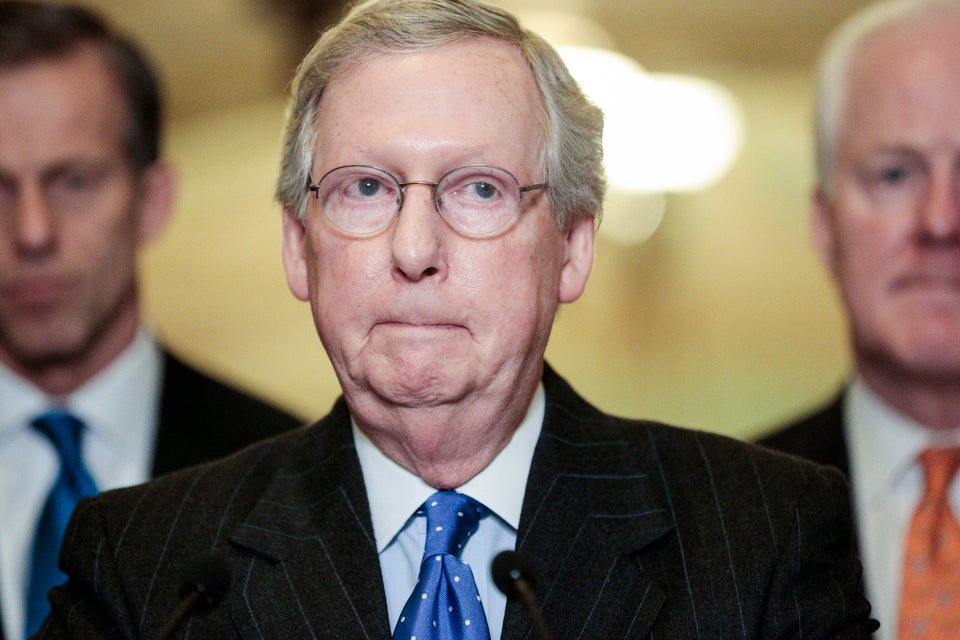 Say Cheese! Mitch McConnell Smiles
Popular in the Community