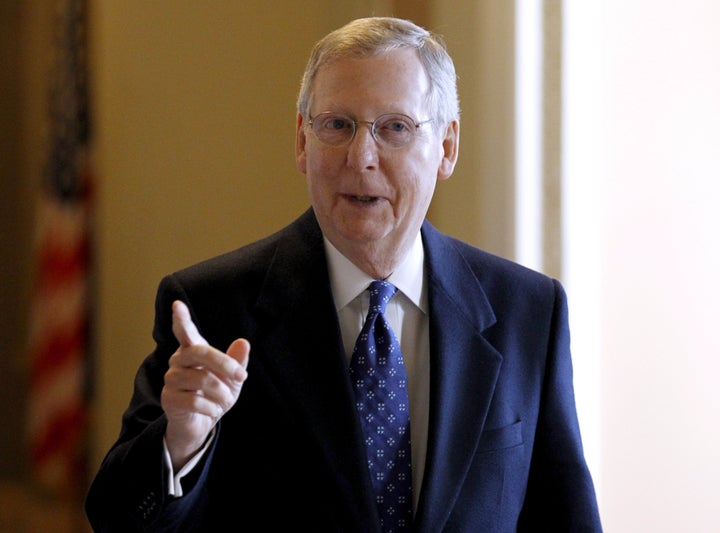 WASHINGTON -- Senate Minority Leader Mitch McConnell will oppose the new START Treaty, a bilateral arms reduction treaty between the United States and Russia that is one of President Obama's top foreign relations priorities.
"I've decided I cannot support the treaty," said McConnell on CNN's "State of the Union" Sunday morning. "I think the verification provisions are inadequate, and I do worry about missile defense implications."
On Saturday, the Senate defeated an amendment by Sen. John McCain (R-Ariz.), another opponent of the agreement, to amend the treaty's preamble by separating the issue of missile defense from efforts to reduce American and Russian stockpiles of nuclear weapons.
Senate Foreign Relations Committee Chairman John Kerry (D-Ma.) strongly objected to McCain's move, pointing out that the preamble is not a binding part of the document and such changes would slow down the approval process by months.
On Saturday, President Obama issued a letter clarifying the treaty's stance on missile defense, saying it "places no limitations on the development or deployment of our missile defense programs." He promised to "take every action available to me to support the deployment of all four phases" of a missile defense system in Europe.
On CNN, McConnell said the letter wasn't adequate, because "an equally important question is how do the Russians view missile defense and how do our European allies view missile defense, and I'm concerned about it."
"I think if they'd taken more time with this -- rushing it right before Christmas, it strikes me as trying to jam us," continued McConnell. "I think if they'd taken more time, I know the members of the Foreign Relations Committee spent a lot of time on this but the rest of us haven't, and so all of the sudden we're once again trying to rush things right here before Christmas Eve. I think that was not the best way to get the support of people like me."
On "Fox News Sunday," Sen. Jon Kyl (R-Ariz.), the chief Republican negotiator on the treaty, said he would "absolutely" vote against the treaty if the preamble is not changed. "We're just a rubber stamp for the administration and the Russians -- the administration that for the first time wasn't willing to stand up to the Russians and say you're not going to implicate our missile defense. That's why I say, talk to the Russians; don't send a letter to Mitch McConnell." Sen. Dick Durbin (D-Ill.) said he believed Democrats had the 67 votes necessary to ratify the treaty.
Joint Chiefs of Staff Chairman Adm. Michael Mullen has asked the Senate to pass it in the lame duck session, saying last month, "I think is that there is a sense of urgency with respect to ratifying this treaty that needs to be both recognized. Historically this has been bipartisan. This is a national security issue of great significance. And the sooner we get it done, the better."
UPDATE, 10:34 a.m.: On CBS's "Face the Nation," Sen. Lindsey Graham (R-S.C.), said, "If you really want to have a chance to ratify START, you better start over and do it in the next Congress because this lame duck has been poisoned." Senate Armed Services Committee Chairman Carl Levin replied, "Previous treaties, like START treaties, have not had longer periods of debate than the two weeks we've devoted to this treaty."
UPDATE, 11:18 a.m.: From an exchange on ABC's "This Week" between host Christiane Amanpour and Kerry:
AMANPOUR: And on the substance of the complaints by Senator McCain and others that this treaty somehow impairs and impedes the United States' ability for its missile defense shield, what are the facts that you can tell them about that?

KERRY: The most significant fact of all is that the general in charge of our Missile Defense Agency, who is responsible for this program, says unequivocally, in testimony between the Armed Services Committee, Foreign Relations Committee, and publicly, there is no restraint, zero, none, no restraint whatsoever on our missile defense capacity. Secretary Gates says it. Secretary Clinton says it. The -- the intelligence community says it. All of our military leaders want this treaty.
UPDATE, 4:38 p.m.: Statement from Senate Majority Leader Harry Reid (D-Nev.) on McConnell's comments:
I have great respect for the Republican leader but am deeply disappointed that he has decided to oppose the New START Treaty. Respected Republican leaders including President George H.W. Bush, former Secretaries of State Colin Powell and Condoleezza Rice have joined our united military leadership, including Secretary of Defense Gates and Chairman of the Joint Chiefs of Staff Admiral Mullen, to call for ratification of this agreement. The Obama Administration has spent the past 8 months working to address legitimate concerns and the Senate has conducted an extensive bipartisan review of the treaty, which has been publicly available since May. We have spent the last 4 days on the Senate floor debating the treaty and have encouraged our colleagues to offer amendments to address any policy concerns related to the treaty.

I know many Senators, including my colleagues on the other side of the aisle, who share the belief that this treaty is too critical to our national security to delay, and I look forward to strong bipartisan support to pass this treaty before we end this session of Congress.
Popular in the Community