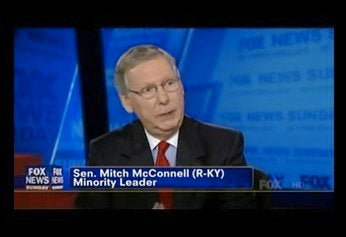 WASHINGTON -- Although Senate Minority Leader Mitch McConnell (R-Ky.) has said he will vote for Rep. Paul Ryan's (R-Wis.) controversial budget plan, he's not out whipping other members to join him and he's not even saying whether he supports all of its provisions.
"What I've said to our members is we're not going to be able to coalesce behind just one [plan]," McConnell said in an interview with Chris Wallace on "Fox News Sunday." He pointed out that both Sens. Pat Toomey (R-Pa.) and Rand Paul (R-Ky.) have budget plans of their own that some members of Congress may want to support.
"Candidly, Chris, none of these budgets are going to become law," McConnell admitted.
GOP presidential candidate Newt Gingrich stirred up controversy last week when he appeared on NBC's "Meet the Press" and criticized the Medicare proposals in Ryan's budget. Gingrich said he would prefer a system that preserved the current Medicare program and also created a private alternative.
"I don't think right-wing social engineering is any more desirable than left-wing social engineering," Gingrich said. "I think we need a national conversation to get to a better Medicare solution for seniors."
Gingrich was quickly attacked by fellow Republicans, who worried his criticism would be used by Democrats against any GOP lawmaker who voiced support for the Ryan plan.
Although McConnell said he will vote for the Ryan plan, his support for its Medicare changes was tepid.
When Wallace asked McConnell if he supports "turning Medicare from a fee-for-service plan to a voucher plan," the senator replied, "Paul Ryan would say it's not a voucher plan, it's a premium support plan." When asked what the difference is, McConnell simply replied, "He says it is different."
When asked directly whether he supports the Medicare changes, McConnell instead threw his support behind the bipartisan deficit-reduction talks being led by Vice President Biden:
What I'm willing to say is we're going to have to change Medicare, and it's going to happen soon. It's going to happen in connection with the talks going on with the Vice President that are happening right now, and it's going to happen in connection with raising the debt ceiling, which the President has asked us to do.

And all of these budgets are interesting to discuss and debate, but none of them are going to pass. What is going to pass at some point, is something, Chris, related to Medicare and Medicaid, in connection with raising the debt ceiling this summer.
<0--4229--hh>0--4229--hh>
On NBC's "Meet the Press" on Sunday, Ryan said he would be willing to negotiate on the Medicare proposal in his plan, since it is unlikely to pass the Senate.
This story was updated with Ryan's "Meet the Press" remarks.

Calling all HuffPost superfans!
Sign up for membership to become a founding member and help shape HuffPost's next chapter