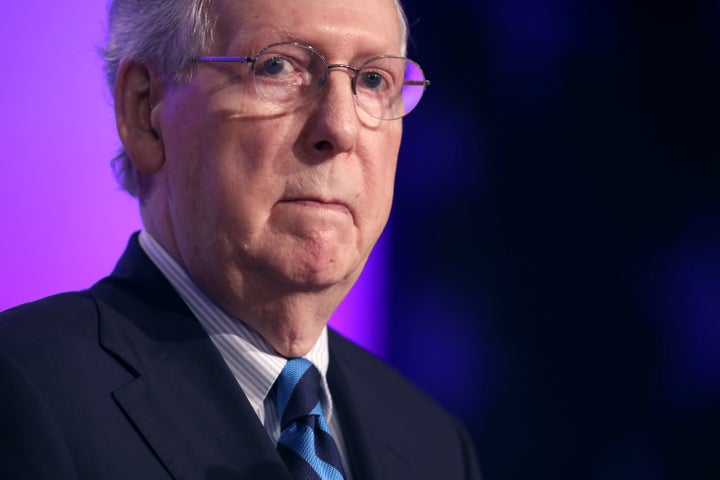 WASHINGTON ― Senate Majority Leader Mitch McConnell dug in on Brett Kavanaugh's nomination to the Supreme Court on Monday, characterizing the sexual assault allegations against the judge as a "smear campaign" and promising that Kavanaugh would get an up-or-down vote on the Senate floor "in the near future."
McConnell was filled with indignation on the Senate floor, graduating from previous assurances of a fair process for Kavanaugh accuser Dr. Christine Blasey Ford to unwavering certainty that all the women coming out against Kavanaugh are lying. The majority leader appears to have made up his mind.
He called the latest allegation against Kavanaugh released Sunday night "another orchestrated, last-minute hit on the nominee," and he vowed to hold a floor vote no matter what comes out during a scheduled hearing with Blasey and Kavanaugh on Thursday ― or before or after that.
The Kentucky Republican charged that Senate Democrats were trying to "destroy a man's personal and professional life on the basis of decades-old allegations that are unsubstantiated and uncoordinated."
"That is where we are," McConnell continued. "This is what the so-called 'Resistance' has become: a smear campaign, pure and simple, aided and abetted by members of the United States Senate."
Even as McConnell thunders on in the Senate, however, more voters now oppose Kavanaugh's confirmation, according to a Fox News poll released Sunday. Only 40 percent would confirm him, as opposed to the 50 percent who would not. More importantly, a few Republican senators seem to be on the fence about President Donald Trump's Supreme Court pick.
Sen. Jeff Flake (R-Ariz.) has said these are "serious charges," and he made it clear to McConnell and other GOP leaders that if the Senate didn't give Blasey "a chance to be heard," he would vote no on the nominee.
Sens. Lisa Murkowski (R-Alaska) and Susan Collins (R-Maine) are also potential no votes, although Collins recently told Showtime that she didn't believe Kavanaugh would repeal Roe v. Wade.
Still, with Kavanaugh's support wavering among the public, at least one GOP senator told Politico on Monday that the electoral considerations in abandoning Kavanaugh might weigh more on McConnell and other GOP leaders than a potentially embarrassing vote where a couple of Republicans defect and join the Democrats in voting no ― and that McConnell's promise to hold a vote whether or not Kavanaugh has enough support seems to be a message aimed at those possible defectors, telling them he will make them go on the record in their opposition to the nominee.
But with voters increasingly siding against Kavanaugh, and with the Thursday hearing moving forward, McConnell's threat to hold a vote might not scare those wavering Republicans enough.
Support HuffPost
The Stakes Have Never Been Higher
Popular in the Community