WASHINGTON -- Kentucky's two senators, Republicans Rand Paul and Mitch McConnell, have been working to include a provision that would legalize industrial hemp into the farm bill, according to Senate and Kentucky sources, an effort that is likely to result in a floor vote on the issue this week.
Paul and McConnell had hoped to insert the measure into the farm bill as it was being considered by the Agriculture Committee, but a jurisdictional spat broke out, as often does in the Senate. McConnell, a member of the committee, approached Chairwoman Debbie Stabenow (D-Mich.) last Monday night about inserting the provision, according to Senate aides, and was told that the Judiciary Committee had jurisdiction and he would need a waiver from its chairman, Sen. Pat Leahy (D-Vt.). Hemp laws are the purview of the Drug Enforcement Administration, even though hemp is not a drug and has no psychoactive potential, no matter how much a person smokes.
McConnell faces reelection in 2014, and has been working so closely with Paul that some aides have begun to refer to the libertarian newcomer and tea party favorite as the "shadow minority leader" -- a term that presumably expires if McConnell wins his race. McConnell brought Jesse Benton, a longtime aide of Rand Paul and Ron Paul, onto his campaign. With Rand Paul in his corner, there is little chance for a tea party candidate to successfully challenge McConnell, and Paul's energized base may boost turnout in the general election. If McConnell's effort on hemp is any guide, he's taking nothing for granted.
McConnell approached Leahy to ask for the waiver, but was rejected, sources said. McConnell returned to Stabenow and again asked that she insert the provision, and Stabenow said no. She offered, instead, to allow a vote on an amendment, and said that she would introduce it on his behalf. (Minority leaders rarely appear at committee hearings in person.) McConnell declined the offer and by proxy voted against the farm bill in committee. Holly Harris, chief of staff to Kentucky Agriculture Commissioner James Comer, a strong hemp advocate, said that her office had been told by Senate Republican leadership that Leahy had refused the waiver request, citing Judiciary Committee turf, confirming what several Senate sources told HuffPost.
A Judiciary Committee spokeswoman wouldn't address the details, but confirmed the broader dispute, noting that the industrial hemp bill was referred to Judiciary, not Agriculture, because it amends the Controlled Substances Act, referring to a bill cosponsored by Paul, McConnell and Oregon Democratic Sens. Jeff Merkley and Ron Wyden. She noted that no amendment was offered during the Agriculture Committee debate, and said that Leahy had no objection to McConnell or Paul offering an amendment on the Senate floor. A second source said that Leahy has privately expressed support for industrial hemp. Indeed, Vermont's Agriculture Secretary, Chuck Ross, is a strong hemp backer and was previously Leahy's state director. And Leahy would be an unlikely enemy of hemp, given that he is the Senate's most out-of-the-closet Deadhead.
The Kentucky hemp backers are mystified at the procedural complications in the Senate, but are pushing hard against them. "Commissioner Comer is making a lot of well-placed calls to Vermont," said Harris Friday, noting that senators should know that when he ran for commissioner on a hemp platform as a Republican, he was laughed at in the state capital. He won in a landslide, the highest vote-getter on the ballot for any office. The Kentucky legislation was similarly underestimated, but with bipartisan backing and the help of the group Vote Hemp -- which Harris called "the greatest grassroots operation I've ever seen" -- it became law this year.
After the committee vote, aides to McConnell asked the staff of Senate Majority Leader Harry Reid (D-Nev.) to insert the provision into the bill before putting it on the floor, but Reid's aides declined, adding that he is welcome to offer the provision as an amendment, said a Democratic aide familiar with the talks.
The full Senate will begin debating the farm bill on the floor next week. McConnell's backing, which came as a surprise this year, gives hemp a credible chance of passage if it comes for a vote.
The push to legalize hemp has made dramatic strides in recent weeks. A serendipitous encounter at the Kentucky Derby connected prominent local advocates with House Speaker John Boehner (R-Ohio). Kentucky Commissioner of Agriculture James Comer, a Republican, was at a private pre-derby party when he found himself informally lobbying Boehner and his chief of staff Mike Sommers. Boehner and Sommers were interested enough to invite Comer and backers of Kentucky's successful hemp legalization law to meet in Washington.
Boehner subsequently sat down with Comer and state Sen. Paul Hornback, a Republican, and state industrial hemp commission member Jonathan Miller, a Democrat.
Boehner told the trio he would talk with McConnell about how a federal bill might be moved forward. "I was impressed with his knowledge of this issue," Comer said of Boehner. "At the end he said, 'This is funny, because this issue's been around a long time: My daughter was talking about this 15 years ago.' So this is something he knows a lot about. And the difference today as opposed to 10 years ago, is the only people who were pushing this issue 10 years ago were the extreme right or left, or people who wanted to legalize marijuana." Boehner discussed the idea of including it in the farm bill.
Kentucky's hemp bill, Senate Bill 50, allowing Bluegrass State farmers to grow industrial hemp for the first time in decades, became law in April. Kentucky Gov. Steve Beshear and local police had expressed concern that allowing farmers to cultivate hemp would enable them to disguise the cultivation of illegal marijuana, which looks very similar to hemp, but contains much higher levels of THC, the psychoactive agent in cannabis. Experts dismissed that argument, noting that cross-pollination between hemp plants and marijuana plants would significantly reduce the potency of the marijuana and devalue the crop. Beshear and Kentucky police remained skeptical, though the governor did not ultimately veto the legislation, letting it become law without his signature.
The chief objection, Miller said, came from a small element of law enforcement "based on the fear that this is a slippery slope, that they would lose money with marijuana eradication." The Kentucky Chamber of Commerce, however, backed the bill.
Now Kentucky awaits federal action to approve the plant's cultivation. The DEA currently classifies hemp as a Schedule I substance with "a high potential for abuse" alongside heroin and LSD, even though industrial hemp has no potential for abuse.
A similar effort to Paul and McConnell's in the House, boosted by members of Kentucky's congressional delegation -- everyone but Rep. Harold Rogers (R) -- is underway. Should those efforts fail, the senators have vowed to seek a waiver from the DEA granting Kentucky special dispensation to grow hemp.
Other states to pass laws allowing hemp licensure include Vermont, North Dakota, Maine, Montana, Oregon, Washington, West Virginia and Colorado. While some have sought federal validation of state laws from the DEA, those efforts to date have been unsuccessful.
Before You Go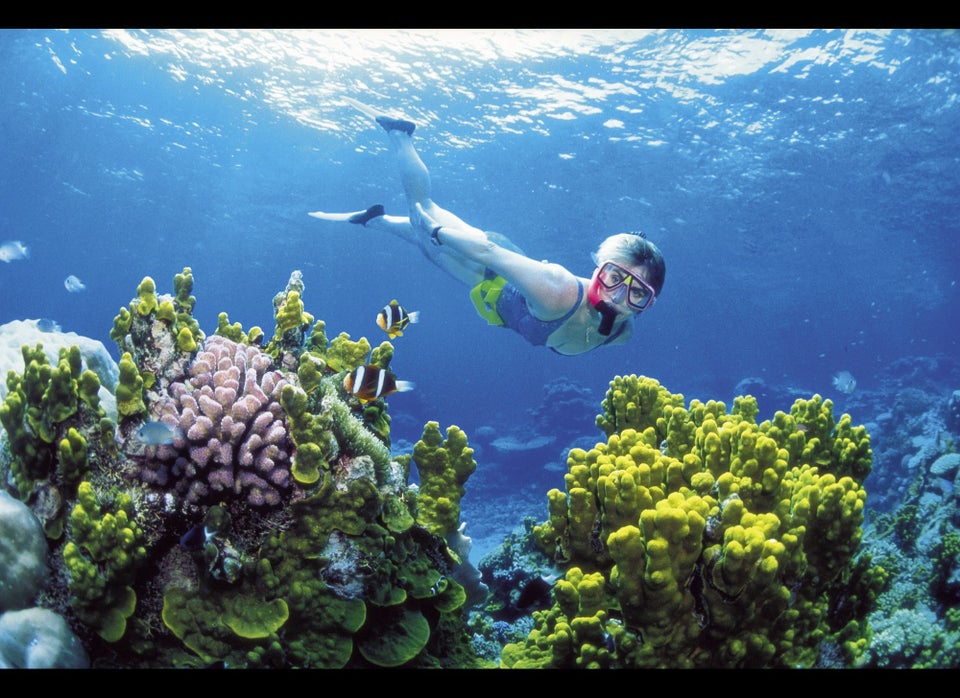 What Climate Change Just Might Ruin
Popular in the Community