WASHINGTON -- Senate Minority Leader Mitch McConnell (R-Ky.) and Sen. Rand Paul (R-Ky.) have proposed an amendment to a workplace discrimination bill in the hopes of creating a national right-to-work law.
The measure -- which, as Roll Call reported Monday, would be tacked onto the Employment Non-Discrimination Act (ENDA) -- would forbid contracts between companies and labor unions that require workers to pay the union for bargaining on their behalf. Prized by Republicans and business groups and loathed by unions, such laws have made it onto the books in 24 states, most recently in Michigan.
Speaking on the Senate floor Tuesday, McConnell praised Michigan Gov. Rick Snyder (R), who signed the state law in December after it was fast-tracked through the Republican-controlled legislature. McConnell said he and Paul were following Snyder's lead.
"The truth is, over the years, 'Big Labor' had come to care more about its own perks and power than the workers it was charged with protecting," McConnell said. "Snyder knew that. And he knew it was time to tip the scales back in favor of workers. Well, he's not alone."
Right-to-work laws diminish union membership and weaken the clout of organized labor. Unions like to refer to such legislation as "right-to-work-for-less" laws, pointing to studies finding the laws depress wages. Right-to-work's boosters, including McConnell, portray the laws as a matter of workplace choice and a necessary counterweight to "Big Labor," even though unionized workers now make up only 6.6 percent of the private sector.
The Senate cleared a major legislative hurdle Monday night by voting to move forward with debate on ENDA, which would bar discrimination in the workplace for large businesses on the basis of sexual orientation or identity. The measure introduced by McConnell and Paul will now become part of that discussion.
It's highly unlikely, however, that the Democratic-controlled chamber would ever send right-to-work legislation to the president's desk. Unions remain a strong base of the Democratic Party, and right-to-work has proven deeply divisive in states like Michigan.
Speaking after McConnell on Tuesday, Sen. Dick Durbin (D-Ill.), said a national right-to-work law would lead to more inequality in the U.S. economy.
"If you look at the state of unionism today, I think the facts speak for themselves," said Durbin, referencing the country's falling union density. "Those who want to eliminate the opportunity for collective bargaining and make it more difficult for workers to stand up and speak for themselves in the workplace, I think frankly are going to condemn us to a much slower-growing economy and much more injustice when it comes to compensation."
Correction: This post originally referred to ENDA as the Employee Non-Discrimination Act. It is the Employment Non-Discrimination Act.
Before You Go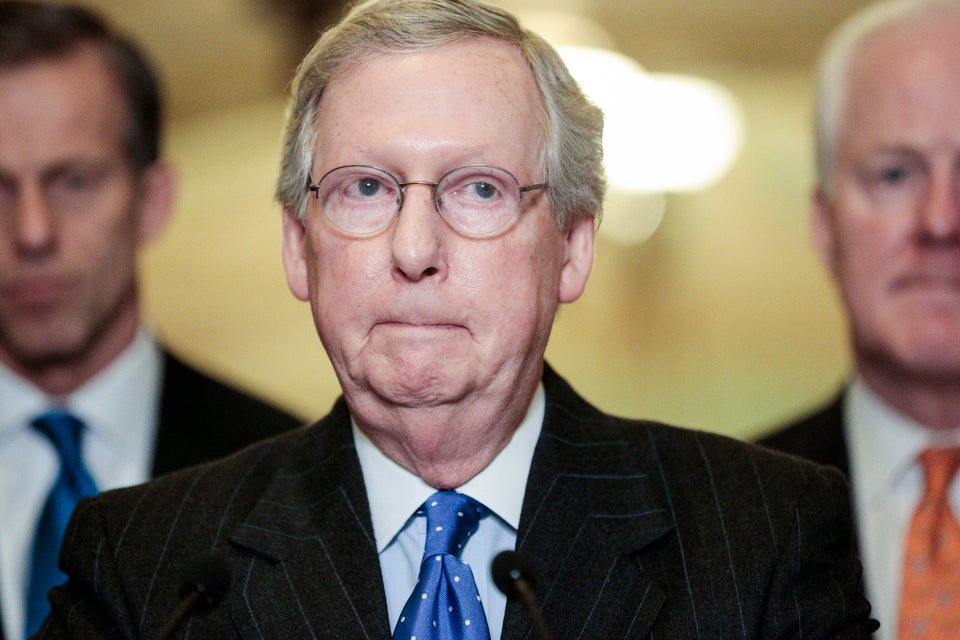 Say Cheese! Mitch McConnell Smiles
Popular in the Community