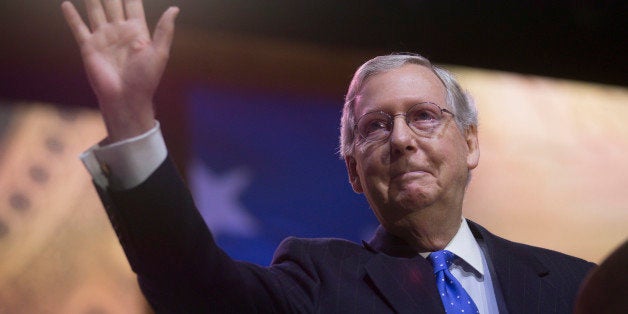 WASHINGTON -- Jesse Benton was delighted with his handiwork. "Thought it went well," he told me after the Thursday show he had choreographed for Mitch McConnell.
A former top campaign aide to both ex-Rep. Ron Paul of Texas and Sen. Rand Paul of Kentucky, Benton is now in charge of salvaging the career of Kentucky's senior Republican senator and tea party target.
So the stagecraft on Thursday was important and part of a larger operational agreement between McConnell and Rand Paul, the essence of which is this: Rand helps Mitch win a sixth Senate term this fall; Mitch helps Rand win the GOP presidential nomination in 2016.
"Whatever Rand is going to need, we hope Mitch is going to want to do," Benton said.
First things first. And that meant getting Mitch through an appearance at the annual Woodstock of the Right, the Conservative Political Action Conference, being held this week at a colossal Maryland convention center overlooking the Potomac River near Washington, D.C.
McConnell entered stage right, waving a frontier musket over his head. He seemed to want to evoke the joy of a hunter celebrating the one-shot takedown of a 10-point buck. But with his wan smile, diffident manner and blue patterned suit, he looked more like Elmer Fudd on the way to a meeting with his accountant.
What mattered more than the rootin' tootin' imagery was what the Senate minority leader had to say.
Facing a tea party challenger in the Kentucky GOP primary this May, McConnell needs every photo op and rhetorical flourish he can muster to firm up his credentials among hard-line conservatives. After five terms in the Senate, the 72-year-old Republican leader is despised by many tea party types for his longevity, his love of the inside game, and his occasional willingness to do macroeconomic mega-deals in the name of saving the global economy and/or the fiscal credibility, such as it is, of the federal government. This would be statesmanship to some; it's satanic apostasy to the tea party.
So McConnell's strategy at CPAC was to assure that he would receive a good reception on stage by appearing on behalf of the National Rifle Association -- certified, applause-generating good guys at CPAC -- to present an NRA award to retiring Sen. Tom Coburn of Oklahoma.
Once safely at the lectern and riding that wave of applause, McConnell sounded some carefully crafted, tea-friendly populist themes, anti-government and even anti-Wall Street.
"Here's the truth," he said. "Under this president and [Senate Majority Leader] Harry Reid, the rich have gotten richer, the poor have gotten poorer, and the middle class have been squeezed like never before.
"Their Wall Street 'reforms' have shuttered community banks while the biggest banks on Wall Street have gotten ever bigger," said McConnell, who has rarely picked a fight with corporate America.
He accused the president of "treating our Constitution worse than a place mat at Denny's."
The jaded may smirk at McConnell's efforts, but the pictures and the rhetoric were aimed straight at wavering GOP voters in Kentucky, whose support the senator needs in this year's elections.
Under the guidance of Benton and longtime McConnell adviser Josh Holmes, the incumbent seems to be keeping his primary challenger, Louisville businessman Matt Bevin, at bay in the polls. The current assumption among Kentucky insiders is that McConnell will win the primary, but will then have to spend considerable effort convincing tea party voters to support him in the fall.
That is where Rand Paul comes in. Though Paul won his Senate seat in 2010 by defeating McConnell's handpicked GOP nominee, McConnell is now depending on Paul to help him keep his own slot.
"Rand has been very careful not to criticize Bevin directly, and he won't," said Benton. "Rand will be able to go to those [more conservative] voters and make the case. Will he win back all of them? Probably not, but he'll get a lot of them for Mitch."
The two will then join forces to take on likely Democratic nominee Alison Lundergan Grimes. At age 35, Grimes, the Kentucky secretary of state, doesn't have much of a track record to attack. But Benton said McConnell and Paul will have plenty of ammo nevertheless, most of it in the form of tying Grimes to Democrats who are unpopular in Kentucky, especially President Barack Obama.
Benton said the senatorial pair have become genuine allies. "It's not mentor and mentee. It's based on respect. They each see how smart the other guy is."
He added, "It's not a bromance, but they've come to appreciate each other and know how to work together."
They also share a common enemy: the disruptive Sen. Ted Cruz of Texas, who wants to oust McConnell in 2014 and best Paul for the GOP presidential nomination in 2016.
The stakes this year are huge, both in Washington and in Frankfort, Ky.
The GOP already controls the Kentucky state Senate and needs to pick up only five seats to win the House, all the more reason for the Mitch-Rand alliance to work hard. Paul has a specific interest: He wants a bill or a ruling from state officials allowing him to be on the Kentucky ballot in 2016 as a candidate for both the U.S. Senate and the presidency, if he gets that far.
If McConnell holds his seat and the GOP takes the U.S. Senate -- a distinct possibility -- the new majority leader will be in a strong position to help his fellow Kentuckian.
His job then will be the mirror image of the one Paul now must do in Kentucky: McConnell will need to sell Paul to what's left of the GOP establishment.
Calling all HuffPost superfans!
Sign up for membership to become a founding member and help shape HuffPost's next chapter
BEFORE YOU GO
PHOTO GALLERY
Mitch McConnell