WASHINGTON -- Senate Minority Leader Mitch McConnell (R-Ky.) is known for his meticulous strategizing and prodigious fundraising. He thinks about politics and campaigning more than most –- after all, he is the longest-serving senator in Kentucky history. But in his already white-hot reelection fight, McConnell may be at a disadvantage, with one key factor beyond his control.
McConnell, an ardent opponent of Obamacare, has no sway over his own state's implementation of the health reform law. How well Kentucky brings hundreds of thousands of uninsured residents online will play a role in McConnell's chances at the polls. At the recent Fancy Farm picnic, Kentucky's annual political gathering, McConnell boasted midway through his short speech, "Just as I predicted, Obamacare is a disaster for America." McConnell's wishful thinking may end up being just that -- especially in Kentucky, where so many residents don't have health insurance and a Democratic administration is keen on implementing health care reforms.
In an interview with The Huffington Post, Kentucky's Democratic governor, Steve Beshear, had a message McConnell will not want to hear. "We are ahead of schedule in terms of setting up our state-based health benefits exchange," Beshear said. "We're going to hit all of our deadlines. We are going to expand Medicaid come Jan. 1, 2014."
Although the state hasn't made its goals public, Carrie Banahan, the executive director of the state's health benefit exchange, said officials "hope to get 200,000" residents enrolled by the end of 2014. "That's just an estimate," she added. It's less than a third of the state's uninsured population, but a big enough number to blunt McConnell's politicking on Obamacare and boost his Democratic opponent, Secretary of State Alison Lundergan Grimes.
McConnell's campaign did not return repeated requests for comment.
Grimes has been measured in her support of Beshear's efforts, arguing that small businesses could be overburdened by Obamacare's requirements. She advocates that mandates on small businesses should be delayed. "The Affordable Care Act -- there are provisions that I am troubled about with it, but that doesn't mean we throw the baby out with the bathwater," she said recently.
So far, Banahan said she and her staff have gotten a decent reaction from residents on their outreach tour around the state. "The actual sentiment is not as negative as what even we expected," she said.
The governor's embrace of Obamacare does not seem to have dented his popularity. A recent GOP poll found Beshear is viewed favorably by 56 percent of state residents.
Rachel Maisler, a spokeswoman for the Centers for Medicare and Medicaid Services, praised Kentucky's efforts in setting up the insurance exchange, where uninsured residents can shop for health coverage. "We are encouraged by Kentucky's work to pass Medicaid expansion, set up a Marketplace, and engage in a robust outreach and education effort," Maisler said via email. "We know that this effort is larger than just the federal government, and we're pleased to have strong partners on the ground in Kentucky."
Agreeing to the Medicaid expansion had been difficult for Beshear, a Democratic governor in a state that voted overwhelmingly against President Barack Obama and has solidly voted to send McConnell back to Washington since he was first elected in 1985. The governor had taken his time, commissioning a study conducted by the University of Louisville and PricewaterhouseCoopers, before making the decision on Medicaid in early May. Beshear first wanted to gauge the economic impact of the move.
Researchers concluded that the Medicaid expansion could add 17,000 jobs and $15.6 billion into the state's economy. Beshear told reporters at a press conference announcing his approval of the expansion that it will be "the single most important decision in our lifetime."
Beshear has since become a forceful defender of Obama's health care overhaul. "It's the right thing to do," Beshear said. "We have 640,000 uninsured Kentuckians in our state. We are not a very healthy state."

In a recent report by the United Health Foundation, Kentucky ranked near the bottom among all states in overall health, with the highest rates of cancer deaths and more than 1 million obese residents. The state's public health department noted that some counties had infant mortality rates higher than "third world countries." Meanwhile, unnecessary hospitalizations are the highest in the U.S.
The health care reforms would bring the uninsured into the doctor's office and help new moms keep health care coverage as well as boost mental health and substance abuse programs, Banahan said.
"People will have more consistent health care coverage," explained Gwenda Bond, assistant communications director for the state Cabinet for Health and Family Services, a government agency that administers health care.

Not surprisingly, McConnell opposed Beshear's decision and has correctly highlighted problems with Kentucky's current Medicaid program that had been hit with billing backlogs. A recent report by the state auditor affirmed the billing issues and noted an 8 percent drop in providers, which could spell trouble when the expansion begins. The state already has counties in desperate need of doctors and some lack even a single dentist. A state study reported that 61 percent of the unmet medical needs are in rural areas. The auditor found the billing problems were most acute among rural facilities.
The governor attempted to address the billing issues last spring. With Obamacare, the federal government pays 100 percent of the Medicaid expansion costs for the first three years. Funding decreases to 90 percent in 2020. Beshear has estimated that the state would end up paying roughly $473 million over eight years, starting in 2017.
McConnell asserted that the state could not afford the deal. "The senator is using this issue strictly for political purposes," Beshear said.
Jason Bailey, director of the nonpartisan Kentucky Center for Economic Policy, said the Medicaid expansion is "a great deal." Not implementing it, he added, "holds Kentucky back."
"Our health is a result of our poverty but it's also a cause of continued poverty," Bailey said. "When you have 300,000 people in the case of the Medicaid expansion roughly who have insurance, they are going to go the doctor's office, and utilize services that will result in jobs, no question about it. Those jobs will result in tax revenue."
Josh Greeman, managed care director at Ephraim McDowell Health, a multi-hospital health system in central Kentucky, said he believes the state can handle the expansion. "I don't think we are going to run into a situation where there's a six month wait to see a physician," he said.
As McConnell faces pressure to work toward defunding Obamacare in Washington and fends off a fierce tea party challenger, Kentucky's public health workers and health care executives are quietly working to ready the state for the benefits exchange and Medicaid expansion.
Dr. Jim Cecil, the former dental director for the state, served on an advisory committee that helped set up the insurance exchange. He said everyone he worked with "overlooked the controversy and were taking their jobs very seriously." "There was no political back and forth," Cecil recalled "They wanted to do a good job."
Banahan has waited a long time to finally turn around Kentucky's dismal health rankings. She's been working on health care issues within the state government for 30 years. Implementing the insurance exchange feels like a relief. "This is the best opportunity that we've had –- a once-in-a-lifetime chance," she said.
McConnell, Banahan said, is of no concern. "Our primary concern is to provide health insurance to those folks –- the 640,000 people who are uninsured," she said. "That's our primary goal."
Beshear predicted that within a few years, residents will wonder what the fighting over Obamacare was all about. "Every single Kentuckian has the opportunity to have affordable health insurance," he said. "I have no doubt that over the next generation, that's going to be a huge sea change in Kentucky. It's going to change the face of Kentucky."
And maybe Kentucky's politics.
Before You Go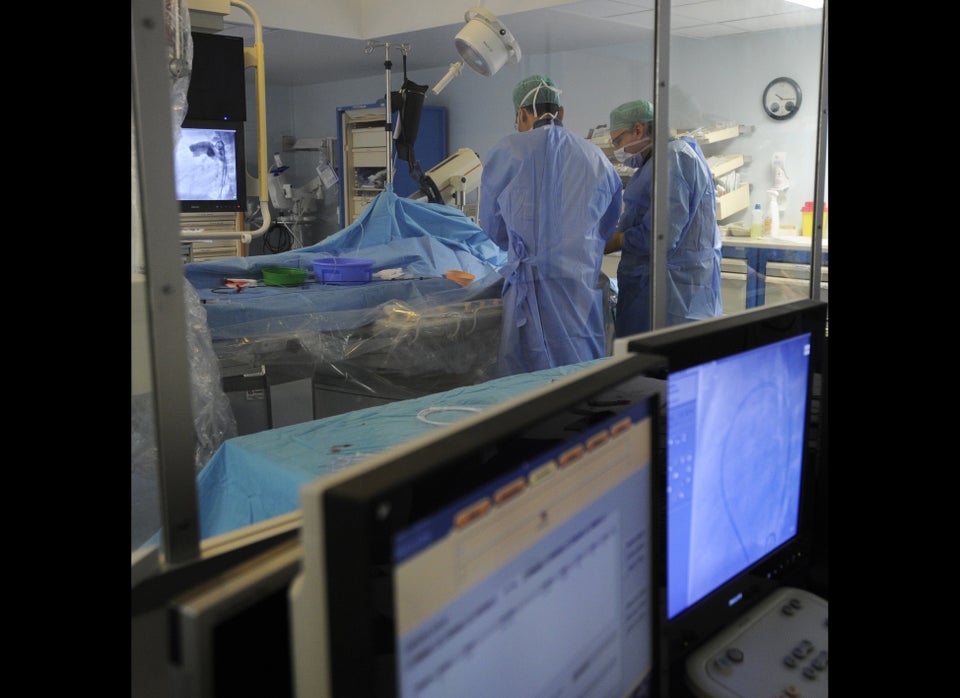 Lies And Distortions Of The Health Care Debate
Popular in the Community