WASHINGTON -- Senate Minority Leader Mitch McConnell (R-Ky.) dismissed any notions about allowing another federal government shutdown if Republicans retake the upper chamber next year.
"Oh, I did rule it out. Remember me? I am the guy that gets us out of shutdowns," McConnell told CNN in a Wednesday interview. "I'm the guy that's gotten us out of the shutdowns that some of our members have pushed us into in the past."
"It's a failed policy," he said of brinkmanship over government funding bills.
The Kentucky Republican sought to tamp down fears about another costly fiscal standoff after Congress returns from recess next month, fanned in part by Democrats this week. Lawmakers will have just 10 working days to agree to a continuing resolution before funding passed earlier this year expires on Oct. 1, raising the possibility of a political crisis ahead of the midterm elections.
In an interview with Politico earlier this month, McConnell struck a more defiant tone. He promised to use spending bills to restrict Obama administration policies he saw as unwise or undesirable. "That's something he won't like, but that will be done. I guarantee it," he said.
McConnell was even more candid about the tactic at a private conservative confab sponsored by the Koch brothers earlier this summer. According to audio obtained by The Nation magazine, McConnell promised to withhold funding on "health care, on financial services, on the Environmental Protection Agency, across the board ... All across the federal government, we're going to go after it."
Even as he ruled out more government shutdowns in his interview with CNN, McConnell made clear his intention to confront President Barack Obama should he become majority leader next year. Averting a shutdown, McConnell said, "doesn't mean that Congress has an obligation to send appropriation bills to the president that are a blank check, which is the way it's been with the Democratic Senate."
Republicans could force a confrontation with the White House on any number of priorities and still claim that Democrats were to blame for the fallout, as McConnell himself did during the October 2013 shutdown. Indeed, a senior aide to Sen. Ted Cruz (R-Texas) has already begun doing so.
In claiming that he's the "guy that gets us out of shutdowns," McConnell is presenting himself as an experienced tactician with the chops to ably navigate a legislative body known for constant gridlock. That pitch may be aimed at assuaging anxious supporters during a heated re-election fight in Kentucky, but it conveniently ignores some of the events that led up to last year's shutdown in October. McConnell's inability to keep the conservative wing of his party at bay led to a quixotic effort to defund the Affordable Care Act that cost the party severely in public opinion polls. Only after 16 days and $24 billion in lost productivity did he join Senate Majority Leader Harry Reid (D-Nev.) in a deal to reopen the government.
Republicans are unlikely to force a shutdown so near the Nov. 4 midterms. And McConnell may indeed be best positioned as a last-minute deal broker who "gets us out of shutdowns." But based on his track record, he's not the one who can keep us from stumbling into them.
Before You Go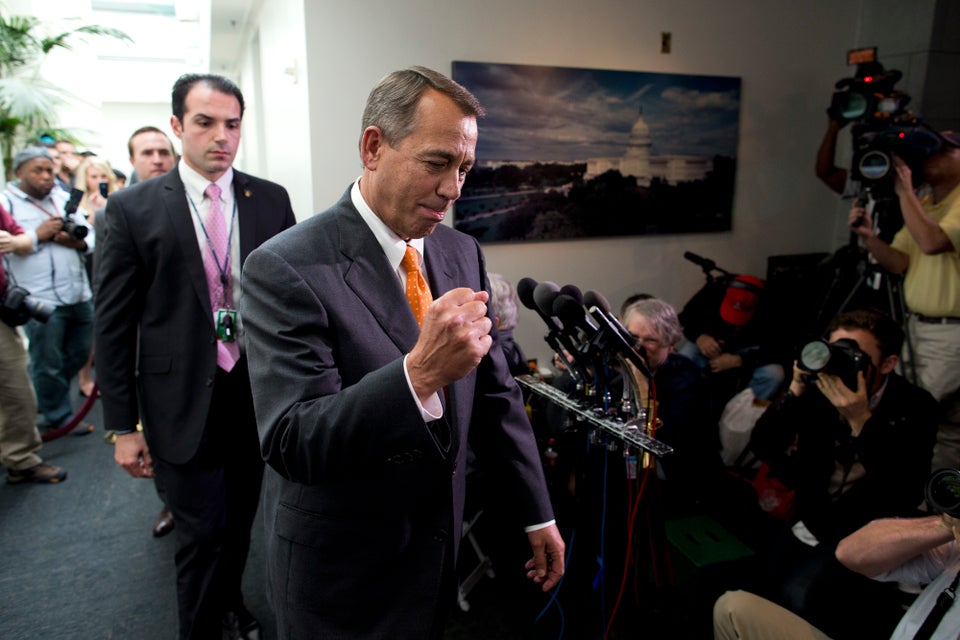 2013 Government Shutdown
Popular in the Community