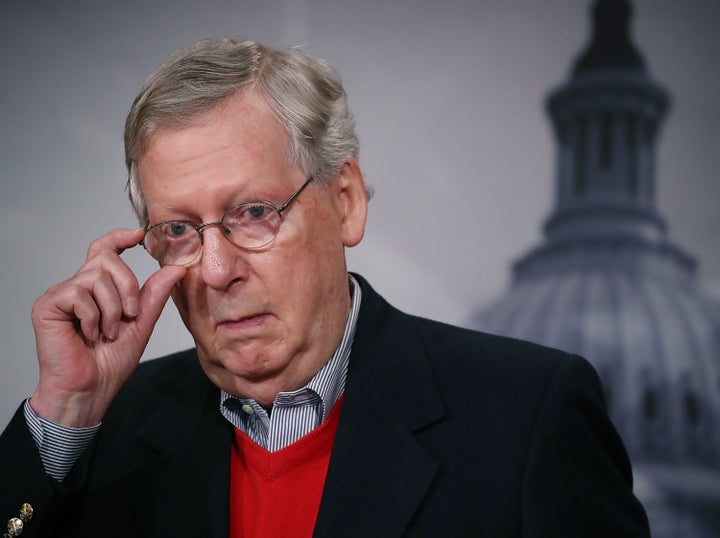 WASHINGTON ― Republican leaders are considering lengthening a short-term spending deal until May to accommodate an already-jammed congressional schedule, sources with knowledge of the negotiations told The Huffington Post.
Republicans looked apt last week to put forward a bill that would extend current government funding until March 31, but Senate Majority Leader Mitch McConnell (R-Ky.) is now pushing for a continuing resolution that would go into May, these sources said.
"Discussions on length and content of a continuing appropriations resolution are ongoing," Stephen Worley, a Republican spokesman for the Senate Appropriations Committee, told HuffPost Monday. "Both the House and Senate have busy agendas for the upcoming year, and the committee wants to ensure that the Congress has ample time to review and debate both [fiscal year] '17 and [fiscal year] '18 appropriations measures."
Delaying spending decisions until May would give Republicans more time to confirm President-elect Donald Trump's Cabinet appointments and a Supreme Court nominee, as well as handle two budgets that would allow Republicans to fundamentally dismantle Obamacare and overhaul the tax code by reconciliation ― a process allowing the Senate to pass legislation with 50 votes.
When Speaker Paul Ryan told House Republicans last week that Trump wants a continuing resolution ― a short-term spending deal to keep the government running ― that would last into spring of next year instead of an omnibus spending deal that would go until October, conservatives took it as a sign that Trump was actually interested in enacting far-right policies. Presumably, the only reason to wait to pass a long-term spending deal is that President Barack Obama likely would not sign the legislation Republicans want to put forward.
By kicking the can further down the road, Republicans would free up time on the floor for Trump's first 100 days agenda and give themselves an opportunity to craft a more conservative deal. But it would also give congressional leaders more time to convince Trump that he ought to defer to them on things such as spending legislation. Functionally, there's still a question of who's running the show in Congress: lawmakers or Trump.
That Republicans look poised to go with the continuing resolution suggests Trump is a powerful voice here. But McConnell's push for the bill to last longer is a sign that congressional leaders want at least some input in the end.
REAL LIFE. REAL NEWS. REAL VOICES.
Help us tell more of the stories that matter from voices that too often remain unheard.
BEFORE YOU GO
PHOTO GALLERY
Scenes From 114th Congress And Capitol Hill