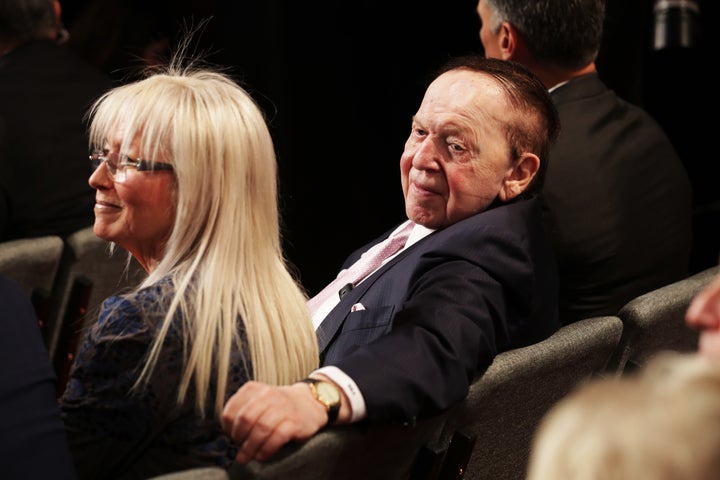 WASHINGTON ― Senate Leadership Fund, a super PAC run by former aides to Senate Majority Leader Mitch McConnell, raised an astonishing $39 million in the three weeks before the 2016 election, according to a report filed on Thursday. The huge injection of money helped backstop Senate Republicans and protect their majority on Election Day.
The gigantic fundraising surge for the super PAC pushed its total above $100 million, making it one of the best-funded super PACs of the 2016 election cycle. The late contributions from usual suspects among Republican donors paid for advertisements that helped protect incumbent Sens. Pat Toomey (R-Pa.), Roy Blunt (R-Mo.), Marco Rubio (R-Fla.) and Richard Burr (R-N.C.) and elect newcomer Todd Young in Indiana. Many of those donors will have key interests in front of the next legislative session.
Sheldon Adelson and his wife Miriam combined to give $15 million ― the largest donation to McConnell's group. Adelson, the billionaire casino operator, has long pushed for Congress to ban online gambling. Republicans have introduced legislation in the past two sessions to do this.
The second-biggest donor to the super PAC is unknown, because it came in the form of a $9.2 million contribution from One Nation, a dark-money nonprofit run by the same people as Senate Leadership Fund. The group ran millions of dollars in advertisements early in the campaign season attacking Democratic Senate candidates.
Stephen Schwarzman, chairman of the private equity titan Blackstone Group, contributed $2.2 million. Schwarzman is an avowed opponent of the Dodd-Frank Wall Street reform law passed in the wake of the 2008 financial crisis. He supports radically reducing regulations for financial firms and cutting taxes, or keeping them as low as they already are, for billionaires like himself.
"We're so overregulated as a country that we just crushed our productivity," Schwarzman said in the past. "That's temporary because it's reversible if anybody politically chooses to reverse it. If they wanna accelerate it, good luck."
After President Barack Obama called for raising the tax rate on carried interest, which is how private equity investors make their money, Schwarzman said, "It's like when Hitler invaded Poland in 1939."
Blackstone Group spent more than $2 million on lobbying through September on issues ranging from tax reform, financial regulation, support for the Trans-Pacific Partnership trade deal and housing. The private equity company owns Hilton Worldwide, a hotel competitor of President-elect Donald Trump. Blackstone bought up at least 50,000 foreclosed homes in the wake of the financial crisis and ensuing bank-led fraud that immiserated millions by wrongly evicting them from their own homes. Blackstone is now taking its home-rental business public.
Paul Singer, a billionaire hedge fund manager known for investing in distressed foreign debt, gave $2 million to Senate Leadership Fund. Singer and other hedge fund and private equity managers recently created a new industry lobbying group called CIRCA to advocate for policies favorable to billionaire investors like themselves.
Collectively, members of the billionaire DeVos family of Michigan contributed $1.2 million. These contributions came from 11 members of the family. Their wealth derives from Richard DeVos Sr., who founded the multi-level marketing company Amway. His son, Richard DeVos Jr., is married to Betsy DeVos, picked by Trump to be the next education secretary. The Senate will vote on her nomination.
Petrodome Energy, an oil and gas company owned by investor W. Ed Bosarge, gave $1 million. This contribution, however, does not relate to the energy industry, but rather to another business run by Bosarge. The multi-millionaire owns stem-cell company Bosarge Life Sciences that has been lobbying Congress to pass legislation that would speed Food and Drug Administration approval of medications and medical devices by bypassing final regulatory scrutiny of whether the products actually work. Legislative language very similar to this was included in the just-passed 21st Century Cures Act. The provision was denounced by Sen. Elizabeth Warren (D-Mass.) as a "special deal" for a "major Republican donor."
There also was a contribution to Senate Leadership Fund from an oil and gas company still interested in energy policy. Polar Tankers Inc., a subsidiary of ConocoPhillips, gave $1 million. The oil giant has been lobbying on issues related on natural gas pipelines and Alaska oil exploration.
Republican senators also chipped in money from their own leadership PACs to Senate Leadership Fund to help colleagues win tough races.
Sen. Orrin Hatch's (R-Utah) OrrinPAC gave $500,000. Sen. Mike Crapo (R-Idaho) gave $250,000 from his Freedom Fund PAC. McConnell's own Bluegrass Committee gave $150,000. Sen. John Cornyn's (R-Texas) Alamo PAC also gave $150,000. Sen. Tim Scott's (R-S.C.) Tomorrow is Meaningful gave $100,000, as did Sen. John Thune's (R-S.D.) Heartland Values PAC and Sen. John Barrasso's (R-Wyo.) Common Values PAC. Other leadership PAC contributions came from Sens. Ben Sasse (R-Neb.), Rob Portman (R-Ohio) and Jerry Moran (R-Kan.).
Hatch will be able to count on support from Senate Leadership Fund if he faces a primary in the 2018 election. In a statement issued on Thursday, the super PAC's head, Steven Law, said, "Senator Orrin Hatch has been an invaluable ally to SenateLeadership Fund and a conservative champion for Utah, and should he decide to run for reelection, we will have his back in both the primary and the general election."
Calling all HuffPost superfans!
Sign up for membership to become a founding member and help shape HuffPost's next chapter
BEFORE YOU GO