WASHINGTON -- Tea party leaders lashed out at Senate Minority Leader Mitch McConnell (R-Ky.) this week after he said he would not back Sen. Ted Cruz's (R-Texas) plan to filibuster a bill that funds the federal government and defunds Obamacare.
"Now it is time for us to reconsider our support for Mitch McConnell," Judson Phillips, the head of Tea Party Nation, wrote on the group's website on Tuesday morning. "It is time for every Tea Party group that is supporting McConnell to reconsider that support."
"The Republican leader in the Senate, Mitch McConnell, just stabbed Ted Cruz and [Sen. Mike Lee (R-Utah)] in the back," right wing radio host Mark Levin said on Monday.
Last week, the House passed a continuing resolution to keep the government open after Sept. 30, only if Democrats accept riders that defund Obamacare. Senate Majority Leader Harry Reid (D-Nev.) is likely to strip those provisions once the Senate starts debating the resolution on Wednesday.
Cruz, who advocated for the House bill, tried to get his fellow senators to join him in a filibuster of the measure in order to block Reid from restoring funding for Obamacare with a simple majority vote. But that approach would cause a government shutdown, since Democrats have insisted any bill that defunds or delays Obamacare is a non-starter.
McConnell declined to go along with Cruz's approach, saying Republicans should instead vote against Reid's attempt to strip the Obamacare provisions from the legislation.
"I just don't happen to think filibustering a bill that defunds Obamacare is the best route to defunding Obamacare," McConnell said on Tuesday. "All it does is shut down the government and keep Obamacare funded. And none of us want that."
McConnell's position is at odds with that of his conservative Republican primary opponent, Matt Bevin, who supports Cruz's approach.
"Like so many other crucial fights, Mitch McConnell has caved to Harry Reid on Obamacare and is refusing to fight to defund this disastrous legislation," Bevin said in a statement. "There is really no difference between Mitch McConnell and Alison Grimes -- both would vote on the side of Harry Reid. I am proud to support conservatives like Sen. Ted Cruz in his fight to defund Obamacare, and I promise the people of Kentucky: I will never cave to Harry Reid."
The maneuvering Cruz is trying to pull off is complicated, which could work to McConnell's favor. After all, it may be easier to tell to constituents why he voted for a bill that defunds Obamacare than to explain why he would block such legislation.
"Invoking cloture on a bill that defunds Obamacare, doesn't raise taxes and respects the Budget Control Act strikes me as a no-brainer," McConnell said at his weekly press conference on Tuesday. "And so I'm not reluctant to explain voting for things that I'm for. That's the way I see it."
McConnell added that voting against cloture and delaying the process of getting a bill back to the House would put GOP leaders in a "tough spot."
Still, conservative groups are sure to do all they can to educate primary voters about what happened.
The Senate Conservatives Fund, founded by former Sen. Jim DeMint (R-S.C.) -- now head of the Heritage Foundation -- sent an email to its supporters on Tuesday slamming McConnell and Sen. John Cornyn (R-Texas), who aggrees with the minority leader. The email called the actions of McConnell and Cornyn "the ultimate betrayal."
"Mitch McConnell and John Cornyn have surrendered to Barack Obama, Harry Reid, and the Democrats. More importantly, they have surrendered to Obamacare -- the biggest job killer in America," wrote Mike Hoskins, executive director of the Senate Conservatives Fund.
McConnell's campaign did not return a request for comment.
"Harry Reid and the Senate Democrats will be voting for cloture," said a Tea Party Express email sent Tuesday afternoon. "Are Senators McConnell and Cornyn really going to stand with Harry Reid, Chuck Schumer, and Dick Durbin? Or are they going to stand with Ted Cruz, Mike Lee, Marco Rubio, and Rand Paul? Senators McConnell and Cornyn could be leading the charge to unite the Republican caucus in the Senate, but they are not. Instead, they are literally working against us."
Sabrina Siddiqui contributed reporting.
Before You Go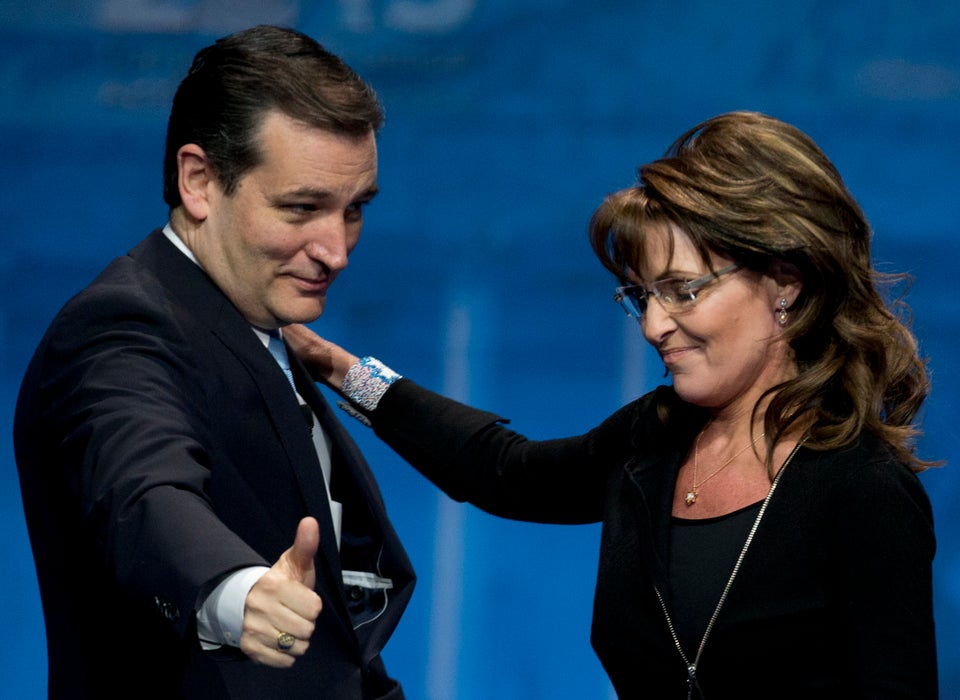 Sen. Ted Cruz
Popular in the Community