WASHINGTON -- The leader of an audacious tea party plan in Kentucky to oust Senate Minority Leader Mitch McConnell (R-Ky.) believes unknown forces orchestrated the 2008 financial collapse to give Barack Obama the presidency. "It's too coincidental in my opinion," Greg Fettig of Unbridled Liberty tells The Huffington Post. "It's just timing. It's just extremely suspect in my mind."
Fettig is also convinced that President Obama was not born in the United States and, in his podcast, calls him "an illegal president" who "is intent on collapsing and destroying the United States of America. He hates America." When a Democratic member of Congress got robbed, he tweeted that it was merely "chickens coming home to roost."
Fettig is no marginal activist. U.S. News and World Report highlighted his role in Kentucky last week, noting that Fettig was the organizer behind the effort that helped challenger Richard Mourdock topple Indiana Republican Sen. Richard Lugar, which cost the GOP the general election race. Fettig said he sees that race as a victory nonetheless, and hopes to replicate it in Kentucky. If "we beat McConnell, we can prove we can do back-to-back Senate races and we can take anybody out if we work together," he told U.S. News.
When it comes to the 2014 race in Kentucky, Fettig thinks tea party challenger Matt Bevin is the horse to back. McConnell's primary opponent has won the support of a coalition of tea party activists, and Fettig has been brought in to help run the group's outreach effort they are calling "Unbridled Liberty." Fettig has also launched a super PAC bearing that name.
Unbridled Liberty plans to draw in and organize tea party activists from surrounding states -- Fettig lives in Indiana -- and already has commitments from activists to help knock on doors, staff phone banks, and stage events in support of Bevin and other like-minded candidates in down-ballot races. Organizers say Unbridled has been in discussion for a few months. An organizational meeting at a Lexington Holiday Inn two weeks ago was standing room only, said Garth Kuhnhein of northern Kentucky.
Fettig's social media presence is dedicated in equal parts to trashing Muslims, Obama and the GOP establishment. He insists that Obama is not just Muslim, but also a communist. "This man is a Muslim communist; he's not a Christian. There's a war on Christianity worldwide. President Obama says this isn't a Christian nation, it wasn't founded by Christians and there were Muslims in our founding fathers. That's B.S. That's crap, it's a lie," Fettig said recently on his podcast.
That's not all Fettig believes. Back on the issue of revolution, Fettig thinks that if there is a new Civil War, it could be started by the Department of Homeland Security. "Right now as I speak, there is a second American Revolution going on," Fettig said on his podcast last week. "No there hasn't been bloodshed, there hasn't been shots fired, yet, and I don't think there will be until the federal government starts it. But they have started it with Obamacare. Why do you think the Department of Homeland Security has bought enough bullets to shoot every American six times over? It's not for target practice. You don't buy hollow point bullets to shoot at targets. That is highly expensive ammo."
On a recent podcast, Fettig wondered when Americans will finally rise up. "Right now, you can rise up and you can effectively fight this revolution peacefully. But there's going to be a time soon -- real soon -- that it's going to resort to violence," he said. "And just ask yourself what's going to happen when the dollar collapses? When that money is worthless. What are you going to do? How are you going to pay for anything? No one is going to go to work. There won't be electricity, there won't be gas. There will only be two concerns, and it will permeate every hour of the day. It will be food and water."
On his Facebook page, he solicited recruits, asking, "Will a few good men please step up and remove the TRASH from OUR house."
Fettig told HuffPost that while he is not absolutely certain about all of his theories, the stakes are too high to wait for any more proof. He has his gut. Homeland Security is "preparing for something," he said.
With all these extreme views, it might be easy to dismiss Fettig as simply an outlier. But his opinions aren't necessarily out of step with some Kentucky Republicans. Conservative legislators in Frankfort believe the United Nations is behind education standards, and one state legislator started 2014 by adding language to a bill to classify abortion as a type of domestic violence. Kentucky Sen. Rand Paul has endorsed a conspiracy theory that a U.N. treaty aimed at restricting terrorists' access to guns was actually a plot to confiscate and destroy American citizens' firearms. The senator has also not shied away from 9/11 conspiracy theorists.
Fettig said he came up with the name for the Kentucky group that plans to help oust McConnell. "I wanted to give it a Kentucky flair," he explained. "I looked through past Derby winners and came up with Unbridled in 1990 ... I thought that's perfect. We want liberty, we want unbridled liberty -- no restraints on our freedoms."
Unbridled member Scott Hofstra, who lives five miles outside Fort Knox, said events are being planned all across Kentucky. The first event is on Feb. 8 at the Mets Center in Northern Kentucky, which will be followed by events in Bowling Green and Radcliff. He said Bevin is set to speak at the Unbridled kickoff.
"We are in full support of Matt's campaign," Hofstra said. "We work beside it as a shadow campaign. Actually, we're running a parallel campaign."
The Bevin campaign did not return a request for comment.
Unbridled will only be constrained by the limits of its volunteer rolls and its scarce funding. Late last week, Fettig launched the Unbridled Liberty Super PAC. He said he hopes to raise between $400,000 and $500,000 for both Kentucky and Iowa races. "We can do it on a shoestring budget," he said. "The hardest part is the work."
Fettig saw first-hand what on-the-ground organizing could do in his home state of Indiana, formerly represented by the moderate Lugar. In Fettig's mind, McConnell has gone just as soft on conservative principles after 30 years in the Senate.
"He's Big Washington," Fettig said. "He doesn't listen to the people. He doesn't listen to voters."
During his campaign against Lugar, Fettig claims he received death threats and a surprise visit. "We had the Japanese Embassy from Washington come out and visit us, trying to discourage us … because they had business interests in Indiana, thought it would upset the apple cart," he said.
The Japanese embassy couldn't be reached for comment.
CORRECTION: Due to an editing error, a previous version of this story misattributed a policy position held by the Kansas governor to the Kentucky governor. The sentence has been removed.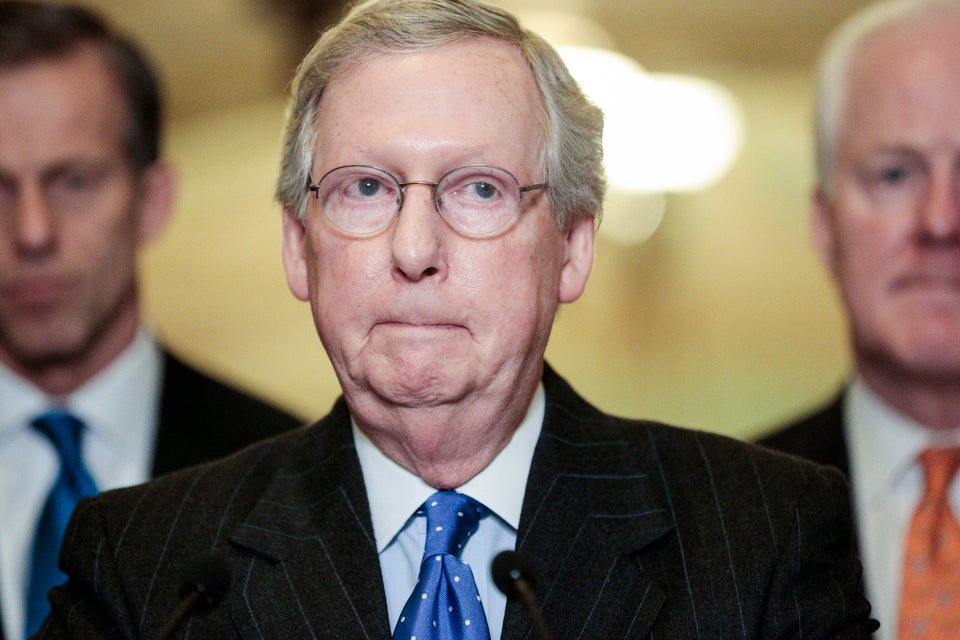 Say Cheese! Mitch McConnell Smiles