WASHINGTON -- Tea party groups that worked to oust Senate Minority Leader Mitch McConnell (R-Ky.) united around him Tuesday night as he easily beat primary challenger Matt Bevin. But they also took credit for the man McConnell has become, arguing that they pushed him to become a stronger conservative.
"Matt Bevin's principled challenge helped Senator McConnell rediscover his conservative principles come November. Competition always breeds stronger candidates, and there is an improved conservative candidate heading into the general election as a result," Matt Kibbe, FreedomWorks president, said in a statement.
McConnell easily defeated Bevin in the GOP primary, meaning he will face Kentucky Secretary of State Alison Lundergan Grimes (D) in the general election.
Despite the backing of conservative groups like FreedomWorks and the Senate Conservatives Fund, Bevin struggled against the well-financed incumbent. McConnell's team was able to go out early and define Bevin, a businessman, through negative attacks before most voters knew who he was.
McConnell touted high-profile endorsements from groups that included the U.S. Chamber of Commerce and the National Rifle Association to show his conservative credentials. He also received the support of Sen. Rand Paul (R-Ky.), a tea party favorite.
The Senate Conservatives Fund and the Madison Project also put out statements Tuesday night that promised to now support McConnell.
"We congratulate Senator McConnell on his victory and urge Republicans in Kentucky to come together to defeat Alison Lundergan Grimes," said Matt Hoskins, the group's executive director. "We thank Matt Bevin for standing up for conservative principles and giving voters a choice in this race. Now it's time for Republicans to unite for victory in November."
"Matt Bevin lost tonight, but his effort was not in vain as he helped move conservatism forward and Senator Mitch McConnell and the Republican Senate leadership to the right," added Drew Ryun of the Madison Project. "We congratulate McConnell on winning the primary. We ask all Republicans to come together to defeat extremist Hollywood liberal Allison [sic] Lundergan Grimes this fall."
And ultimately, FreedomWorks argued, it has won the larger war, with the Republican Party adopting more tea party positions.
"When the establishment runs on our issues, it's clear that there is a larger cultural shift happening here. Constitutional conservatives and libertarians are setting the agenda in the Republican Party," said Kibbe.
Jenny Beth Martin, chair of the Tea Party Patriots Citizens Fund, urged McConnell not to take conservative activists for granted now that he's won.
"As conservatives and Americans, we want Alison Graves (sic) to lose in November," said Martin. "We want Harry Reid to lose his job. But Senator McConnell must now reach out to conservatives and espouse the values of liberty. If he does, and rejects, higher federal debts, Obamacare and amnesty, he'll prevail in November. If he does not, he will lose. We hope he chooses wisely."
McConnell has not had kind words for the conservative groups working against him.
"I think we are going to crush them everywhere," McConnell said in an interview with The New York Times in March. "I don't think they are going to have a single nominee anywhere in the country."
And Bevin, as recently as a couple of weeks ago, still wasn't sure whether he would embrace McConnell if he lost and refused to say whether he'd back him in the general election.
In his concession speech Tuesday night, Bevin told supporters he had "no intention whatsoever" of supporting Grimes, but he also stopped short of endorsing McConnell.
According to Politico, there is "a big GOP unity event" planned later this week, but it's not yet clear whether Bevin will attend.
UPDATE: 5/22/14 -- FreedomWorks spokeswoman Jacqueline Bodnar clarified in an email that the group is not yet formally backing McConnell.
"I just wanted to clarify that FreedomWorks has not pledged to support Mitch McConnell," she wrote. "We always take into account what our membership and grassroots activists on the ground want before making any endorsement."
This article has been updated to include comments from Bevin, and from representatives of Madison Project, Tea Party Patriots Citizens Fund and FreedomWorks.
Before You Go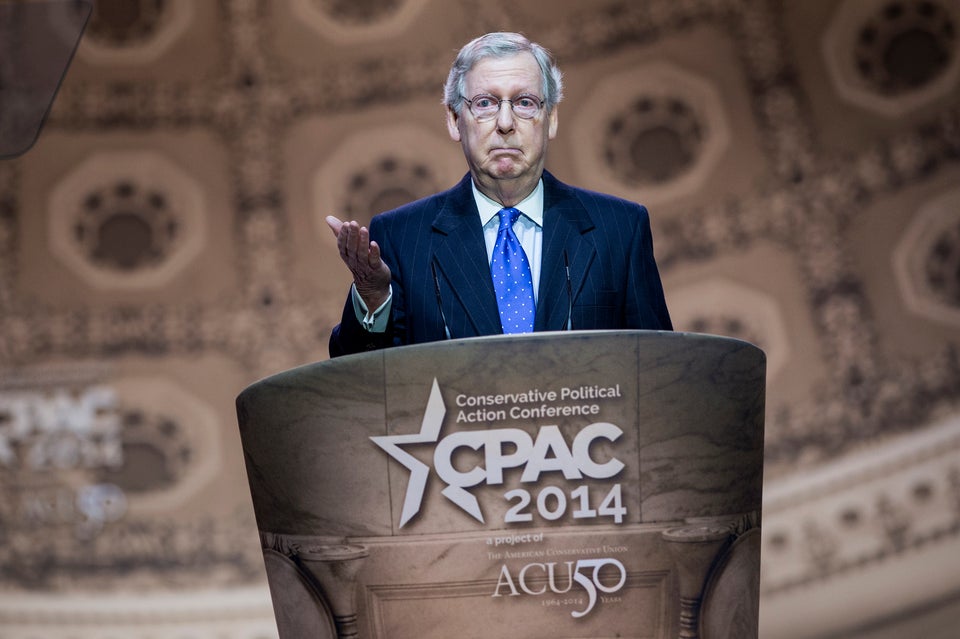 Mitch McConnell & Alison Lundergan Grimes
Popular in the Community