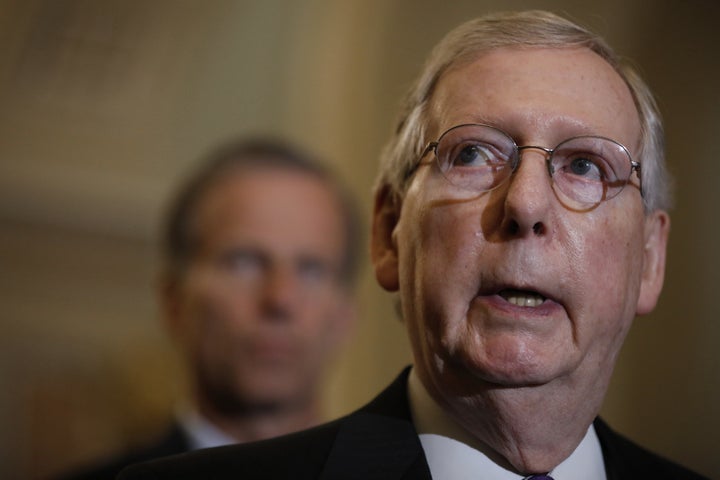 WASHINGTON ― One of the most prominent anti-LGBTQ leaders in the country is now a federal appointee shaping U.S. policy on religious freedom, thanks to Senate Majority Leader Mitch McConnell (R-Ky.).
Tony Perkins, president of the Family Research Council ― which the Southern Poverty Law Center considers a hate group ― announced Wednesday that McConnell appointed him to the U.S. Commission on International Religious Freedom. It's a two-year term, and his responsibilities include "monitor[ing] the universal right to freedom of religion or belief abroad" and making policy recommendations to the president, the secretary of state and Congress.
"I am grateful to Majority Leader McConnell for appointing me to this prestigious position," Perkins said in a statement. "It is my hope that through the work of USCIRF, the world will become one step closer to recognizing the vital role religious freedom and the defense of religious minorities play in peace, security and human flourishing."
Perkins brings to the commission a long record of condemning and denying rights to LGBTQ people, which he and other conservatives like Vice President Mike Pence have been doing for years in the name of religious freedom.
He claimed in 2010 that the high suicide rate among gay teenagers is not because of societal homophobia, but because they know they are "abnormal." That same year, Perkins described Uganda's so-called "kill the gays" bill, which imposed the death penalty for homosexuality, as an effort to "uphold moral conduct."
In 2014, he warned that an anti-Christian holocaust was imminent and said LGBTQ advocates were "going to start rolling out the boxcars to start hauling off Christians."
In 2017, Perkins authored a letter signed by evangelical leaders calling on President Donald Trump to reverse Obama-era guidance allowing transgender people to serve openly in the military. He also co-authored a report with Pence in an effort to justify the ban on transgender troops.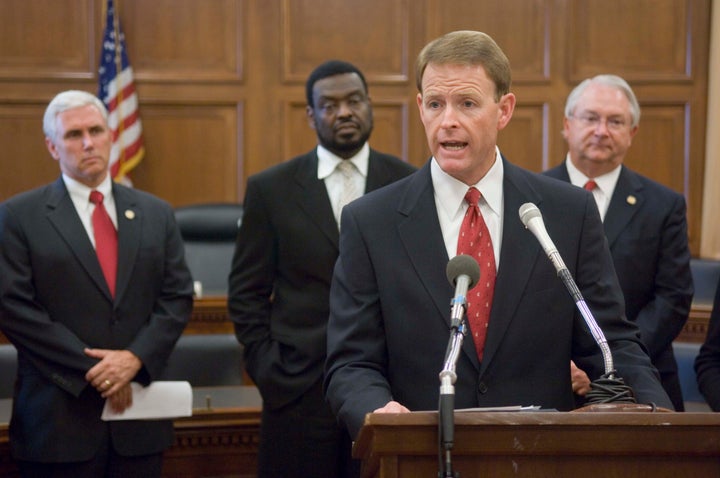 Here's Perkins in 2011 describing people who advocate for LGBTQ rights: "They're intolerant. They're hateful. They're vile. They're spiteful. Our response to them should be one of love... But let me tell you what, it's not love to be silent in the face of those who are advancing an agenda that is both destructive to our society and, more importantly, destructive to the individuals involved. To me, that is the height of hatred."
In that same speech, he said LGBTQ rights advocates are "pawns" of Satan (!).
Perkins' record gives some insight into the kinds of recommendations he might now make to Trump regarding countries where LGBTQ people are oppressed in the name of religion.
The White House also just appointed evangelical activist Gary Bauer to the commission. Bauer has said that LGBTQ rights will lead to "the criminalization of Christianity," and claimed that gay people will try to take children away from parents who don't agree with same-sex marriage.
LGBTQ rights groups are horrified by their appointments. 
"In their America, LGBTQ people would be forced to hide who they are or face criminal sanction, their relationships would be unrecognized, their children could be taken away and LGBTQ youth would face harmful conversion therapy," said Human Rights Campaign spokeswoman Charlotte Clymer, who used to write about social justice issues for HuffPost's open blog platform.
"For the Trump-Pence White House to nominate them to this position is insulting to our core American values and ignores the reality of the vast majority of Americans who believe religious freedom and equality are not only compatible but essential in 21st Century America," she said.
McConnell spokesman Don Stewart had no comment.
He indicated the office typically does not comment on appointments made directly by McConnell as opposed to those made by the full Senate.
REAL LIFE. REAL NEWS. REAL VOICES.
Help us tell more of the stories that matter from voices that too often remain unheard.
BEFORE YOU GO
PHOTO GALLERY
LGBTQ Friendly Colleges & Universities