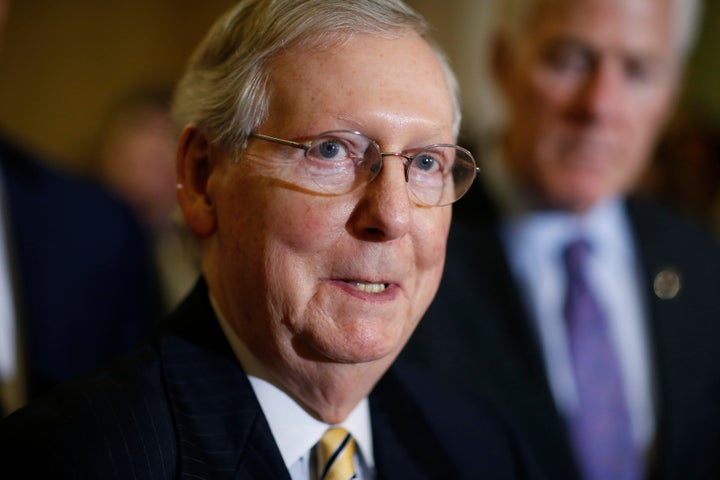 WASHINGTON ― Senate Majority Leader Mitch McConnell (R-Ky.) is hinting at a potential major change in the way the Senate advances judicial nominees ― one that would strip Democrats of the ability to block many of President Donald Trump's lifetime court picks.
In an interview with The New York Times, McConnell said he doesn't think senators should be able to use "blue slips" to block U.S. Court of Appeals nominees. These are literally blue pieces of paper that senators turn in to the Judiciary Committee to signal that they're ready for a nominee from their home state to get a hearing. Per long-standing tradition, the committee chairman won't give a hearing to a judicial nominee until both senators from a nominee's home state submit blue slips. If even one of those senators refuses to turn in a blue slip, that nominee goes nowhere.
McConnell said Wednesday, for the first time publicly, that he supports keeping the rule in place for U.S. District Court nominees but not for appeals court nominees, the most powerful judges on the federal bench after the Supreme Court.
"My personal view is that the blue slip, with regard to Circuit Court appointments, ought to simply be a notification of how you're going to vote, not the opportunity to blackball," he told the newspaper.
Blue slips are one of the few tools afforded to the minority party in the Senate. Both parties have used blue slips to block judicial nominees that they don't like, but Republicans arguably abused the rule during President Barack Obama's tenure. On several occasions, GOP senators refused to turn in blue slips for nominees they had recommended to Obama in the first place, just to prevent the Democratic president from filling a court seat.
When Senate Democrats were in the majority under Obama, they honored the blue slip rule even when Republicans used it to block Obama's nominees. McConnell's latest comments suggest he may not be inclined to do the same for them, now that Trump is in the White House and Republicans control the Senate. The blue slip rule is not a hard rule so much as a tradition, so if he wanted Republicans to stop honoring it, it would be easy.
Of course, this is all just idle talk for now. McConnell, who is still somewhat of an institutionalist, may just be making the statement to appease conservative groups clamoring for this change. Sen. Chuck Grassley (R-Iowa), who chairs the Judiciary Committee, has made similar comments about blue slips but has yet to stop honoring the rule.
A few Democrats have put Grassley to the test recently, though. Sen. Al Franken (D-Minn.) announced he would not turn in his blue slip for one of Trump's circuit court nominees from his home state, David Stras, saying he was too conservative. Oregon Sens. Ron Wyden (D) and Jeff Merkley (D) announced they won't be turning in their blue slips for circuit court nominee Ryan Bounds. Their grievance is that the White House bypassed their state's judicial recommendation process by picking Bounds.
It's unclear if Grassley sees those instances as grounds for eliminating the blue slip rule for circuit court nominees.
Trump is already incredibly well-positioned to fill up the nation's federal courts with his judicial picks. He's got piles of vacancies to fill, a Republican-led Senate eager to help him and conservative groups steadily feeding him nominees. Easing the blue slip rule to cut Democrats out of part of the process would just make it easier for them. But it would also open the door to Democrats doing the same thing to Republicans when they regain the Senate majority, and it would erode bipartisanship in the process.
Sen. Patrick Leahy (D-Vt.), who chaired the Judiciary Committee during Obama's tenure and upheld the blue slip tradition, told HuffPost in June that Grassley "made it very clear" to him this year that he appreciated that Leahy honored the blue slip rule for Republicans when Obama was president. He said Grassley told him personally that he planned to honor it, too.
"I take him at his word," Leahy said. "I've known him for over 30 years. He's never broken his word to me."
Calling all HuffPost superfans!
Sign up for membership to become a founding member and help shape HuffPost's next chapter
BEFORE YOU GO
PHOTO GALLERY
The Supreme Court's 'Family' Photos