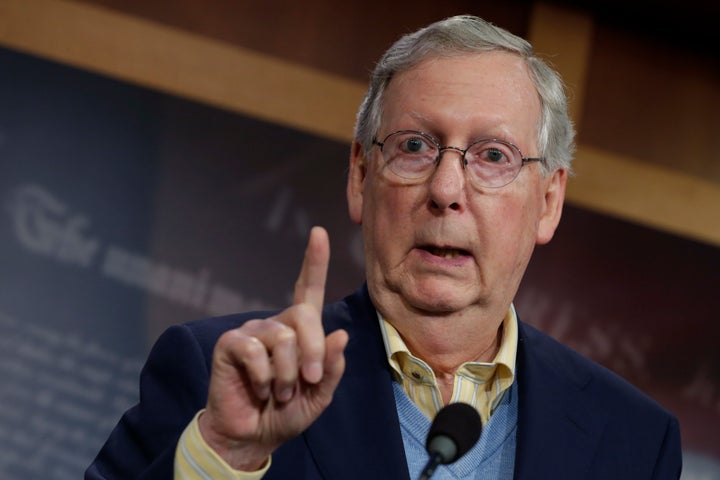 WASHINGTON ― Senate Majority Leader Mitch McConnell often found it difficult to answer questions about Donald Trump's more extreme immigration proposals over the past 16 months.
Trump's victory in Tuesday's presidential election hasn't made it any easier for him.
The Kentucky Republican was asked twice Wednesday about immigration, particularly about whether he'd back Trump's proposed wall across the U.S.-Mexico border and whether he could reassure immigrants living in the United States who fear Trump.
McConnell dodged both questions.
"I'm not going to go back and relitigate events of the past," he said when asked about Trump's plan for a border wall. "We have a new president. I would like to see him get off on a positive start. I think we should look forward and not backward and kind of rehash and relitigate the various debates we had internally and with the Democrats over the past year."
When pressed about his personal preference, McConnell again demurred.
"We're going to be talking to the president about his agenda," McConnell said. "Border security is important. I think even our Democratic friends realize we haven't done a very good job of that. Achieving border security is something that I think ought to be high on the list."
Asked later about what he had to say to undocumented immigrants who might be concerned about their futures, the majority leader once again chose not to answer.
"I'm not gonna discuss the immigration issue today," McConnell said. "We will be discussing that internally with the new administration in the coming months."
Trump has given mixed signals on his plans for immigration reform, but has remained consistent that he wants a wall on the country's southern border and wants to massively expand deportation infrastructure to target more undocumented immigrants.
On Wednesday morning, Republican National Committee Chairman Reince Priebus said Trump is no longer calling for "mass deportation" and that he wanted to kick out "only people who have committed crimes." In truth, Trump has objected to the words "mass deportation," but not to the concept of removing a great many people.
He has said he would deport criminals but also a large number of other people ― such as those who committed civil offenses like overstaying their visas ― and that others who came into Immigration and Customs Enforcement's grasp would not be released if they were low-priority, as they sometimes are under President Barack Obama.
Trump has said repeatedly that he wants a real, physical wall on the border, one that would go beyond existing fencing, which he has deemed inadequate.
His repeated pronouncements that the wall would be a literal one have not stopped some supporters from claiming it wasn't what Trump actually meant. Former Texas Gov. Rick Perry (R) said in July that "you can't do" a 1,200-mile physical wall, and that it would more likely be a "technological wall" instead.
The GOP has already signed on to Trump's border proposal, at least in part. The official party platform approved at the Republican National Convention this summer calls for a wall along "the entirety of the southern border" that "must be sufficient to stop both vehicular and pedestrian traffic."
REAL LIFE. REAL NEWS. REAL VOICES.
Help us tell more of the stories that matter from voices that too often remain unheard.
BEFORE YOU GO
PHOTO GALLERY
How Donald Trump Talks About Undocumented Immigrants