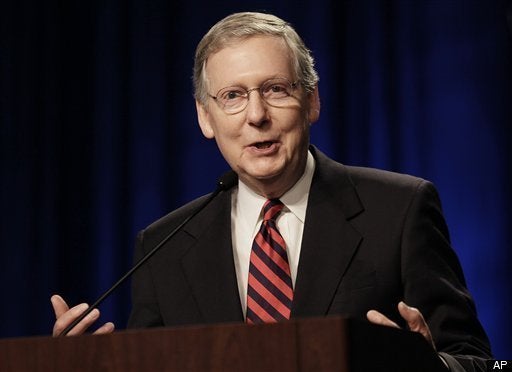 Senate Minority Leader Mitch McConnell (R-Ky.) officially supports a review of the 14th Amendment to the Constitution, which grants children of undocumented immigrants status as U.S. citizens, his office confirmed to the Huffington Post on Monday.
A spokesman said that the Kentucky Republican believes that "we should hold hearings" on the matter. McConnell had not previously commented on the issue before, the spokesman confirmed.
In offering his support, McConnell becomes the highest-ranking Republican figure to call for examining the reach of the 14th amendment. On Sunday, his chief deputy, Sen. John Kyl (R-Ariz.) told CBS' Face the Nation that he too would back hearings into revising citizenship laws. Sen. Lindsey Graham (R-S.C.) -- a one-time proponent of comprehensive immigration reform -- has explicitly called for the 14th Amendment's repeal.
The statements from GOP leaders give credence to the notion that revising longstanding citizenship laws is quickly becoming a plank of the party's platform. In the House of Representatives, Rep. Lamar Smith (R-Tex.) has introduced the Birthright Citizenship Act of 2009, which would attempt to deny children of illegal immigrants U.S. citizenship through statute rather than a constitutional amendment (thereby lowering the vote threshold). He has 93 co-sponsors for that effort including Rep. Nathan Deal, the Georgia Republican who is in a runoff to be the party's candidate for governor.
UPDATE: In an interview with The Hill, McConnell elaborates on his concerns about granting citizenship for the children of undocumented immigrants and formally calls for hearings into the matter.
"I think we ought to take a look at it -- hold hearings, listen to the experts on it," McConnell said. "I haven't made a final decision about it, but that's something that we clearly need to look at. Regardless of how you feel about the various aspects of immigration reform, I don't think anybody thinks that's something they're comfortable with."
Popular in the Community