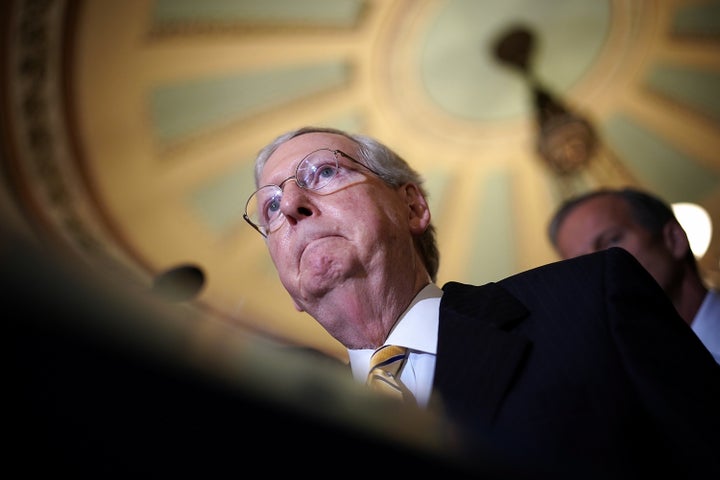 WASHINGTON ― Obamacare repeal is in shambles. Tennessee Sen. Bob Corker ― a key GOP leader ― is calling it quits. And on Tuesday, Senate Majority Leader Mitch McConnell (R-Ky.) got even more bad news: An anti-gay, Islamophobic former judge easily won the Senate GOP nomination in Alabama.
McConnell bet large against Roy Moore, a controversial conservative who trounced establishment favorite Sen. Luther Strange (R-Ala.) by repeatedly bashing McConnell's leadership. Strange lost badly ― an outcome that that could threaten the GOP agenda and further erode party unity.
The majority leader was forced to praise Moore on Tuesday, crediting him for having run "a spirited campaign centered around a dissatisfaction with the progress made in Washington."
"I share that frustration and believe that enacting the agenda the American people voted for last November requires us all to work together," he added.
Republicans went all in for Strange in the final weeks of the race. President Donald Trump and Vice President Mike Pence both campaigned for the incumbent senator in Alabama. A McConnell-aligned super PAC also spent millions of dollars to help Strange, who was appointed earlier this year to the seat vacated by U.S. Attorney General Jeff Sessions.
It was all for naught ― a stunning loss that threatened McConnell's already-tenuous relationship with the president. Trump on Wednesday fumed about the Senate's inability to repeal the Affordable Care Act, urging Republicans to scrap the filibuster to achieve the goal in the future.
"We will have the votes for Healthcare but not for the reconciliation deadline of Friday, after which we need 60. Get rid of Filibuster Rule!" Trump tweeted, a move that is opposed by McConnell and many other Republican senators.
Trump's anger at McConnell reportedly reached new heights following the events this week. The president, for example, has taken to "physically mocking" the senator in private with "lethargic body language" and "slumped shoulders," according to Axios. The White House is also planning on laying the blame on McConnell for the GOP losses, per The Daily Beast.
In a sign of his displeasure with the election result on Tuesday, Trump even went so far as to delete embarrassing tweets he'd written initially expressing support for Strange.
Senate Republicans, however, disputed the notion that the race put McConnell's job as majority leader at risk, maintaining they would welcome Moore to the Senate if he is elected.
"The people of Alabama have spoken. I'm certainly not going to second-guess them," Sen. John McCain (R-Ariz.) told reporters on Wednesday.
Still, Moore's coup in the primary ― and likely eventual Senate victory in solidly Republican Alabama ― puts GOP lawmakers in the awkward position of having to defend his many controversial positions.
"I'm not going to comment on his positions. He's entitled to his opinion. This is America, you can believe what you want," Sen. John Kennedy (R-La.) told HuffPost on Wednesday.
Asked specifically about Moore's anti-gay comments, Kennedy said: "You're going to have to talk to him about that."
Sen. David Perdue (R-Ga.) said would "absolutely" welcome Moore to the Senate if he wins the general election. Asked whether he took issue with the former judge's many controversial comments about gay people, Perdue said, "We'll talk about all that when he gets here."
Sen. James Inhofe (R-Okla.) suggested Moore's controversial history belonged in the past.
"When you're in the middle of elections, there are a lot of things that, after the election is over, you don't put that much weight on it," he said, adding that he would support Moore's campaign.
Asked whether he worried that Moore's victory could lead to more primary challenges to GOP incumbents, Sen. John Barrasso (R-Wyo.) stressed that Republicans needed to retain a majority in the Senate in order to pass Trump's legislative agenda.
"We need to do tax reform," he said. "I think we can do a lot more if we're in the majority."
In 2012, national Republicans offered a very different reaction in response to another controversial Senate GOP candidate. The party then quickly disavowed Missouri's Todd Akin after he infamously told an interviewer that pregnancy rarely occurs as a result of what he called "legitimate rape."
Democrats now blame Trump ― who has made controversial statements seemingly every week ― for shifting the acceptance of what used to be considered outrageous.
"The goalposts are moving," Sen. Dick Durbin (D-Ill.) said Wednesday. "It's just a fact that what the president has done to the issue of outrage is to make it commonplace, so I don't know if that changes from senator to senator."
Popular in the Community