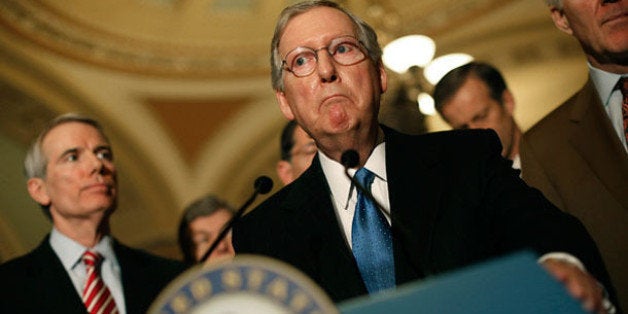 Flush from victory last November, Republican Sen. Mitch McConnell threw down the gauntlet. "What the administration has done to the coal industry is a true outrage," he said, referring to the loss of mining jobs in his home state of Kentucky. President Obama, he continued, is conducting "a war on coal and, honestly, I'm going to war with him over coal."
Of course, McConnell is not alone. Politicians from major coal-producing states -- particularly Kentucky, West Virginia and Wyoming -- routinely fulminate against what they've dubbed the Environmental Protection Agency's (EPA) "war on coal," and they have vowed to block the agency's new carbon emission rules for coal-fired power plants. But with the Republican takeover of the Senate, McConnell -- in his new role as majority leader -- now has a lot more leverage. For him, coal's threat to the climate, public health and the environment is inconsequential; and to hear him talk, one would think that curbing carbon emissions will throw millions of people out of work.
He's wrong on both counts.

First of all, coal-fired power plants are the largest source of U.S. carbon emissions -- accounting for roughly 33 percent -- and the leading industrial source of such "traditional" toxic pollutants as mercury, nitrogen oxide and sulfur dioxide. These emissions have been linked to a range of cancers and cardiovascular, respiratory and neurological diseases. Coal plant particulate pollution, meanwhile, alone kills an estimated 13,000 Americans every year. All told, according to a 2011 Harvard Medical School study, coal's "lifecycle" damage -- from mining to processing to burning -- costs Americans between $345 billion and $523 billion a year.
Second, despite McConnell's grumbling about coal job losses, there are actually more people working in the industry than there were 10 years ago. That said, the number of direct jobs in coal is minuscule, and has been for some time. According to the U.S. Bureau of Labor Statistics (BLS), the industry employed only 79,400 people in 2013, which amounts to a measly 0.06 percent of the total U.S. private, nonfarm working population. You could fit them all in FedEx Field, home of Washington, D.C.'s NFL team.
Even the number of coal industry jobs in the three biggest coal-producing states is relatively small, according to 2013 BLS data. In sparsely populated Wyoming, which produces 39 percent of America's coal, the industry employed only 6,700 workers -- a mere 2.3 percent of the state residents working in private, nonfarm jobs. Mines in West Virginia, which account for 11 percent of the industry's tonnage, employed 19,980 people -- 2.6 percent of the state's workers. And in Kentucky, where miners extract 8 percent of the country's coal, the industry supported only 11,800 people -- 0.64 percent of the state's total workforce.
McConnell's Coal Industry Friends
So when there are viable, cleaner alternatives, why is Mitch McConnell "going to war" to protect an industry that employs an infinitesimal number of workers and whose product costs us hundreds of billions of dollars a year in health and environmental damages?
Perhaps it's no coincidence that McConnell received more coal industry campaign money in the 2013-2014 election cycle than any other senator -- considerably more. According to the nonpartisan Center for Responsive Politics, the $269,050 the industry bestowed on him was roughly three-and-a-half times more than what it gave its second-highest recipient, Wyoming Sen. Mike Enzi (R), who received $72,450. McConnell's top campaign contributors between 2009 and 2014 included coal giants Alliance Resource Partners, Koch Industries, Peabody Energy and Southern Company, which collectively donated more than $300,000, as well as Chevron, ExxonMobil, Marathon Oil and Marathon Petroleum, which gave him more than $200,000.
McConnell's support for the coal industry, as well as his take on climate and energy issues writ large, dovetail neatly with his fossil fuel benefactors' point of view. During his reelection campaign last fall, for example, he deflected a Cincinnati Enquirer editorial board question about climate change with the denier camp's retort du jour. "I'm not a scientist," McConnell responded. "I am interested in protecting Kentucky's economy. I'm interested in low-cost electricity."
Given the paltry number of coal jobs and coal's rising cost relative to cleaner sources of electricity -- not to mention the damage it does -- McConnell's claims ring hollow.
Cheaper, Cleaner Alternatives

McConnell and other coal-state politicians like to blame the EPA for the coal industry's woes. No doubt, stronger pollution controls impose additional costs. But the coal industry's biggest problems these days are slow growth in electricity demand; shrinking reserves, which make coal more difficult and expensive to mine; and the fact that utilities are closing down outmoded coal plants and switching to cheaper alternatives, namely natural gas and renewables.

Those market forces have deposed King Coal. As recently as 2006, coal generated nearly 50 percent of U.S. electricity. In 2013, its share was down to 39 percent.
Not surprising, the shift from coal to cleaner alternatives has produced more jobs in those sectors. Plenty has been written about the natural gas boom, but renewable technologies, especially solar, have been expanding as well. Last year, the solar industry experienced a 22 percent growth rate, adding more than 31,000 jobs, according to a new Solar Foundation survey. The survey identified 157,500 full-timers and another 16,300 who devoted at least 50 percent of their time to solar projects. The American Wind Energy Association, meanwhile, estimates its industry employed 50,500 workers at the close of 2013. Add them together, and their combined workforce is nearly three times the size of the coal industry's.
McConnell insists that the EPA's plan to curb power plant carbon emissions is a "job killer." In fact, it is projected to generate tens of thousands new jobs, but it's the renewable sector that will benefit, not coal. A 2013 study by Synapse Energy Economics projected that the gains in new jobs from carbon controls would far outweigh the inevitable job losses in coal country. Synapse estimated an initial net gain of 76,000 jobs nationally in 2016 and 210,000 in 2020 if emissions dropped 26 percent from their peak levels in 2005. The actual EPA proposal goes deeper, cutting power plant emissions by 30 percent from 2005 levels by 2030.
The biggest job killer in coal country over the last half century can be summed up in one word: automation. Most of the job losses can be attributed to technological developments that have dramatically increased worker productivity.
The numbers tell the story. In 1983, 175,640 workers produced 782 million tons of coal from 3,337 mines, according to the U.S. Energy Information Administration (EIA). In 2013, 79,400 workers produced 985 million tons from 1,061 mines, the EIA reported just last week. In other words, fewer than half the workers at a third of the mines were able to produce more coal in 2013 than three decades ago.
That 2013 output, however, is the first time production has fallen below 1 billion tons since 1993. The EIA attributed the 3 percent drop from 2012 to declining production levels out West and in Appalachia, where the largest decrease was in Kentucky.
Looking ahead, the EIA predicts coal production will remain flat over the next decade, but its analysts have yet to factor in the impact of the EPA's new power plant carbon emission rules. As Synapse showed in its analysis, they will mean even more layoffs in communities that can't afford them.
So the question Mitch McConnell should be asking is not how to protect coal jobs, but how to help dislocated miners and coal-dependent communities evolve beyond coal.
Fortunately there are signs that elected officials, community groups, businesses and labor unions are beginning to come together to explore ways to support miners and diversify coal country economies. In Congress, Reps. David McKinley (R-W.Va.) and Peter Welch (D-Vt.) introduced legislation last fall that would provide laid-off coal miners with retraining, job counseling, and relocation assistance. In Kentucky, Gov. Steve Beshear (D) and U.S. Rep. Hal Rogers (R) launched Shaping Our Appalachian Region (SOAR) in 2013 to develop strategies for expanding economic opportunities in the eastern part of the state. And in West Virginia, a broad coalition of stakeholders last year started What's Next, West Virginia?, a statewide initiative to encourage innovative educational and business opportunities.
What's Next, West Virginia? was sparked in part by a conference two coalition members -- the West Virginia Center on Budget and Policy and the West Virginia Community Development Hub -- co-sponsored with the Union of Concerned Scientists (UCS) in the fall of 2013. It attracted more than 200 participants, including state and local officials, business owners, energy industry executives, labor representatives, academics, environmentalists and religious leaders.
Jeremy Richardson, a UCS senior energy analyst, organized the conference and wrote a follow-up report titled "A Bright Economic Future for the Mountain State." He firmly believes that's the case.
"The writing is on the mine shaft wall. It's time to look toward the future," said Richardson, who grew up in a West Virginia coal family. "We owe coal miners a great debt for keeping the lights on for generations, and we have an obligation to ensure they have a place in the clean energy economy. The first step is demonstrating that new opportunities exist."
Initiatives in Kentucky, West Virginia and other coal states will take time and money, and it will not be easy to revitalize coal communities that have been on the downhill slide for decades. But that's the task at hand. Sen. McConnell's rear-guard crusade to prop up an uneconomic, polluting industry is misguided at best and -- given the looming threat of climate change -- downright dangerous at worst. It may be in the short-term interest of the coal companies that funded his reelection campaign, but it's not in the long-term interest of coal miners, their communities, or the rest of us.
Correction: This post previously reported that the American Wind Energy Association estimated that its industry employs 73,000 workers. That figure was an average of full-time-equivalent, year-long jobs over the last five years. The trade group estimates that at the end of 2013 the industry employed 50,500 people. It is still compiling data for 2014.
Elliott Negin is a senior writer with the Union of Concerned Scientists.
Calling all HuffPost superfans!
Sign up for membership to become a founding member and help shape HuffPost's next chapter