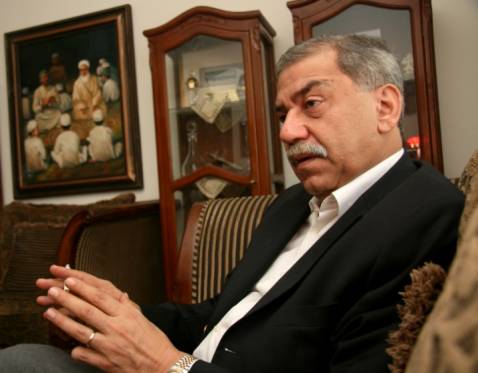 Hugely disappointing news from Iraq last week as Parliamentarian Mithal al-Alusi, who won his seat in Iraq's Parliament in December, 2005 and has been a fearless champion of human rights, press freedom, and democracy, lost his seat. He has told me he believes the elections to have been fixed against liberals like him - by Iran and Saudi Arabia.
I published a piece about this allegedly fixed election last week in the New York Post.
Alusi and other liberals, such as Shiite candidate Iyad Jamal al-Din, received drastically fewer votes than expected. Alusi tells me there were major discrepancies between the vote count according to the Iraqi Electoral Commission and independent monitors. Initially, the head of the European Parliament's Delegation for Relations With Iraq reported it had serious concerns over a flood of election fraud allegations. But the United Nations has certified the election as above board, despite these many complaints.
Ayad Allawi, whose electoral list won 91 seats to the 89 won by Iraqi Prime Minister Nouri al-Malki's State of Law Coalition, looks to be the favorite for prime minister.
Alusi says influence-buyers are controlling "two blocs" in the Iraqi government - one representing Shiite Iran, the other Sunni Saudi Arabia - neither side interested in the liberals in Iraq who refuse their money.
An ideological pioneer, Alusi has paid a dear price for his independence. He first won election to the Iraqi Parliament in 2005 after his two sons were murdered by terrorists.
The killings occurred in the aftermath of his decision to visit Israel--at that time considered a crime in Iraq. Refusing to be intimidated, Alusi stayed in Iraq and built his political party, the Iraqi Nation Party, which champions free markets, a free press, human (including women's) rights and counter-terrorism cooperation with other democracies--including Israel.
He says he is concerned for the security of candidates who ran on his party's ticket, or list, including in smaller towns across Iraq.
"Liberals are alone," he says. "But I cannot say my people did leave me alone. My candidates [and supporters] have been asked, 'You don't know he went to Israel?' Why would you support him?' They answered, 'Because of that I am with him.'
"Young people, liberals, but strong people, fighters. They ran in areas where they were not secure. They were so brave."
Although the United Nations has seemingly closed the door on an investigation, many people claim to have evidence of large-scale fraud taking place in these elections.
If Alusi does not retain his seat, it will be a loss of untold proportions for the people of Iraq. This remarkable man, a living example of courage, has in a few short years taken on thousands of years worth of prejudice, and charted a course towards true democracy in the middle east--a dream that was and is worthy, despite the yawning chasm between the ideal and the reality. He had stood up for the voiceless, including the women of Iraq, who have all too often been kept on the sidelines there, occupationally and politically.
Regarding women and the March 7 elections, Alusi tells me he met with "people from Mosul, Kirkuk, Sunni areas in Anbar province" and they have told him "in Anbar women did not vote." He went on to say, "we got it from our people, our areas--I am Sunni and from this area--in small towns and villages, they had to go out to vote. I did ask them, 'How far are the election centers? They said, 'Eight kilometers.' And the village directors said, 'Women can't vote.' This has happened in other elections, too."
If significant evidence of widespread fraud and voter disenfranchisement in these elections exists, and if the United States does not insist on a thorough investigation, we are forfeiting so much, and even dishonoring the sacrifices of our brave troops who have brought democracy to Iraq. I plan to stay on this story.
Alusi maintains there is still a window of time for the United States to demand an investigation.
"The White House position [is] they don't have any proof the election has been fixed," he says. "When I say 'I don't have any proof till now' it does not mean I won't have proof one week later."
One blessing in a week of extremely disillusioning news has been my new familiarity with Iyad Jamal al-Din. He, too, lost in the March 7 election - Alusi believes because of Iranian infuence-peddling and corruption. Alusi describes this young Shiite politician as "a good man."
Calling all HuffPost superfans!
Sign up for membership to become a founding member and help shape HuffPost's next chapter