If Rodney Dangerfield had been a car, he might have been a Mitsubishi.
But the irony is, while the company's vehicles may not get as much respect as those from other Asian-based manufacturers, their products are solid and dependable and often more fun than the competition.
In spite of their relatively small size, Mitsubishi Motors also regularly produces a tour de force which grabs the imagination of the public, like their i-MiEV electric car already testing in America and slated for sale next year.
Mitsubishi is one of the world's largest companies, with interests in major industries including nuclear power plants, banking, chemicals and home building to electronics of all sorts and of course the automotive world.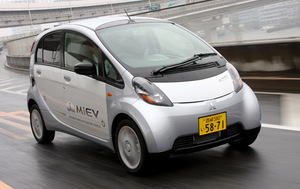 2008 version of the Mitsubishi i-MiEV electric car which goes on-sale in the US next year
They're the sixth-largest Japanese car-maker yet even with a worldwide presence Mitsubishi Motors sometimes seems to try and humble themselves in the face of their competitors. I think they've never really developed that "killer" spirit you find in Toyota, Nissan, Honda, etc., at least in this country.
I recently spent time in one of the company's Outlander crossovers and their sporty Lancer Sportback Ralliart five-door hatchback. Apart from some differences from the competition in styling and interior touches, a quirkiness for which Mitsubishi is known (and appreciated), either car can more than hold its own against anything comparable from domestic or import car-makers.
The Lancer was outfitted with full-time all-wheel drive with front and rear limited slip systems to keep the wheels delivering power and not wasting it, and a 2.0L turbocharged engine with a twin-clutch transmission operated via steering wheel paddle shifters. That's about as hip as you can get these days for a car under $30,000.
Throw in halogen headlamps, front and rear stabilizer bars, anti-lock brakes (naturally) and a passel of other performance and appearance features (like the front-mounted intercooler for the turbo and an aluminum hood with a heat-extracting vent) and you've found one of the best bargains in the "boy racer" class. Truth be told, the five-door hatch configuration makes Lancer right for a family car, too.
In a word, the Lancer I drove for a week was: tight.
Two engines are available with the Sportback: the base unit is a 2.4L I4 which makes 168 horses and the engine we drove was the 2.0L turbocharged powerplant which produces 237 horses, plenty of go-power for this under-3,000 pound slot car.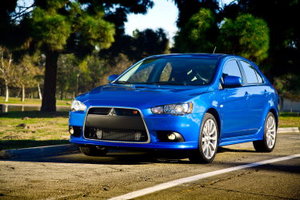 Mitsu's 2010 Lancer Sportback Ralliart, similar to our test car
Lancer couldn't help but bring back memories of a Mitsubishi which was built at the height of the post-war "Japanese economic miracle," when the car companies there were swimming in cash and making outrageous cars and trucks.
Mitsubishi's 3000GT VR4 hit the road in 1990 and was one of the company's tour de force cars we wrote of earlier. A twin-turbocharged 3.0L V6 all-wheel drive, all-wheel steering sports coupe, the GT (called GTO in some markets) was directed to go head-to-head with other Japanese exotics of the time including the Honda NSX, Mazda RX-7, Nissan 300ZX and the granddaddy of all Japanese performance cars, Nissan's Skyline GT-R. Toyota's Supra was also a target. Dodge sold a version of the 3000GT called the Stealth.
Lancer retains many of the strengths of the 3000GT while putting it all into a more sedate-looking, family-acceptable package.
The company's Outlander crossover also puts one in mind of an older model, the Mitsubishi Montero. Montero was one tough off-roader, as capable, some said in the day, as a Jeep, but with more dependability. Available with an I4 2.4L powerplant or 3.0L V6 engine, Outlander can also be had with two -- or all-wheel drive and starts at just over $21K.
It's smart, comfortable and well laid-out inside; as on Lancer, fit and finish inside and out is top-notch. Our main complaint is that the 230 horsepower V6 is not pumping out enough energy to really motivate the all-wheel drive Outlander, which can weigh as much as almost 3,800 pounds. The problem is more pronounced with the 168 horse four-banger. Getting the "lightweight" two-wheel drive Outlander going with its weight between 3,300 and 3,600 pounds, depending on the model, can be a hassle, and a boring one at that.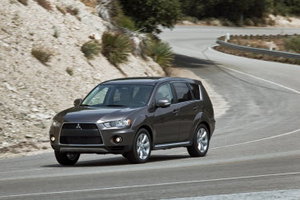 Outlander, one of Mitsubishi's 2010 crossovers
Outlander doesn't offer the excitement potential of the old Montero (also sold in a two-door version as the Dodge Raider -- remember that?) because tackling the off-roading Montero could be tough for Outlander.
So what keeps Mitsubishi only a moderately-selling franchise?
The company is one of the four original Japanese "zaibatsu", family-controlled giant holding companies, known as "keiretsu" after their break-ups after the war. Mitsubishi was founded in the late 1800's, Japan's Meiji Restoration Era, and you don't even want to know the complicated story behind its "three diamond" logo. But the corporation is a staple of Japanese business.
Perhaps management is satisfied with the company's diversification and the money it's bringing in from all its varied interests.
Another reason, I've always felt, is the company name itself. It's long, hard to pronounce for an average American and for some it brings back memories of WWII, when Mitsubishi was one of the builders of the Japanese Zero fighter plane.
But most importantly, the company has yet to establish its image with the American public. This poor marketing, combined with an advertising policy which seems to stress the "sale of the week" over telling stories about the make and its models, stands in the way of Mitsubishi being a perennial also-ran in the American market instead of a hot, successful brand, which, given its products, it could very well become. They deserve some respect.
Related
Popular in the Community