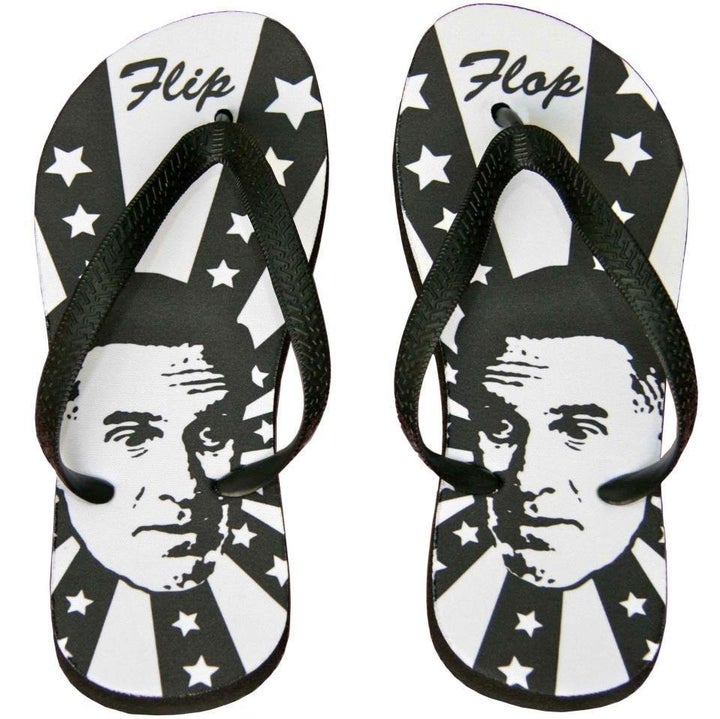 Finally, footwear for the indecisive -- or those who decide often, but then change their minds.
A pair of politically active pals in Los Angeles have created MittFlops, thong sandals that represent the seemingly flip-flopping positions of Republican presidential contender Mitt Romney.
Now you can be fashion-forward on Super Tuesday, even if your tootsies get a little cold. Democrat Ross Wachsman and Republican Christine Dizon developed the flip-flops to express their disenchantment with Romney, who holds a slim lead in the race for the GOP nomination. One model features Romney's mug with "Flip" and "Flop" on opposing feet.
The flip-flops, now priced at $15, have been available for about a week at themittflops.com, after a few months on cafepress. Wachsman told The Huffington Post on Wednesday they have already sold a few hundred on the new site. "We're excessively committed to not just make them as a novelty item, but that people will enjoy them as a fashion item and as an art object," he said.
For a pair of across-the-aisle friends, Wachsman and Dizon sure seem united in their opposition to the former Massachusetts governor. "What to do with a man like Mitt Romney?" their press release reads. "A man who changes his beliefs faster than a prison escapee ditches a jumpsuit. A man who declared his support for a woman's right to choose then denied being pro choice; stood for healthcare insurance reform then tried to crush it; advocated environmental control, only to campaign against it. Where does he belong -- the White House? No way. The better place for him: under your foot."
But the flip-flops apparently have competition in the similarly named Mitt-Flops (with a hyphen) by Alec Brownstein and Steven Acres. Those feature Romney's face with one political stance, such as on the issue of abortion, on one foot and a different stance for the same issue on the other foot.
In the election-year spirit, may the best Mitt Romney flip-flops win!
Calling all HuffPost superfans!
Sign up for membership to become a founding member and help shape HuffPost's next chapter
BEFORE YOU GO