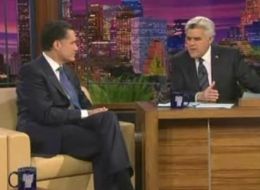 Just asking: Isn't 293 views for a presidential candidate on The Tonight Show pretty darn low a full day later and after two big primaries? That was the count on this clip on Romney's official YouTube page in the wee hours of this morning — far from gold-medal numbers. If they were, maybe someone might have noticed that the the clip is only a "Highlights" version — yet the snips are so seamless you'd have to be looking for them to notice. What did they take such care to cut out?
LENO: I've got to ask you something. You had a run-in with an aggressive reporter yesterday. Tell us about that. Tell us what happened. We'll show the tape.

ROMNEY: Well, you know, it's kind of a normal thing. These guys have a responsibility to be adversarial, and, you know, we don't treat them real well. The guys that follow us in the Presidential race come in a whole group. We put them in the back of the aircraft. We feed them lousy food. We wake them up early in the morning to go to events, and then as you'll see in this clip, I think, we don't give them chairs to sit on either. So they have a tough go of it, but they're doing their job.
Super-telegenic ABC correspondent Jake Tapper praised Romney for keeping it "classy," and it seems like a favorable exchange with Leno, who commends Romney for inviting Johnson to continue the discussion. Leno also says he likes the moment because it's "real" — ironic considering that Romney is considered programmed and inauthentic, yet his campaign chose to cut this part out.
Also not included in the "highlights" version: (1) Mitt on the Democrats: He thinks it's a two-person race — silvers are fine, but not bronzes! Sorry, John Edwards! And his wife thinks Michelle Obama is "just terrific." Also, "I think I like both of them more than they like each other." Zing! And he thinks Ted Kennedy is "a hard‑working guy...frankly, I like Ted Kennedy." (2) Mitt on billionaires: Jay meandered around really asking Mitt to defend himself as a highly-paid CEO, but Mitt said genially that he thought billionaires were fine but it wasn't them he was trying to help. (3) Mitt on religion (not his!): Faith is important.
Romney did well on the Tonight Show, very well, actually — got off a few laugh lines, was easygoing and articulate, seemed reasonable and parried potentially charged questions (it's Leno, so that's as charged as it gets) with ease and grace. So why not post the entire excerpt on your official site? Why instead go through the effort of making perfectly-timed edits so that someone who hadn't read the transcript wouldn't know that anything was missing? Well, the answer is, obviously, that Romney and his campaign are being careful, releasing pre-approved bites of the candidate in carefully metered doses. It's a carefully-packaged clip for a carefully-packaged candidate, and the sad thing is that the full interview makes him seem far more appealing. Too bad the Romney campaign isn't prepared to risk a full interview, or a full candidate. They do share, however, that Ann Romney makes her husband granola every morning. Guess that's less potentially damaging than admitting that you like Ted Kennedy.
Romney campaign-approved version of the appearance below; the full transcript is here, courtesy of the LA Times; we've included the redacted portions after the jump.
JAY LENO: I see now ‑‑ because when I was a kid, the "Forbes" 400 was millionaires. Now there aren't any millionaires. They're all billionaires. It seems like ‑‑ I see this ‑‑ and in this job I really both sides, but I see billionaires. I mean, when I was a kid, Howard Hughes was the richest man in the world. He had $3 billion. Now people have hundreds of billions of dollars, and it seems like sort of an unfair ‑‑ it seems like ‑‑ really how many double cheeseburgers can you eat?

(Laughter.)

You know what I'm saying? Doesn't it seem like these high C.E.O.s and all this money they get when the companies aren't even performing?

MITT ROMNEY: I agree. I think we pay people a vast amount of money when they really haven't delivered. That doesn't make a lot of sense. At the same time, I don't begrudge the people who do real well. Bill Gates making a lot of money, that doesn't make anybody poorer. Actually the better he does, probably the better everybody does.

JAY LENO: He keeps doing a lot of good work. He throws a lot of money around.

MITT ROMNEY: He's helping people around the world, but I'd like to see a lot more people do real well. And I must admit, I'm not running for President to try to help the rich people. I don't worry about the rich people. They're doing just fine, thank you. But there are a lot of middle income families and moderate income families that need some help, and I want to help.
Mitt on the Poll-Watching:
JAY LENO: Do you watch the polls? I guess you watch them if you're doing well, and you don't watch them if you're not doing well.

MITT ROMNEY: We save the ones, the glorious moment when I'm at the top. We cut them out and say, "This could be the top point. Save it, put it in the scrapbook," and who knows. But there's so many different polls, and all say different things. You can't get real excited about what's happening in the polls.
JAY LENO: How about your democratic rivals? Who's the toughest one to run against?

MITT ROMNEY: I think either one presents a real opportunity for me.

JAY LENO: There's not three?

MITT ROMNEY: Well, I think it's sort of narrowing down to Hillary Clinton and Barack Obama. After coming in third ‑‑ as you pointed out in your monologue ‑‑ every single time at some point, you say, "You know, maybe it's time to move on." So I think it would come down to those two. By the way, I think I like both of them more than they like each other, but I do believe that they're going to present a real contrast because they want to take America on a path, in my view, which is down the path of Europe of old, Big Brother, big taxes, big government. I don't think that will fly.

JAY LENO: When you were governor, did you have any interaction with either Barack or Hillary?

Did you know them? Did you work with them?

MITT ROMNEY: I did not. I met the President, President Clinton, a couple of times. He's a very engaging person. I met Barack Obama. We both appeared at the Gridiron Club, where we told jokes and we had fun doing that together. He's got a lovely wife. My wife thinks she's just terrific.

JAY LENO: So you never really had any ‑‑

MITT ROMNEY: No business with those guys. More business with Ted Kennedy. You know, I ran against Ted Kennedy.

JAY LENO: Right.

MITT ROMNEY: You know, he's a hard‑working guy. He does his best. I disagree with him on virtually every issue, but we came together a couple of times, and frankly, I like Ted Kennedy.
Mitt on Religion (not specifically his):
JAY LENO: Religion seem to be an issue. I don't get why it is. I don't see why religion really matters, but does it seem like it's an issue to you? Is it something you have to address constantly on the campaign trail? Or do you find most people just ‑‑

MITT ROMNEY: I think people want a person of faith leading the country. They want a person who they think, if there's inspiration needed, inspiration will be received, but I don't think they select their president or their secular leader based on which church they go to. So as I go across the country, there are probably some who feel that way, but most believe that we should be talking about religious tolerance and recognize that this is the nation that has a religious liberty that is very different than the nations we see around the world. If you're not a Shia in some places, you can't be a political leader. We don't choose our leaders that way.
Popular in the Community