WASHINGTON -- Republican presidential nominee Mitt Romney on Wednesday attempted to explain his controversial "47 percent" comments, saying he may campaign toward specific groups, but would focus as president on the entire nation.
"My campaign is about the 100 percent of America, and I'm concerned about them," he told Univision anchors Jorge Ramos and Maria Elena Salinas at Univision's "Meet the Candidate" forum, co-hosted by Facebook at the University of Miami.
"I know I'm not going to get 100 percent of the vote, and my campaign will focus on those people we can think we can bring in to support me," he continued. "But this is a campaign about helping people that need help."
Romney has been fighting since Monday to tamp down outrage over his secretly videotaped remarks at a private fundraiser on the 47 percent of Americans whom he claimed will vote for President Barack Obama because they feel they are "entitled to health care, to food, to housing."
The forum was a consolation after the Spanish-language network lost its fight to host a presidential debate. It was also Romney's second speech this week directed at Latinos, a group he hopes to win over, so far with little progress.
Although not a debate, the Univision candidate forums set up Romney for a comparison with President Barack Obama, who will speak to Univision on Thursday in a similar format. The two will have different audiences, however, because both campaigns pushed to stack their crowds with supporters. The audience Wednesday cheered and clapped at Romney's applause lines.
Still, he faced tough interviewers in Ramos and Salinas, both of whom were especially persistent in questioning Romney on his immigration policies.
The crowd booed when Ramos asked Romney about his comments on self-deportation. "I have some friends, apparently," Romney joked. (Watch the video below.)
Romney tried to paint a rosy picture of his plan for immigration, which he has previously said includes vetoing the proposed Dream Act -- popular among Latino voters -- and solving the problem of undocumented immigrants by encouraging them to "self-deport." That approach, often called "attrition through enforcement," would essentially make life so difficult that they would choose to leave.
Romney's view has been criticized as both inhumane and unrealistic, given the huge number of undocumented immigrants -- who he called illegal immigrants -- and the strong ties many have here.
During Wednesday's forum, he backed away from the self-deportation strategy as an immigration solution.
"I'm not in favor of a mass-deportation effort, rounding up 12 million people and taking them out of the country," he said. "I believe people make their own choices as to whether they want to go home and that's what I mean by 'self-deportation.'"
Romney has been evasive on how he would deal with undocumented immigrants currently living in the country. Obama has said he would support giving some immigrants legal status if they meet certain requirements, including paying a fine. Romney has refused to say whether he would end Obama's new deferred action policy that removes the deportation risk faced by some undocumented young people who would be helped by the Dream Act.
Romney was repeatedly pressed to say whether he would end the policy, but only said he doesn't need to answer because he would fix the issue through legislation. That was no comfort to many immigration advocates, who know the difficulties of passing immigration legislation in Congress.
"Are you going to deport them or not? Yes or no?" Salinas asked Romney, as translated to English by Univision.
"We're not going to round up people around the country and deport them, that's not -- I said during my primary campaign, time and again, we're not going to round up 12 million people ... and have them deported. Our system isn't to deport people."
Salinas pressed on. "That's your answer, that you're going to allow them to stay?" she asked.
"I'm not going to be rounding people up and deporting them out of the country, we're going to put in place a permanent solution," Romney replied.
Romney addressed the economy and education, laying out what amounted to a stump speech on both issues and their importance to Latinos. He also handled the topic of health care smoothly. He laughed off controversy over his Massachusetts health care law's similarity to Obamacare.
Ramos later asked Romney to think personally about his views on same-sex marriage and how he would respond if his child or grandchild wanted to enter a same-sex marriage. Romney joked that he would be surprised if one of his sons did -- they're all married already -- but that he would "of course want them to be happy" if a grandchild came out as gay. Nevertheless, he said he still opposes marriage between two men or two women.
Romney's joking comment on the secret videotape that he'd win the president easier if he were Latino was unchallenged at the forum. He made a similar quip to Ramos during an interview in January, noting his father was born in Mexico. The line was met with laughs then, but has been attacked this week as offensive.
Not so much back at Univision. "Are you sure you're not a Hispanic?" Ramos said, as translated by Univision.
"I think for political purposes that might have helped me," Romney said, laughing.
Before You Go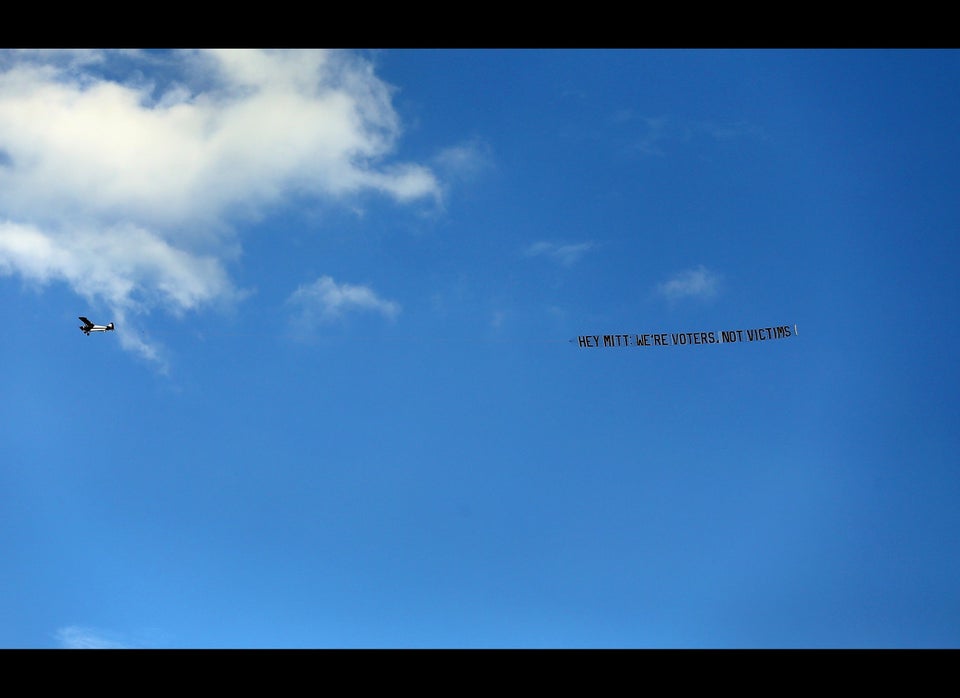 Mitt Romney In Miami For Univision Forum
Popular in the Community