 WASHINGTON -- With President Barack Obama stubbornly maintaining a small but clear lead in Ohio polls, Republican presidential candidate Mitt Romney's campaign is contemplating a shift in its electoral map. The pathway to denying the president a second term that once seemed premised on taking back the Buckeye State is increasingly shifting focus to another Midwest state: Wisconsin.
Romney campaign officials would never publicly announce a change in approach. And it's not that they are giving up entirely on Ohio; they certainly have the money to compete anywhere. But Republican sources say Romney headquarters in Boston is increasingly seeing Wisconsin as a state more apt for flipping. Less campaigning has taken place there, meaning fewer voters have been overwhelmed by political ads and tuned them out. Moreover, the Badger State has, in recent months, been more conducive to Republican success, and the GOP possesses a stronger ground operation there.
On top of that, the Romney ticket features a native son -- vice presidential candidate Rep. Paul Ryan -- and the Republican National Committee is headed by former Wisconsin Republican Party chairman Reince Priebus.
On Friday, the Romney campaign announced it would begin airing ads on broadcast television in Minneapolis -- not to test the waters in Minnesota, though they welcomed the speculation that that's what they were doing -- but to filter into media markets in western Wisconsin. Romney, moreover, is set to head there on Monday night, marking the first time he has visited the state since August, when he announced Ryan as his running mate.
The political map is difficult, but not totally inconceivable. If Obama were to win Ohio and hold on to Nevada, as polls suggest, Romney would have to win Florida, Virginia, North Carolina, Colorado, and New Hampshire to get to 271 electoral votes. Iowa, in this scenario, could still go to Obama.
But there are some challenges along the way. For starters, an Obama campaign official said that they feel more confident in Wisconsin than in Ohio. Public polling suggests the president has a stronger lead in that state. The Huffpost Pollster average has Obama up by four percentage points. Moreover, if Ohio does go to Obama, it's likely that Wisconsin, with its similar population demographics, will follow suit.
History also isn't on Romney's side. The Badger State hasn't gone for a Republican presidential candidate since 1984. And in 2008, Obama won the state by a solid 14-point margin.
"Romney/Ryan don't have a clear shot at winning Wisconsin, either, and that still looks like it would take some work," said a Republican source, who spoke on condition of anonymity to provide a frank assessment of politics in the state. "Ryan's presence on the ticket has made it more conceivable, and Priebus coming from Wisconsin indicates that one major decision-maker probably has better instincts about how to best deploy resources in the state."
But it's not as if the Obama campaign has forgotten to campaign there. In fact, both campaigns are bringing out the big guns in the final days. Vice President Joe Biden was in Oshkosh and Kenosha on Friday, and Obama will be in Green Bay on Tuesday. Romney will be in West Allis on Monday, and Ryan will be back in his home state on Wednesday.
"We know what it takes to win on the ground here in Wisconsin," said Republican National Committee Chair Reince Priebus last week at an early voting rally in Wausau. "I don't know how many times we need to win for the media to figure out that we're pretty good at winning here lately in Wisconsin."
The RNC announced on Thursday that it would be making a $1.3 million ad buy in Wisconsin for the close of the election. But the Romney campaign investment in Minneapolis suggests that they're not too optimistic that putting money on the airwaves will help move the dial. A Republican source said that while Romney was putting $30,000 behind his ad buy for the next three days, the Obama campaign was placing $511,000 on broadcast cable in Minneapolis for the next twelve days. Those numbers could, of course, change.
Romney political director Rich Beeson told Politico on Friday that their campaign believes the race is a "tie" and predicts they will perform better in the major metropolitan areas than Republicans normally do.
"Paul Ryan being able to peel off blue-collar Democratic votes ... that's just going to be icing on the cake," he said.
Certainly, Governor Scott Walker's success in the 2010 gubernatorial elections and the subsequent recall provide Romney with the template and infrastructure to give Wisconsin a shot. But Democrats are still projecting confidence, even though Joe Zepecki, the Obama campaign's Wisconsin communications director, said they always expected the state to be tight.
"What is most surprising about this whole race is how stable it has been, looking at where the battlegrounds are," he said. "If you looked at what the map looked like six, seven months ago, Wisconsin was on all of them. And now, six, seven months later -- it's all the same states. We expected the whole time that this would be competitive, and that's why we've been doing what we have to."
UPDATE: 11:06 p.m. -- interview Milwaukee ABC affiliate WISN asked Obama in an interview on Friday how he planned to counter the popularity of Ryan in Wisconsin. Obama replied that he was counting on his campaign's grassroots work, including getting residents to vote early.
"Well we've got just unbelievable volunteers, unbelievable energy on the ground -- not just in Wisconsin but across the country," Obama said. "My campaigns have always been built from the ground-up, from the grassroots. People knocking on doors, neighborhood team leaders who are going out there, getting to know their neighbors, friends, listening to them. Finding out what's important to them. Early voting has now started in Wisconsin. ... We're really encouraging all our voters to go out and vote early. Don't leave it to the last minute."
Early voting started on Monday in Wisconsin and runs through Nov. 2.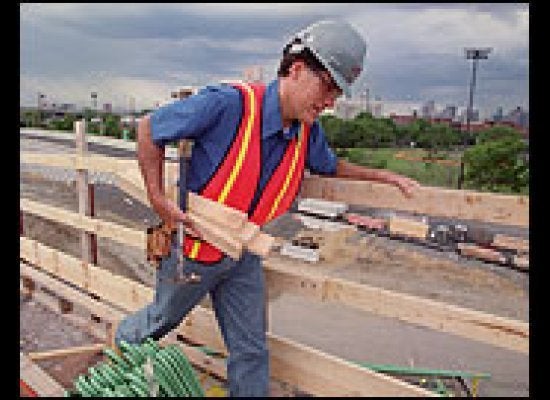 Mitt Romney Spends The Day As Multiple Blue Collar Workers
Popular in the Community