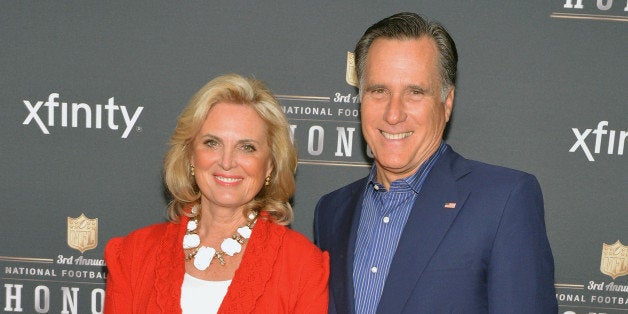 Perhaps now we can finally put Mittmentum to rest. According to his wife, Mitt Romney is "done" with running for president.
"Completely. Not only Mitt and I are done, but the kids are done," Ann Romney told the Los Angeles Times in an interview published Monday. "Done. Done. Done."
The former governor of Massachusetts himself has stoked speculation with less-than Shermanesque answers to the million-dollar question such as "circumstances can change" and "we'll see what happens."
But if he has ultimately decided against throwing his hat into the ring for a third time, don't expect his former aides to be satisfied. Wishful thinking from Romneyworld has been a constant refrain in numerous media reports this year, as their one-time boss finds himself in good standing amid a wide-open prospective Republican field. A recent Des Moines Register survey even found Romney edging Hillary Clinton in the early caucus state of Iowa.
Regardless of whether he decides to run for president, the Romneys are forging ahead with plans to launch a new research facility that will focus on finding cures to Alzheimer's disease, multiple sclerosis, ALS, Parkinson's disease, and brain tumors. Ann Romney herself has lived with multiple sclerosis for 16 years.
"I want people to sign up for the experiments that we are doing; to sign up for the studies," she said. "I want people to have hope that this is going to help, not just them, but future generations."
REAL LIFE. REAL NEWS. REAL VOICES.
Help us tell more of the stories that matter from voices that too often remain unheard.
BEFORE YOU GO
PHOTO GALLERY
Mitt Romney, Regular Guy