Mitt Romney said Tuesday he has no plans to push for legislation limiting abortion, a softer stance from a candidate who has said he would "get rid of" funding for Planned Parenthood and appoint Supreme Court justices who would overturn Roe v. Wade.
"There's no legislation with regards to abortion that I'm familiar with that would become part of my agenda," the Republican presidential nominee told The Des Moines Register in an interview.
The Romney campaign walked back the remark within two hours of the Register posting its story. Spokeswoman Andrea Saul told National Review Online's Katrina Trinko that Romney "would of course support legislation aimed at providing greater protections for life."
His comments to the Register could put him at odds with congressional Republicans who have made limiting abortion central to their messages. His own running mate, Rep. Paul Ryan (R-Wis.), has introduced bills to restrict access to abortion, and the Republican Party platform toughened its anti-abortion stance earlier this year.
Both Romney and Ryan oppose abortion, but the presidential candidate supports exemptions while his running mate does not. Romney told the Register he will restrict abortion in one way, through an executive order banning U.S. foreign aid money to be used for abortions.
Romney has previously vowed to end taxpayer funding for Planned Parenthood, one of the most common ways in which Republicans have tried to restrict access to abortion, even though the organization is already banned from using taxpayer dollars to fund the procedure. "Planned Parenthood, we're going to get rid of that," he said in March, referring to budget cuts he would make as president.
Romney said in September that he would prefer to appoint justices to the Supreme Court who would oppose Roe v. Wade.
"I hope to appoint justices for the Supreme Court that will follow the law and the constitution," he said at the time on NBC's "Meet the Press." "And it would be my preference that they reverse Roe V. Wade and therefore they return to the people and their elected representatives the decisions with regards to this important issue."
The Democratic National Committee posted a video Tuesday of Romney saying in February that he would cut Planned Parenthood funding, block foreign aid from going to abortions and appoint Supreme Court Justices to overturn Roe v. Wade.
When asked by the Register if he would push other bills relating to women's issues, Romney said any legislation would be focused on jobs and education.
"Women are frequently asking about the massive amount of debt we're passing on to the next generation," he said.
Planned Parenthood issued a response to Romney's comments Tuesday, saying he "is misleading the public about his intention to restrict safe and legal abortion."
"Last week, Mitt Romney was dishonest about his tax plan and his Medicare plan, and today he's being dishonest about his intention to end access to safe and legal abortion," Dawn Laguens, Planned Parenthood Action Fund executive vice president, said in a statement. "Mitt Romney has been crystal clear that if he's elected President, he will work to overturn Roe v. Wade. Mitt Romney's views on women's health are far outside of the mainstream, and that's why he's trying to hide them in the last weeks until the election."
The Obama campaign responded to the interview and the subsequent walk-back from Saul Tuesday night, asking whether Romney had lied to the Register about his plans.
"It's troubling that Mitt Romney is so willing to play politics with such important issues," campaign spokeswoman Lis Smith said in a statement. "But we know the truth about where he stands on a woman's right to choose – he's said he'd be delighted to sign a bill banning all abortions, and called Roe v. Wade 'one of the darkest moments in Supreme Court history' while pledging to appoint Supreme Court justices who will overturn it. Women simply can't trust him."
REGISTER: Is there any legislation that you plan to actively pursue in regards to women's issues? … To what do you attribute the recent bounce with women voters?

ROMNEY: "Probably the appearance of my wife on more TV shows. She is my not so secret weapon and is very effective in speaking to people across the country. But in all seriousness, I also I think as we get closer to the election, there is more attention being paid to my actual positions as opposed to the positions that are being described by my opponent. Over the last several months, he has vastly outspent us on the air and has grossly distorted my views on almost every issue. I mean there's an ad I don't know whether it's here in Iowa right now, but I've seen it in Virginia, or I've heard of it being shown in Virginia, rather, on a regular basis which says that I'm opposed to abortion even in cases of rape and incest and when the life of the mother is at risk. Well, that's not true. That's not my position. But they continue to run that and to send mailers out so I think part of the improvement I've seen in support with women has been that I've been able to address women directly, in the debates, in more ads of our own, in telephone town hall conferences we have that describe my actual views. That I think is earning me more support."

REGISTER: Do you intend to pursue any legislation specifically regarding abortion?

ROMNEY: There's no legislation with regards to abortion that I'm familiar with that would become part of my agenda. One thing I would change, however, which would be done by executive order, not by legislation, is that I would reinstate the Mexico City policy, which is that foreign aid dollars from the United States would not be used to carry out abortion in other countries. It's long been our practice here that taxpayer dollars are not to be used to fund abortion in this country. President Obama on the 10th day of his administration changed the Mexico City policy to say that abortion services were not prohibited in our foreign aid dollars. I would go back to the original so-called Mexico City policy."
This article was updated after publication to include comments from the Romney and Obama campaigns and Planned Parenthood, as well as a link to a video released by the Democratic National Committee.
Before You Go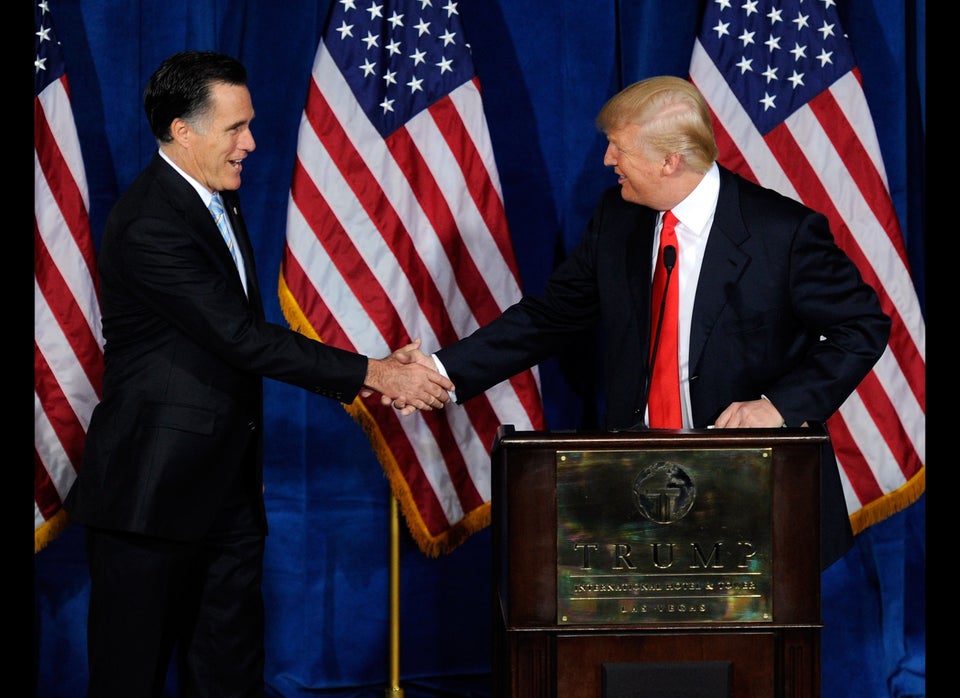 Mitt Romney's Greatest Hits
Popular in the Community