WASHINGTON -- Presumptive Republican presidential nominee Mitt Romney expressed disappointment Monday with the Supreme Court's ruling on an Arizona immigration law, saying more latitude, not less, should be given to the states.
After he and his staff repeatedly dodged questions on his thoughts on the opinion, Romney finally gave a more specific comment when speaking with reporters on Monday afternoon, according to a pool report.
The Supreme Court ruled earlier in the day that key provisions of Arizona immigration law SB 1070 were unconstitutional, but upheld one of the most controversial elements of the law.
"Now you probably heard today there was a Supreme Court decision relating to immigration and, you know, given the failure of the immigration policy in this country, I would have preferred to see the Supreme Court give more latitude to the states not less," Romney said in Arizona, according to the pool report. "And there are states now under this decision have less authority, less latitude, to enforce immigration laws."
Romney said that the ruling could give states less authority to enforce immigration law under current federal policy.
He spent more time, though, talking about why the case over SB 1070 showed the president had failed to lead on immigration. Those comments echoed a statement earlier in the day, when he said the decision underscored "the need for a President who will lead on this critical issue and work in a bipartisan fashion to pursue a national immigration strategy."
Romney has mostly attempted to stay away from the law. He said ahead of the primary in Arizona that the state should be a model for the nation on immigration enforcement, but was referring to a separate law regarding employment verification of legal status.
Still, Romney previously aligned himself somewhat with Kansas Secretary of State Kris Kobach, one of the main architects of SB 1070, and said he supports self-deportation, the idea of making it difficult for undocumented immigrants to live in the United States until they decide to leave. That philosophy is similar to the one behind SB 1070.
Romney has said repeatedly he would drop lawsuits against Arizona and other states with similar legislation "on day one" of his presidency.
More recently, Romney has backed off on tough immigration enforcement talk. Last week, before a crowd of Latino elected officials, he called for Congress to act in a bipartisan fashion on immigration reform. He also pointed out that Obama promised to push for immigration reform during his first year in office and didn't do so. Both messages were repeated in Romney's statement Monday.
"This represents yet another broken promise by this President," he said. "I believe that each state has the duty -- and the right -- to secure our borders and preserve the rule of law, particularly when the federal government has failed to meet its responsibilities. As Candidate Obama, he promised to present an immigration plan during his first year in office. But 4 years later, we are still waiting."
The Republican National Committee issued a similarly vague statement, also without any specific mention of SB 1070 or the provisions involved in the ruling.
"Once again we are reminded that President Obama has failed to keep his promise on immigration reform. In the absence of presidential leadership, states have acted on their own to serve their people and enforce the law, but the issue cannot fully be resolved with a president unwilling to keep his promises," RNC Chairman Reince Priebus said. "This decision makes that job even more difficult, and it leaves Americans waiting for a plan the president promised to deliver years ago."
Romney's message that the Supreme Court's ruling showed the need for immigration reform wasn't so different from that of the Democrats: most reactions from Capitol Hill emphasized that Congress should fix immigration law, although with disagreements on how to do so.
Romney is not expected to give any further response to the decision, at least for today, New York Times reporter Ashley Parker tweeted.
UPDATE: The Romney campaign continued to be evasive -- impressively so -- later in the day when asked about the former governor's view on SB 1070. Romney spokesman Rick Gorka stuck to the script consistently, refusing at many points to give an answer, when asked 20 questions about the candidate's position on the law.
Reporters asked whether Romney supports the law, what he thinks about the sections ruled unconstitutional and if he disagrees with the Supreme Court on its decision, according to a full transcript of the questioning from Politico's Ginger Gibson.
Gorka responded to numerous questions by saying Romney supports states' rights -- a far cry from saying anything about what Arizona actually did. A reporter followed up by pointing out that the law has specific provisions that people want to know if Romney supports. Gorka wouldn't say.
They also asked whether Romney has a position on the law at all, to which Gorka responded that Romney has his own immigration policy. "This debate is sprung from the president failing to address this issue, so each state is left and has the power to draft and enact their own immigration policy," Gorka said when asked the question again.
An excerpt of the reports' questions to Gorka, via Politico:
QUESTION: What is his position on the actual law in Arizona?

GORKA: "Again, each state has the right within the Constitution to craft their own immigration laws since the federal government has failed."

QUESTION: But does he think about the law in Arizona? You're just talking about the states' right to have a law but you're not giving any position on the actual law.

GORKA: "Ultimately this debate comes back down to the federal government and the president failing to address this. If the president followed through on his campaign promise to address illegal immigration in the first year, this debate wouldn't be necessary."

...

QUESTION: Can states do anything, even if it defies the Constitution?

GORKA: "That's not what I was saying."

QUESTION: But tell me where the distinction is.

GORKA: "The bottom line, the fundamental problem of this debate is that the president has failed to enact a policy, has failed to address this, has failed to live up to his campaign promise again and again and again. This stems from states having to deal with an issue like illegal immigration, and come up with a policy that actually works for them."
This is a developing story and will be updated.
Before You Go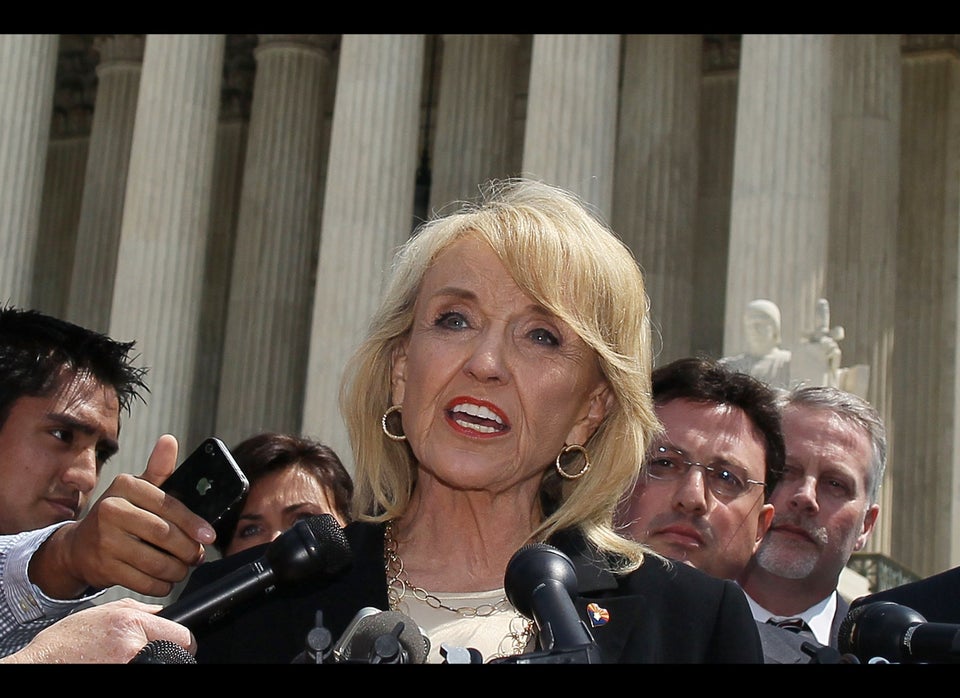 Political Reaction To SB 1070 Ruling
Popular in the Community