 While Obama has four years of presidency under his belt, and an extensive education record to show for it, some are wondering how Romney's platform and past achievements in the area would translate in the Oval Office.
In a policy brief released Friday by the Democrats for Education Reform, DFER Policy Analyst Omar Lopez, DFER Massachusetts State Director Liam Kerr and DFER Director of Federal Policy Charlie Barone write a tough review of "What Kind of President Would Mitt Romney Be on Education," and grade both the presumptive nominee and Obama in an "Education Report Card."
"It will be critical to educate voters on what the likely result of a Romney administration would be on education policy for both the middle class and our most economically vulnerable," the DFER authors write. "Nothing short of an abandonment of the issue of school reform, a rejection of bipartisanship, and a shirking of responsibility to help college students and local schools with precious federal resources at a time when their own budgets are tighter than at any time in recent history."
The Romney-backed Ryan budget also cuts nearly 20 percent of the federal education budget, which would "have severely detrimental effects on those on the lower rungs of the economic ladder," the DFER authors write. They purport that the cuts would eliminate 200,000 students from Head Start programs, reduce services for 10 percent of middle schoolers due to Title I cuts in disadvantaged school districts and lower Pell Grants by more than $1,000 per student by 2014.
In 2007, he said that he had been wrong in an earlier belief that the Education Department should be shuttered, after realizing the value of the federal government in "holding down the interests of the teachers' unions" and prioritizing students and parents. But had Romney hoped to shield himself from stark opposition by suggesting downsizing versus closure, Randi Weingarten, president of the American Federation of Teachers, isn't sold.
"If all he wants to do is use the Department of Education to go after unions -- then he's clearly not interested in using it to help kids," Weingarten said in a statement last month. "How does it help kids when Romney wants to use the federal government to undermine teachers and their unions? Romney is out of touch. He doesn't get it."
The presidential hopeful has pointed to his education record via successes in Massachusetts while he was governor. But the DFER authors point out that policies that led to those achievements were implemented before he took office, and for future federal success in education, he must "muster up the political courage to take on Republican tea partiers inside and outside of Congress," noting his vacillating statements on Race to the Top and the DREAM Act.
While Romney supported the federal accountability standards of the Bush-era No Child Left Behind law, Obama has approved numerous waivers to states that offer more local freedom in school reform and performance measures. The Republican candidate has also said that Obama's Race to the Top competition standards for student testing, charter school incentives and teacher evaluation standards "make sense," though the federal government should still have less control over education. The competition has rewarded states with billions of dollars for pursuing education initiatives supported by the Obama administration.
Take a look at DFER's report card on Obama and Romney below: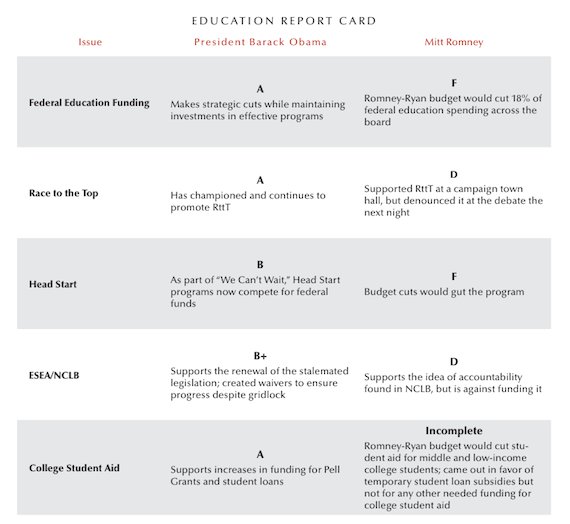 Related
Popular in the Community