WASHINGTON -- The question over when Mitt Romney officially left Bain Capital is obscuring a more substantive debate that relates to the presidential campaign.
The presumptive Republican nominee insists he never signed off on the business decisions related to outsourcing that turned the private equity firm into a political lightning rod. But neither he nor his campaign have said whether he agrees with those decisions, even if he was powerless over them when they were made. The Huffington Post asked top Romney adviser Kevin Madden this very question Monday morning during an appearance on MSNBC and received the following response:
Those decisions were made by folks that were running the company differently. So I don't have the details of what decision-making went into it. Oftentimes what happens with those type of decisions is that you have software companies, you have different types of companies that have to go out and have manufacturing needs, and when they go to look for companies that have manufacturing needs that they don't have, oftentimes those are manufacturing outposts around the globe. But the most important thing that we can answer is what we're going to do to create more jobs here in the country, and that's where Governor Romney has a much superior plan than President Obama.
The answer mirrors a more evasive response to a similar question that senior adviser Ed Gillespie gave Sunday on "Meet the Press." Combined, their answers illustrate a desire to obscure details of how closely Romney was associated with some of the firm's more controversial practices between 1999 and 2002.
An extensive review of public filings by The Huffington Post reveals several instances of Romney being tied to Bain deals that could be or have proven politically problematic.
In April 1999 and March 2000, for example, SEC filings by the American Pad & Paper Company noted that Bain Venture Capital, an arm of the private equity firm, "may be deemed to be the beneficial owner" of entities that held millions of shares of company stock. Among the "general partners of BVC" listed in that filing was "W. Mitt Romney."
In January 2000, AMPAD defaulted on the debt it had accumulated under Bain's control and filed for bankruptcy. By December of that year, it had ceased to be a publicly traded company.
The Romney campaign has said he did not have "any active role with any Bain Capital entity and has not been involved in the operations of any Bain Capital entity in any way" since Feb. 11, 1999, when he left to head the 2002 Winter Olympics in Salt Lake City. The SEC filing says nothing about the extent of Romney's involvement with AMPAD in late 1999 and early 2000, but it does show that he held a title at Bain Venture Capital during that period.
A closer relationship existed between Romney and another politically toxic company, printed circuit board maker DDi Corp. Romney and Bain invested more than $45 million into the company in the late 1990s, taking over controlling interest. Profitable years ensued. When the economy turned sour, so too did the company's fortunes -- but not without Bain taking its cut of the pie.
According to the Orange County Register -- the California-based company's hometown paper –- Bain raised $39 million in October 2000 by selling DDi shares. In February 2001, Bain raised $54 million by selling more shares. Bain also received $10 million in management fees. Romney, who as part of common industry practice had bought personal stock in the company, sold his DDi shares for $4.1 million in May 2000.
According to an August 2003 Boston Globe article, Romney "remained well in 2001 as a general partner in three of the four Bain funds involved in the DDi transactions."
A Huffington Post review of SEC files unearthed six separate occasions in which Romney was listed as a member of "the Management Committee" of both Bain Capital Investment Partners and BCIP Trust, "deemed to share voting and dispositive power with respect to" shares held of DDi. In one of those filings, Romney is listed as President and Managing Director of Bain Capital, Inc.
The dates of those filings range from April 14, 2000 to May 10, 2001, all after Romney had left for Salt Lake City. In one March 2001 filing, Romney signed the document as the "reporting person."
DDi would prove to be a problem for Romney shortly thereafter. Early in his tenure as governor of Massachusetts, a federal securities investigation alleged that the company had pressured Lehman Brothers to inflate the value of its stock.
No evidence was uncovered to suggest that Romney or Bain had violated laws. His then and current spokesman Eric Fehrnstrom told the Globe it would be "far-fetched to take an internal Lehman Brothers e-mail regarding alleged conversations among unknown people and somehow connect it to Mitt Romney, who was off running the Olympics at the time." Bain, meanwhile, said it had "complied with all securities laws." Bain and Romney, in fact, sold their shares after the Lehman-related stock price bump had dissipated.
But while they both got out with a profit, others weren't so lucky. The Massachusetts state pension fund, which had bought stock in the company, lost just under $350,000. DDi would go on to file for bankruptcy, restructure its debt and eventually rebuild its operations.
Business professors and venture capital experts have questioned what operational or managerial control, if any, Romney would have had over DDi.
"Once he left active management of the company, whatever happens after that, he's an investor, or at most a silent partner," Howard Anderson, a professor at MIT's Sloan School of Management, told FactCheck.org back in January 2012.
Asked about DDi specifically, a Romney campaign aide emailed the following response:
Mitt left for the Olympics quickly because the games were in serious trouble; he took a leave of absence and never returned. He continued to be on filings because he had not yet transferred ownership to the other partners at Bain. When ownership was transferred, the official retirement agreement was effective in 1999 because Romney had no involvement in investment decisions or management since that point; had he been active at Bain beyond 1999, he would have insisted that the retirement agreement be dated later to reflect contributions during the period when he was running the Olympics. The fact is that Mitt Romney was not involved in investment decisions or management decisions during that period.
Before You Go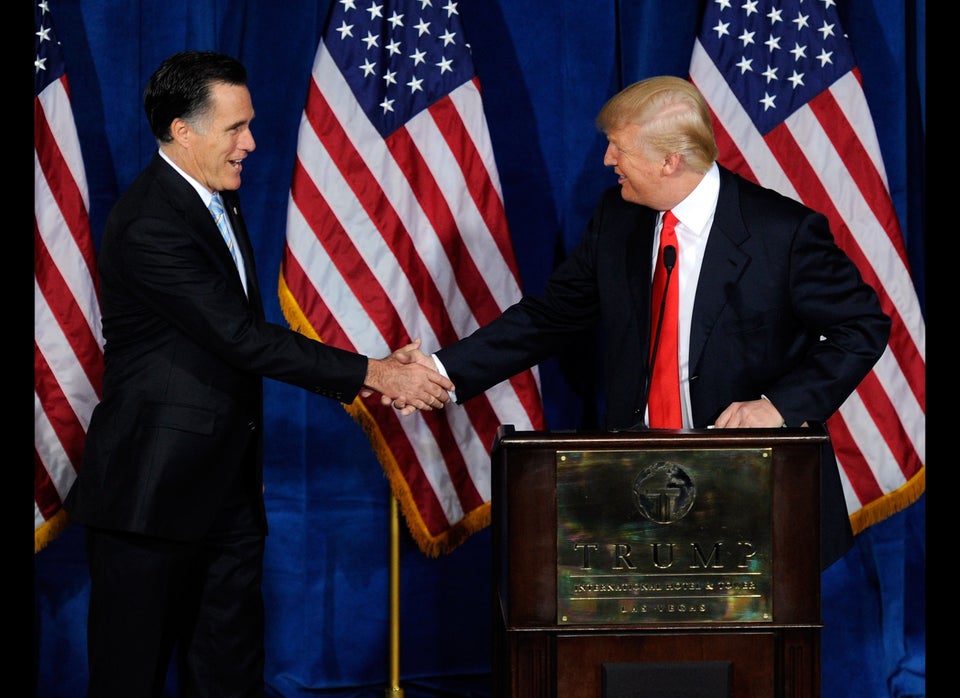 Mitt Romney's Greatest Hits
Popular in the Community